What Did You Have For Breakfast?
Just started a 6-week challenge at my neighborhood Crossfit!
What's up Steemit! I am super pumped and wore out from the first session this morning! I'm hobbling around like a wounded animal.
The best part is the diet plan that comes with the challenge.
I typically don't eat until lunch time and I'm never hungry for breakfast. But with the workouts at 5:30am I'm gonna need some fuel to get me through till lunch everyday. Today is my first day eating breakfast in I can't tell you how long.
Here is a pic of what I had.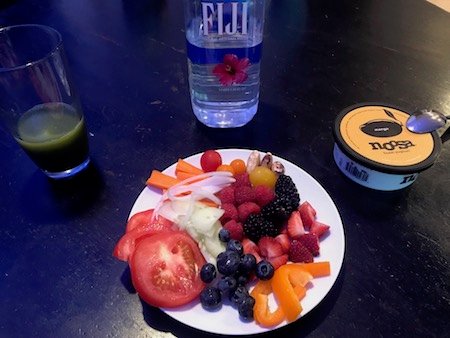 These are all foods that I know and like...just never thought to put them together like this. I usually eat yogurt as a desert after dinner, but now I'm switching it to breakfast.
The meal consisted of:
Mango Noosa yogurt (It's kinda of a cheat, they want me to eat 0% Greek Yogurt)
Carrots
Bell Peppers
Onions
Brazil Nuts
Cucumbers
Sliced & Grape Tomatos
Strawberries
Blueberries
Blackberries
Rasberries
Fresh Green Juice (made at home by my lovely wife!)
Fiji Water
It was for sure the best breakfast of my life. Compared to what we normally think of breakfast, pancakes, bacon, eggs, waffles, cereal, milk, toast, biscuits & gravy, hashbrowns, muffins, bagels, and what ever else is heavy and starts your day off on the fat side. That's why to manage my weight I always skipped breakfast. Now I have a new plan and one that is delicious and long-term sustainable.
What are your thoughts on breakfast? What is the first thing you eat each day?
Thanks for checking out the post and have a great day!
Brett ~ "Life is a special gift meant to be enjoyed."