[EN-ES] And now pancakes from black bread from the Black Chef! | ¡Y ahora panqueques de pan negro del Black Chef!
Well, about the black bread, it was a joke. But after all this bread is made of rye flour? So! And I make pancakes with it.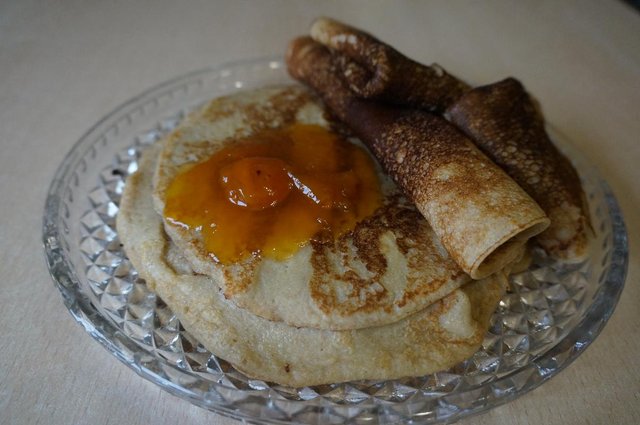 Generally pancakes from rye flour, I think more authentic Russian national cuisine, because wheat flour has always been more expensive (now on the contrary he-he). In addition, these pancakes are suitable for women concentrated on their weight.
The composition is simple and uncomplicated:
Rye flour - 1 glass
Milk - 2 cups
Eggs - 3 pieces
Sugar - 3 tablespoons
Soda - 1/2 teaspoon
Citric acid - 1/2 teaspoon
Salt - a pinch (that is quite a bit)
Vegetable oil - 4 tablespoons
Soda with citric acid can be replaced with a baking powder ;-) a teaspoon, respectively.
Go!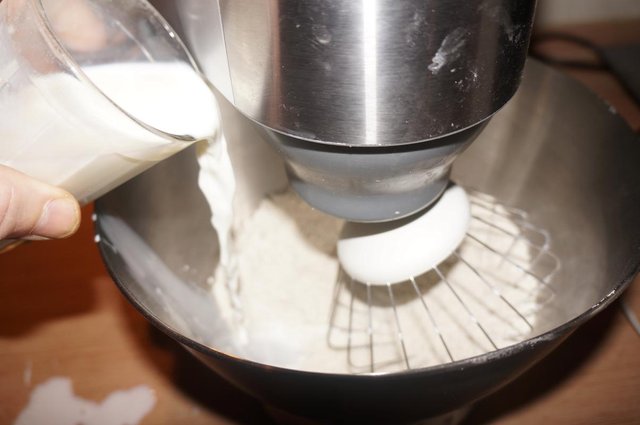 Pour into the mixer bowl or some deep container all the dry ingredients and begin to interfere them. Slightly mix and without stopping this fascinating action we pour a glass of milk to them. Continue to stir so intensively to have no clots in the dough.
At this time, the third hand (not yet grown, it does not matter, you can still break with stirring the dough), beat the eggs until we get a magnificent foam and pour a second glass of milk to them. We increase the size and ...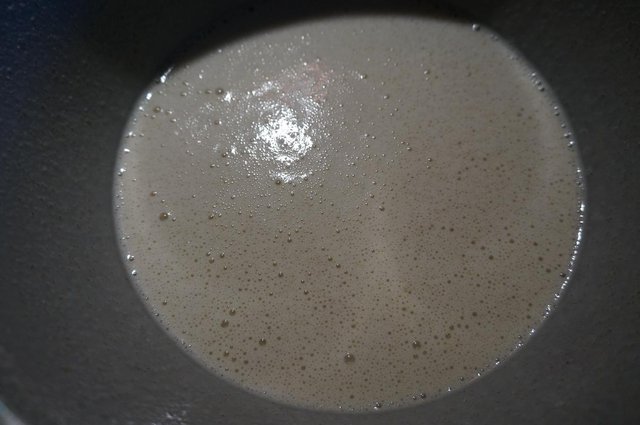 ... add the result to the test. Stir, add the vegetable oil and mix again. We leave the dough for twenty minutes to the side, but for now we are entertaining by heating the frying pan, melting the oil to lubricate it and lubricate the finished pancakes.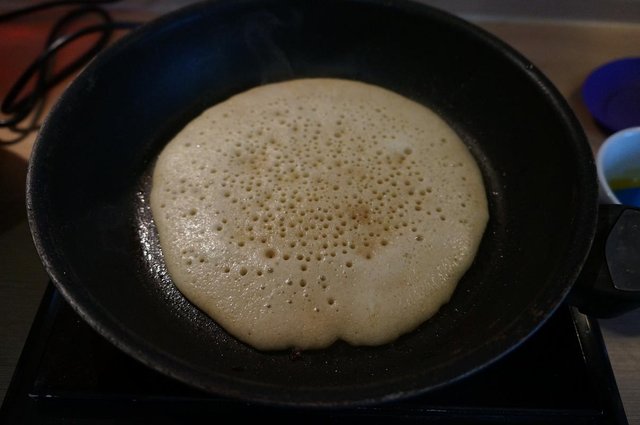 We will bake it in a heated frying pan, smeared with melted butter. A turn the pancake when his not toasted part takes the form shown in the photo, in which case it will easily peel off the pan and turn over. On the second side, bake a pancake literally for 10-15 seconds.
That's all!
By the way, the number of pancakes from the ingredients listed in the beginning of the post seemed to me insufficient and I kneaded another three portion (my household devoured everything very quickly ;-)
---
Bueno, sobre el pan negro, fue una broma. Pero después de todo, ¿este pan está hecho de harina de centeno? ¡Asi que! Y hago panqueques con eso.
En general panqueques de harina de centeno, creo que la cocina nacional rusa más auténtica, porque la harina de trigo siempre ha sido más caro (ahora, por el contrario él-él). Además, estos panqueques son adecuados para mujeres concentradas en su peso.
La composición es simple y sin complicaciones:
Harina de centeno - 1 vaso
Leche - 2 tazas
Huevos - 3 piezas
Azúcar - 3 cucharadas
Soda - 1/2 cucharadita
Ácido cítrico: 1/2 cucharadita
Sal - una pizca (eso es bastante)
Aceite vegetal - 4 cucharadas
Soda con ácido cítrico puede reemplazarse con un polvo de hornear ;-) una cucharadita, respectivamente.
¡Ir!
Vierta en el recipiente de la batidora o en un recipiente profundo todos los ingredientes secos y comience a interferir. Mezcle un poco y sin detener esta acción fascinante vertimos un vaso de leche para ellos. Continúe revolviendo tan intensamente para no tener coágulos en la masa.
En este momento, con la tercera mano (aún no crecido, no importa, todavía puedes romper removiendo la masa), bate los huevos hasta que tengamos una espuma magnífica y te sirvamos un segundo vaso de leche. Aumentamos el tamaño y ...
... agrega el resultado a la prueba. Revuelva, agregue el aceite vegetal y vuelva a mezclar. Dejamos la masa durante veinte minutos a un lado, pero por ahora estamos entretenidos calentando la sartén, derretiendo el aceite para lubricarlo y lubricar los panqueques terminados.
Lo hornearemos en una sartén caliente, untado con mantequilla derretida. Una vuelta del panqueque cuando su parte no tostada tome la forma que se muestra en la foto, en cuyo caso se desprenderá fácilmente de la sartén y se volteará. En el segundo lado, hornee un panqueque literalmente por 10-15 segundos.
¡Eso es todo!
Por cierto, la cantidad de panqueques de los ingredientes enumerados al comienzo de la publicación me pareció insuficiente y amasé otras tres porciones (mi familia devoró todo muy rápidamente);