[EN-ES] Beef Wellington. Not only "oatmeal, sir!" | Buey Wellington. No solo "avena, señor"
To our great regret, we know a little about English cuisine - oatmeal, fish-n-chips, tea five-of-the-clock, puddings, that's all what can call to mind a standard man in the street. Meanwhile, in the foggy Albion, meat is also eaten (surprise!)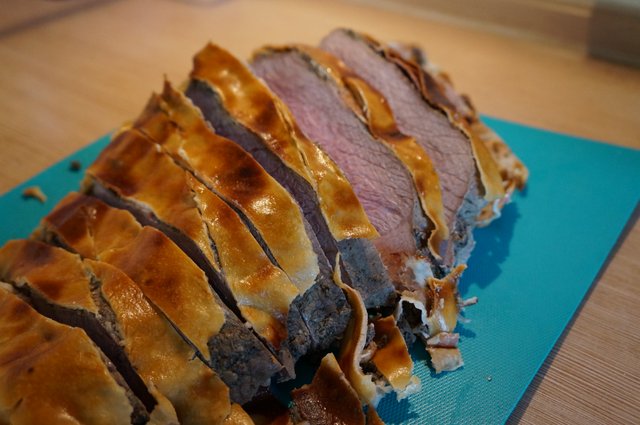 Well, I'm finishing joking. Today we have on the cutting table beef "Wellington", it is also beef baked in the dough. Not particularly difficult dish, which will give you the opportunity to surprise family and friends.
The composition of our food is also not very complicated:
beef - 750 grams
champignons (not sure that in old-time England, this mushrooms grew, so safely replace with other mushrooms, champignons are simply the most affordable in any season) - 400 grams
ham (better Parma) - 100 grams
puff pastry - 500 grams (you can take it already done, I took a yeasted puff, but in principle it's all the same)
English mustard - 2 tablespoons (and so to taste, can you want more sharply? ;-)
Vegetable oil - for frying mushrooms and meat
Salt and ground black pepper - here to your taste naturally
and we will lubricate our dish before the oven with yolks - so it will turn out especially elegant.
Let's get started!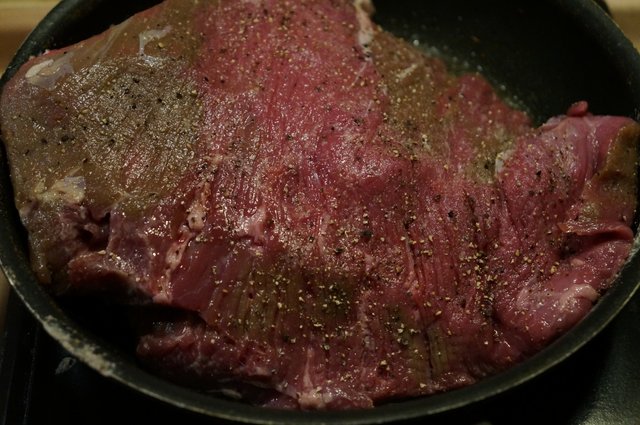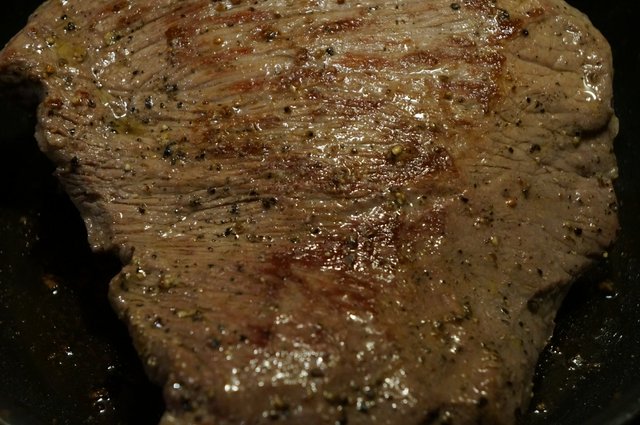 We wash the meat, we will rub it with salt mixed with pepper, and fry it on high heat from all sides to a ruddy crust. Some clever man told me that it was in order to "seal" all the juices in the meat (I believe;) Let meat cool down a little. In the meantime, we'll work with mushrooms.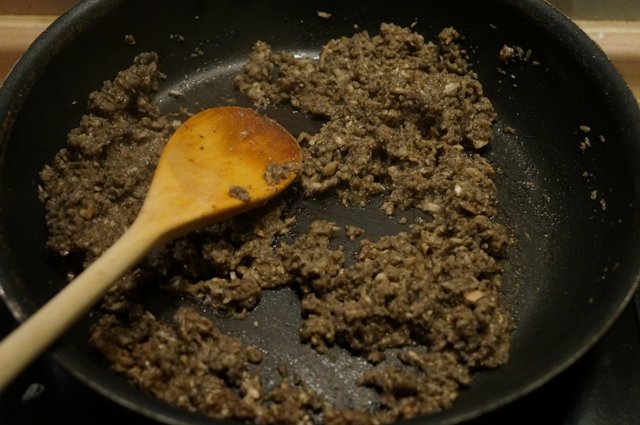 We will pass champignons through a meat grinder or through a chopper or simply we chop it into small forcemeat by means of a knife and also we shall fry them (until all the water which these mushrooms secrete in an unacceptable quantity) is evaporated. By the way, one time I did not chop mushrooms, but just cut them into plates (it also works very well).
While we are having fun with champignons, our beef has cooled slightly and we can coat it with mustard.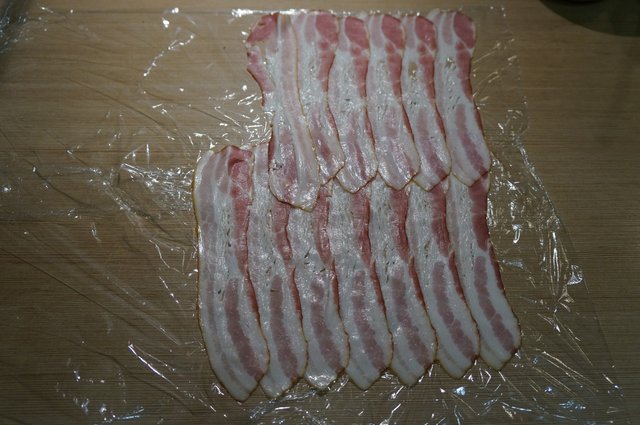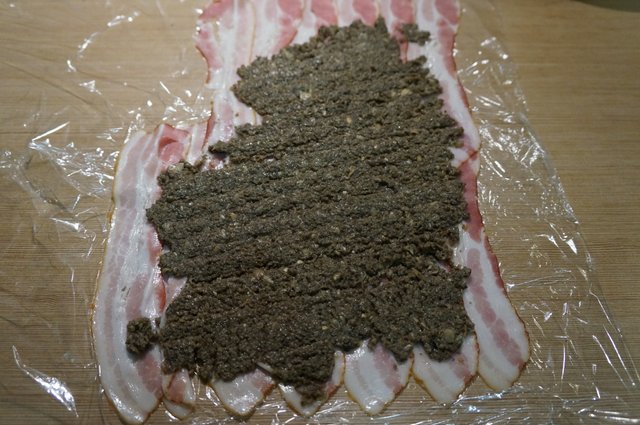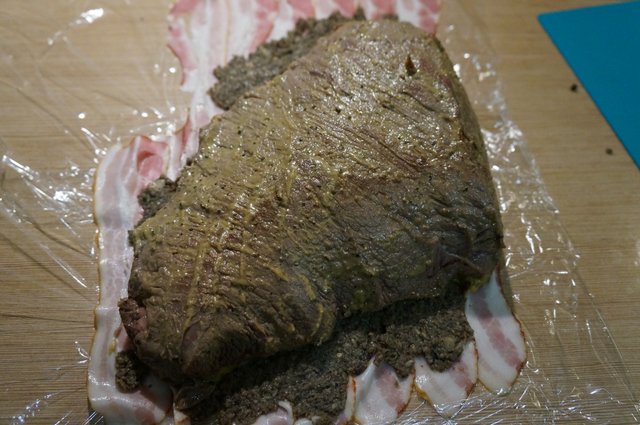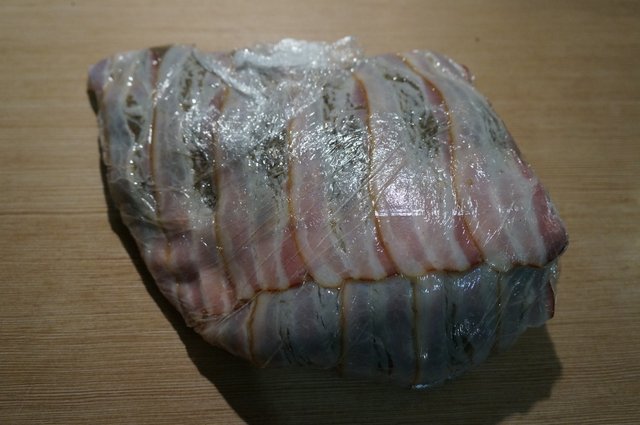 Now we will assemble the filling of our dish. Spread the food film on the table, lay out on it a layer of ham. Ham is laid out so that there're no lumens between the slices. We lay on the ham a layer of mushrooms and, finally, in the middle of this building we spread a piece of beef. Excellent! Now wrap beef in mushrooms and ham (on top of it is a film, which until the time comes fixes the entire structure). We put the result in the refrigerator for 20 minutes to insist and soaked.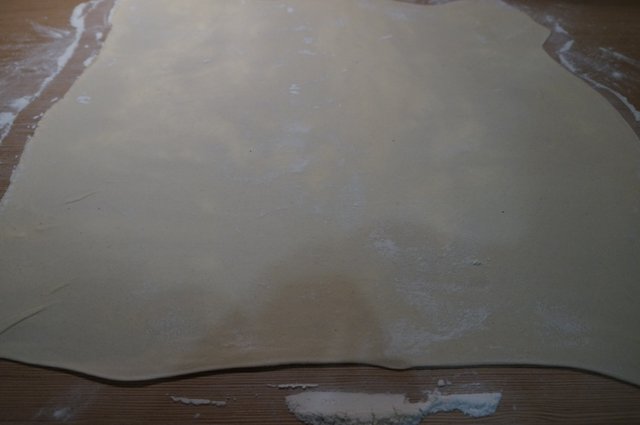 While the meat have a rest rest in the fridge, we roll out the dough on the table into a layer 2-3 mm thick.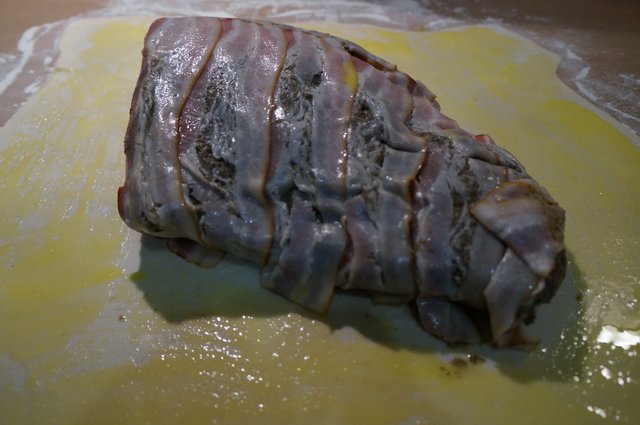 We lay on it meat, mushrooms and ham, freed from the film. Smear the free edge of the dough with yolk (lightly beat the yolk before this process) and wrap the meat in a dough.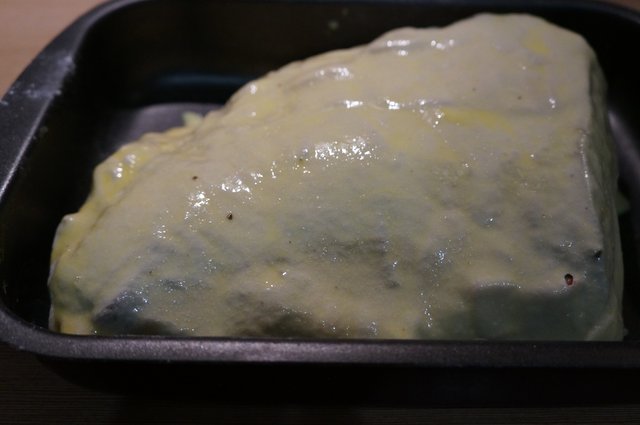 Fill the joints, put the resulting workpiece in the form for baking (you can just put it on the baking tray, but I do not think that it will fit into your refrigerator). Put it seams down, so that a beautiful smooth surface remains on top. Lubricate the dough with the remaining yolk and put into the refrigerator for 15 minutes.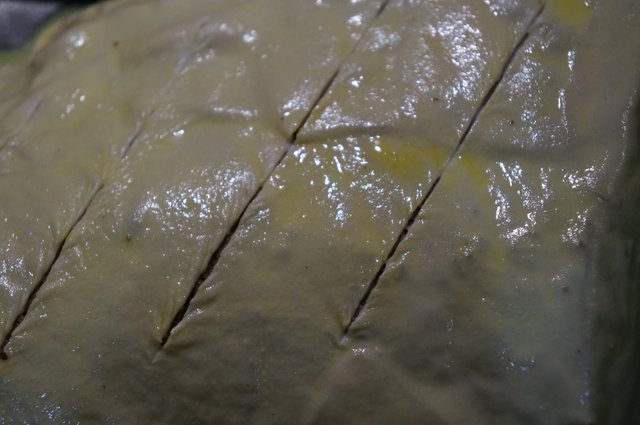 Now we have to bake beef Wellington in the oven. Preliminary make a few oblique incisions on the dough, and put the form in a preheated to 200 degrees oven. After 20 minutes, lower the temperature to 180 degrees and bake for another 15 minutes.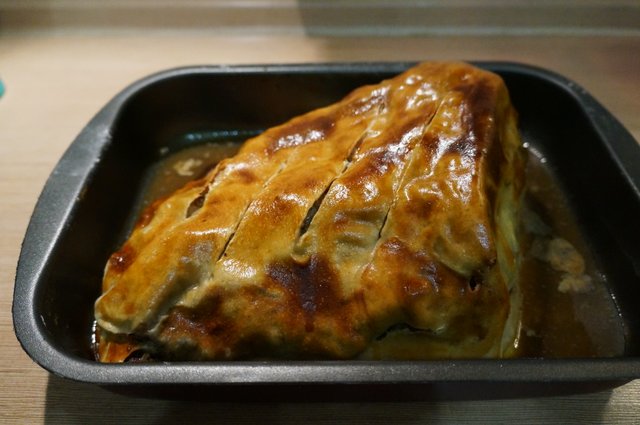 The result will be beautiful (even festive) and very tasty. Beef "Wellington" is good in hot and cold. Enjoy!
---
Para nuestra gran pena, sabemos un poco sobre la cocina inglesa: avena, fish-n-chips, té a las cinco en punto, pudines, eso es todo lo que puede recordar a un hombre estándar en la calle. Mientras tanto, en la niebla de Albion, también se come carne (¡sorpresa!)
Bueno, estoy terminando de bromear. Hoy tenemos en la mesa de corte de ternera "Wellington", también se cuece al horno en la masa. Plato no particularmente difícil, que le dará la oportunidad de sorprender a familiares y amigos.
La composición de nuestra comida tampoco es muy complicada:
carne de res - 750 gramos
champiñones (no estoy seguro de que en la vieja Inglaterra, estos hongos crecieron, por lo que se reemplazan con seguridad con otros hongos, los champiñones son simplemente los más asequibles en cualquier temporada) - 400 gramos
jamón (mejor Parma) - 100 gramos
hojaldre: 500 gramos (puede tomarlo ya hecho, tomé un hojaldre con levadura, pero en principio es todo lo mismo)
Mostaza inglesa - 2 cucharadas (y, para su gusto, ¿puede desear más bruscamente? ;-)
Aceite vegetal - para freír champiñones y carne
Sal y pimienta negra molida - aquí a tu gusto de forma natural
y lubricaremos nuestro plato antes del horno con yemas, por lo que resultará especialmente elegante.
¡Empecemos!
Lavemos la carne, la frotaremos con sal mezclada con pimienta y la freiremos a fuego alto desde todos los lados hasta obtener una corteza rojiza. Algún hombre inteligente me dijo que era para "sellar" todos los jugos de la carne (creo;) Deje que la carne se enfríe un poco. Mientras tanto, trabajaremos con hongos.
Pasaremos champiñones a través de una picadora de carne oa través de un picador o simplemente lo cortaremos en una carne pequeña por medio de un cuchillo y también los freiremos (hasta que se evapore toda el agua que estos hongos secretan en una cantidad inaceptable). Por cierto, una vez no corté hongos, sino que los corté en platos (también funciona muy bien).
Mientras nos divertimos con los champiñones, nuestra carne se ha enfriado un poco y podemos cubrirla con mostaza.
Ahora montaremos el relleno de nuestro plato. Extiende la película de comida sobre la mesa, coloca sobre ella una capa de jamón. El jamón se presenta de modo que no haya lúmenes entre las rebanadas. Ponemos en el jamón una capa de champiñones y, finalmente, en el medio de este edificio extendimos un trozo de carne. ¡Excelente! Ahora envuelva la carne con champiñones y jamón (encima hay una película que, hasta el momento, arregla toda la estructura). Ponemos el resultado en el refrigerador por 20 minutos para insistir y empapar.
Mientras la carne tiene un descanso en la nevera, desplegamos la masa sobre la mesa en una capa de 2-3 mm de espesor.
Le echamos carne, champiñones y jamón, liberados de la película. Unta el borde libre de la masa con la yema (bate suavemente la yema antes de este proceso) y envuelve la carne en una masa.
Llene las juntas, coloque la pieza de trabajo resultante en la forma para hornear (puede ponerla en la bandeja de hornear, pero no creo que encaje en el refrigerador). Coloque las costuras hacia abajo, de modo que quede una superficie lisa y hermosa en la parte superior. Lubrique la masa con la yema restante y colóquela en el refrigerador por 15 minutos.
Ahora tenemos que hornear carne Wellington en el horno. Haga previamente algunas incisiones oblicuas en la masa y coloque la forma en un horno precalentado a 200 grados. Después de 20 minutos, baje la temperatura a 180 grados y hornee durante otros 15 minutos.
El resultado será hermoso (incluso festivo) y muy sabroso. Carne de res "Wellington" es bueno en caliente y frío. ¡Disfrutar!