[EN-ES] Bouchee Cake - France in Russia | Pastel Bouchee - Francia en Rusia
Despite the fact that for the first time cakes called Bouchee appeared in France during the Great French Revolution, they gained special popularity in the USSR. And today I will tell you how to make this delicious cake in full accordance with Soviet standarts and, of course, without any chemical additives (we are for a healthy lifestyle, right?)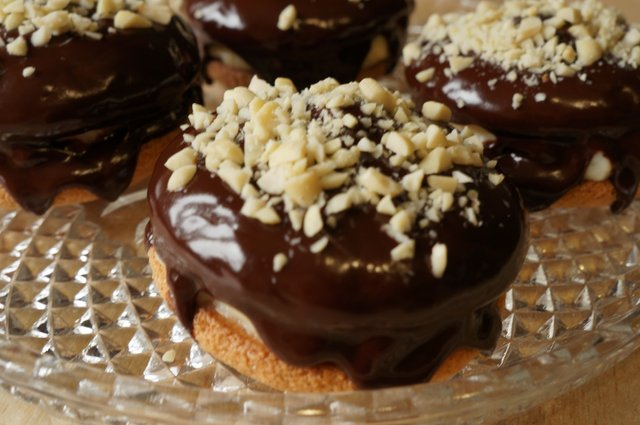 So, what do we need?
Flour - 130 grams
Starch (can be potato, but I prefer corn starch more) - 70 grams
Eggs - 14 pieces
Sugar powder - 200 grams (this is about a glass, and not to buy powdered sugar for the rabid money in the supermarket, you can just grind the usual granulated sugar in a coffee grinder)
Lemon zest - from one lemon
Of all the above, we will make a dough. The stuffing can use any (at least jam), but I love the custard and make a stuffing from it.
Let's first make a basis for cakes.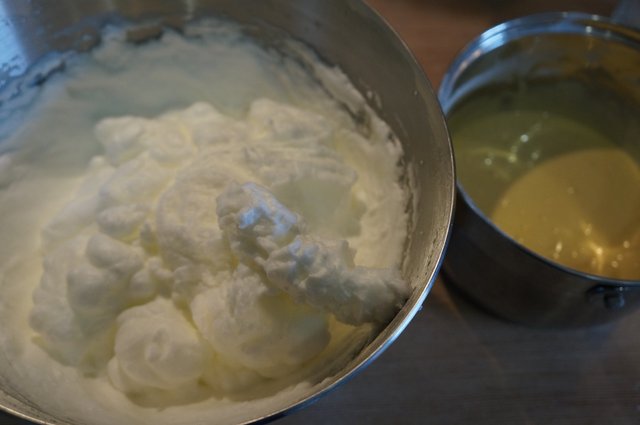 Divide the eggs into whites and yolks. Yolks will be razed with sugar powder. And egg whites we have to whisk.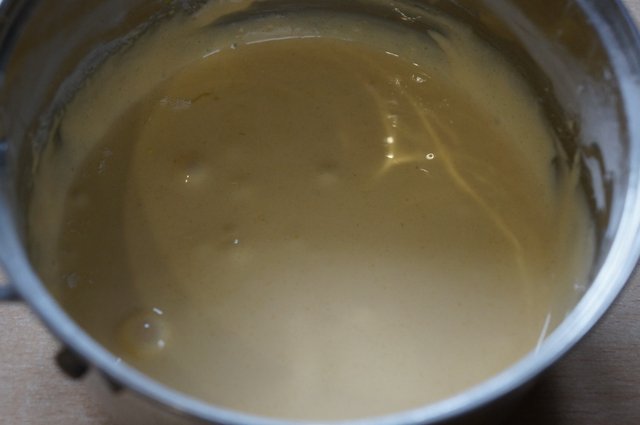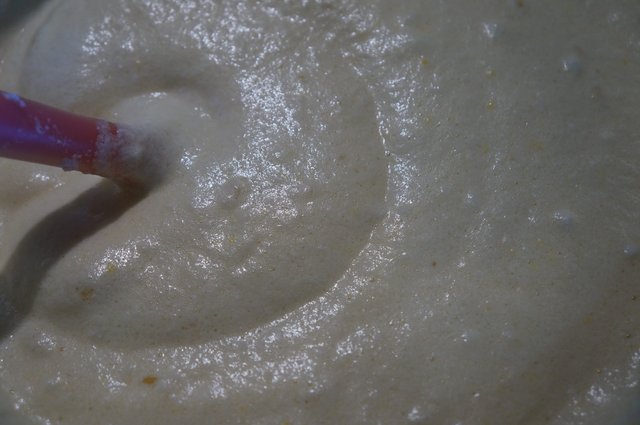 Mix the yolks with sugar and flour and starch. Add the zest and flour and mix everything. Now we throw the whipped eggs whites into the dough and again gently mix it (really neatly and without haste).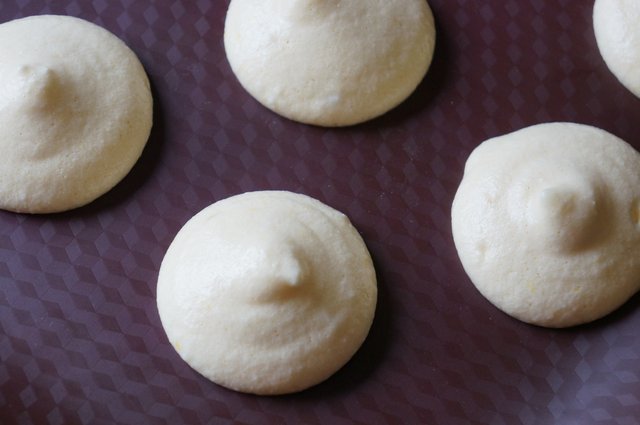 We put the resulting dough in a confectioner's bag and put it on a baking tray in circles 8 cm in diameter.
Send them to bake in the oven, heated to 175 degrees for 20 minutes. And meanwhile, let's take care of the cream.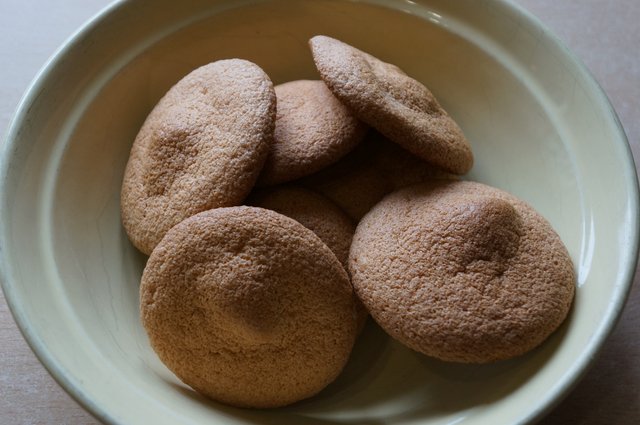 If you have no wish to make custard, you can skip this part (glue the cakes together with jam), and for the rest ...
For the cream we will need:
Egg yolks - 160 grams
Milk - 1 liter
Sugar - 250 grams
Cornstarch - 100 grams
You can also add vanillin for the smell ;-)
Boil milk (add vanillin to it). While it starts to boil, we will mix the yolks with sugar and starch to a homogeneous mass.
We pour the boiling milk to the yolk mixture, stir it and put it back in a saucepan, and put the saucepan on a stove. Now diligently mix almost ready cream, until it thickens (mix more diligently, so that the custard does not burn).
Pour the cream on a large flat plate or other flat container (so it will cool down more quickly) and cover with a food film.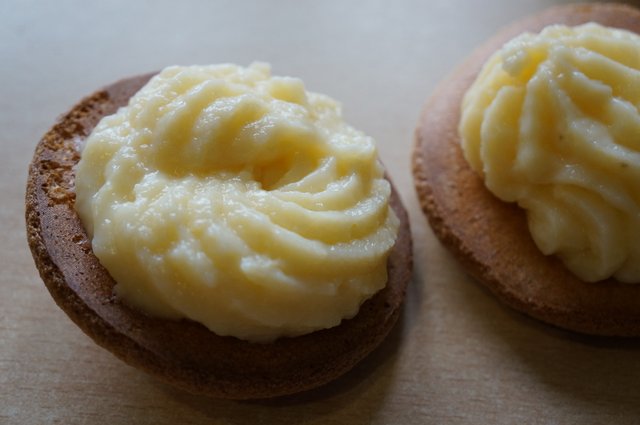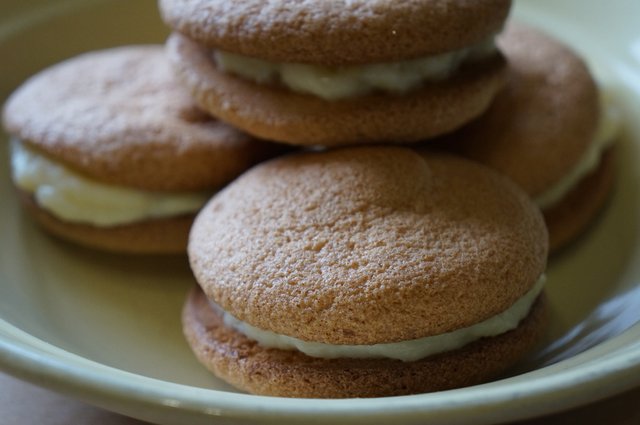 Actually, when you have cold chunks made of dough and the same cooled cream, you can start collecting our cakes. We put the cream from the pastry bag on one lozenge and press it on top of the other. The resulting cake can be sprinkled, for example, with powdered sugar (and I'll cover it with chocolate ganache and sprinkle with crushed nuts)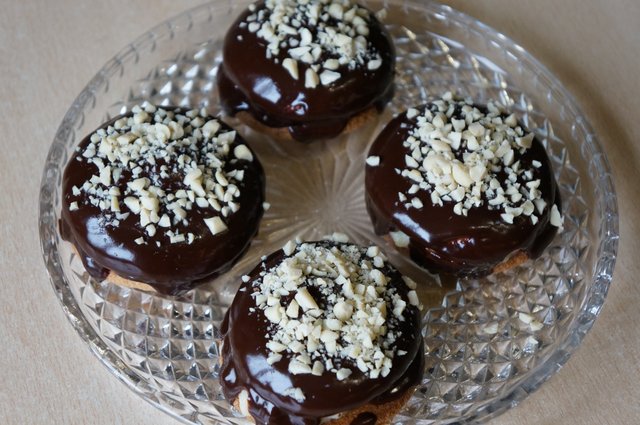 That's all, make tea and enjoy!
---
A pesar de que por primera vez los pasteles llamados Bouchee aparecieron en Francia durante la Gran Revolución Francesa, ganaron popularidad especial en la URSS. Y hoy te diré cómo hacer esta deliciosa torta en total conformidad con los estándares soviéticos y, por supuesto, sin ningún tipo de aditivos químicos (estamos a favor de un estilo de vida saludable, ¿no?)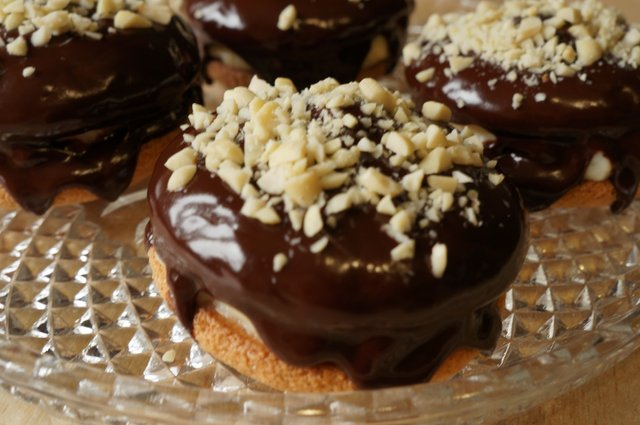 ¿Entonces, qué necesitamos?
Harina - 130 gramos
Almidón (puede ser papa, pero prefiero almidón de maíz) - 70 gramos
Huevos - 14 piezas
Azúcar en polvo: 200 gramos (esto es como un vaso, y no para comprar azúcar en polvo por el dinero rabioso en el supermercado, puedes simplemente moler el azúcar granulado habitual en un molinillo de café)
Ralladura de limón - de un limón
De todo lo anterior, haremos una masa. El relleno puede usar cualquiera (al menos mermelada), pero me encanta la crema pastelera y hacer un relleno de ella.
Primero, hagamos una base para los pasteles.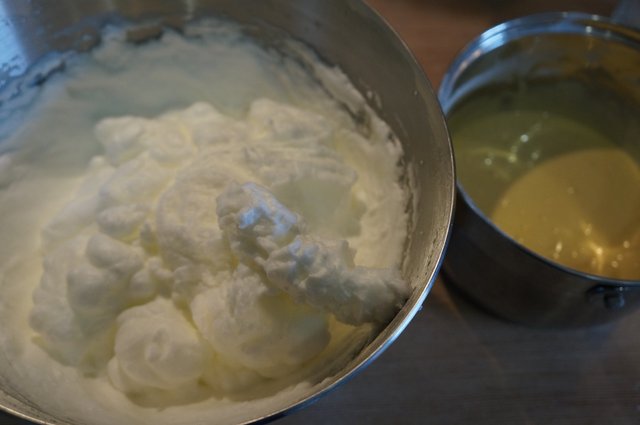 Divida los huevos en claras y yemas. Las yemas serán arrasadas con azúcar en polvo. Y las claras de huevo tenemos que batir.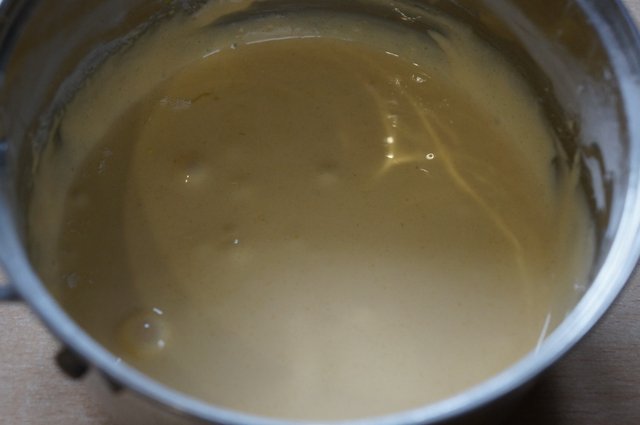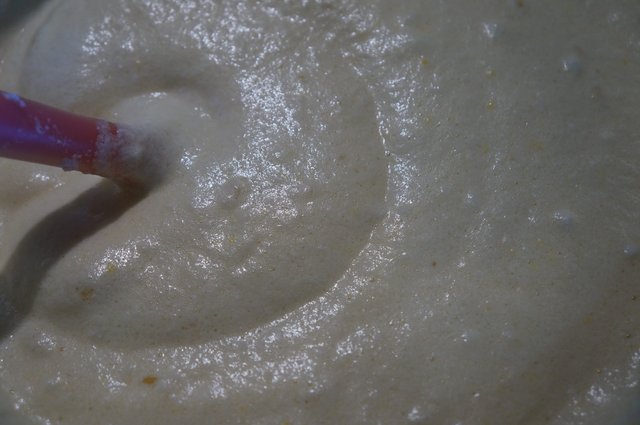 Mezcle las yemas con azúcar, harina y almidón. Agregue la ralladura y la harina y mezcle todo. Ahora echamos las claras de huevos batidos en la masa y nuevamente la mezclamos suavemente (realmente prolijamente y sin prisa).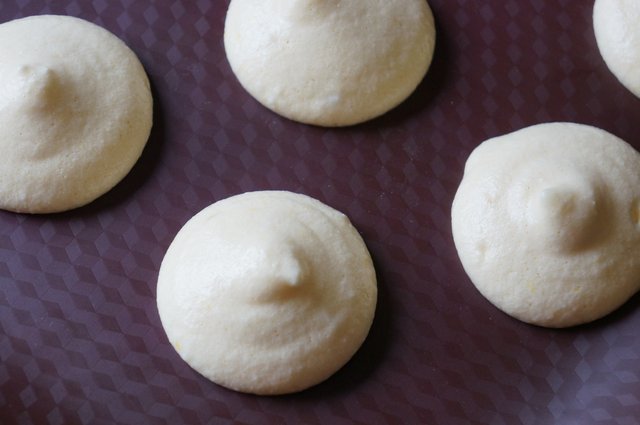 Ponemos la masa resultante en una bolsa de confitería y la ponemos en una bandeja para hornear en círculos de 8 cm de diámetro.
Envíelos para hornear en el horno, calentados a 175 grados por 20 minutos. Y mientras tanto, cuidemos la crema.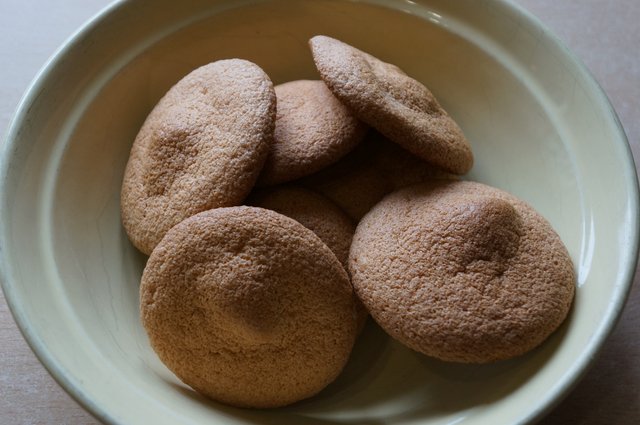 Si no desea hacer flan, puede omitir esta parte (pegar los pasteles con mermelada), y para el resto ...
Para la crema que necesitaremos:
Yemas de huevo - 160 gramos
Leche - 1 litro
Azúcar - 250 gramos
Almidón de maíz - 100 gramos
También puedes agregar vainillina para el olor ;-)
Hierva la leche (agregue vainillina). Mientras comienza a hervir, mezclaremos las yemas con azúcar y almidón en una masa homogénea.
Vertimos la leche hirviendo en la mezcla de yema, la removemos y la volvemos a poner en una cacerola, y colocamos la cacerola en una estufa. Ahora mezcle diligentemente la crema casi lista, hasta que se espese (mezcle más diligentemente, para que la crema no se queme).
Vierta la crema en una placa plana grande u otro recipiente plano (para que se enfríe más rápidamente) y cubra con una película alimenticia.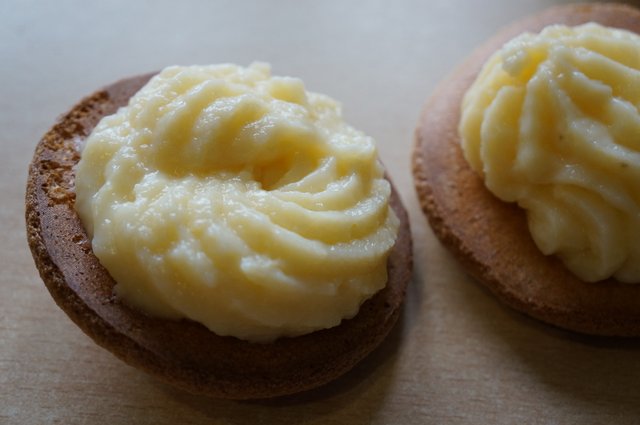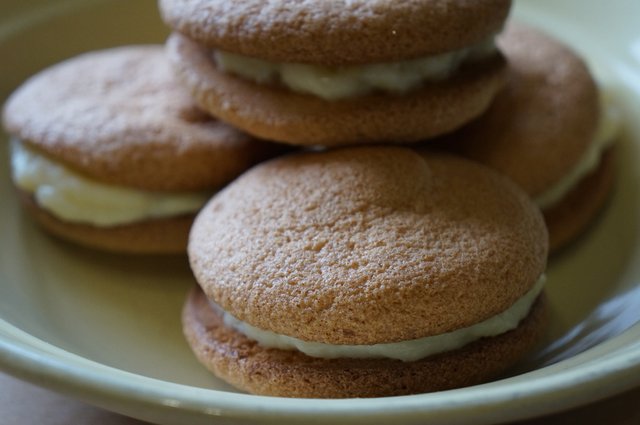 En realidad, cuando tienes trozos fríos hechos de masa y la misma crema enfriada, puedes comenzar a recolectar nuestros pasteles. Ponemos la crema de la bolsa de repostería en una pastilla y la presionamos encima de la otra. La torta resultante se puede rociar, por ejemplo, con azúcar en polvo (y la cubriré con ganache de chocolate y salpicaré con nueces trituradas)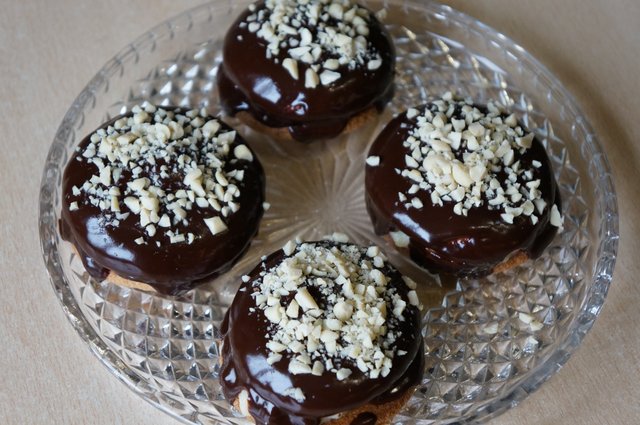 ¡Eso es todo, hacer té y disfrutar!