[EN-ES] Brushwood (Hvorost). Not firewood, but cookies | Brushwood (Hvorost). No leña, pero galletas
The next Russian national pastry - Hvorost - can now be bought in stores.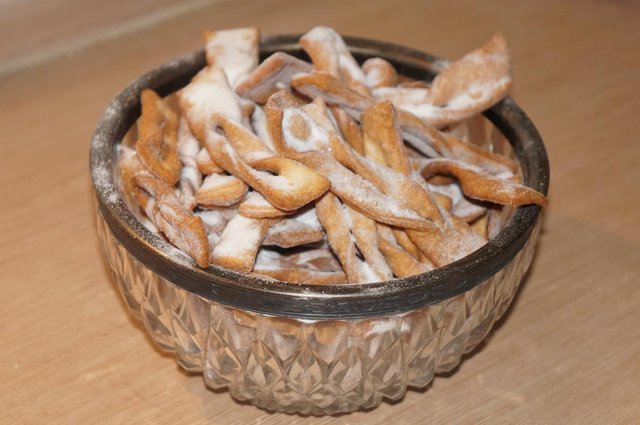 As for this particular recipe for brushwood, it was given to me by my own father (he is an electronic technician and not a cook, by the way). And he gave it to me with the words "this is my mother's recipe, and if its taste will be the same to her cookies - I'll let you publish it."
The process of achieving the taste of grandmother's brushwood was stretched out for two tries.
But now the result is obtained, and the publication is allowed .. So, catch!
Oh yes! I must also warn that the dough is done here quite easily, but baking will take quite a long time. However, while the brushwood is being baked, take care of something else ... socially useful ...
Composition:
Flour - 350 grams
Egg - 2 pieces
Sugar - 3 tablespoons
Salt - a pinch (1-2 grams)
Sour cream - 100 grams
Butter - 50 grams
Lemon juice - 1-2 grams or a quarter of a teaspoon
Fry our cookies, we will in deep fryers, so you will need a lot of vegetable oil. And in the end we'll sprinkle our cookies with powdered sugar, so it's worth storing it too.
Concentrated, collected the ingredients and drove!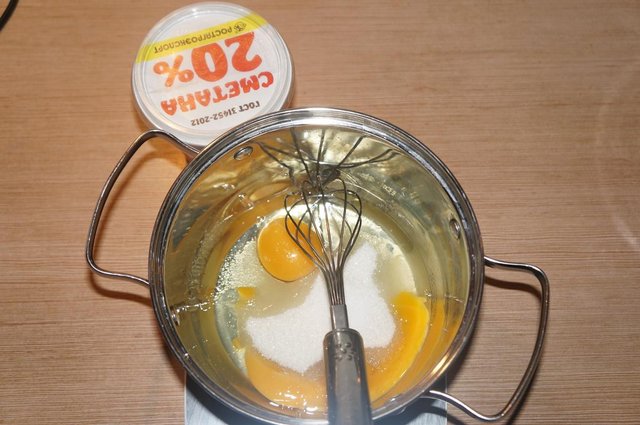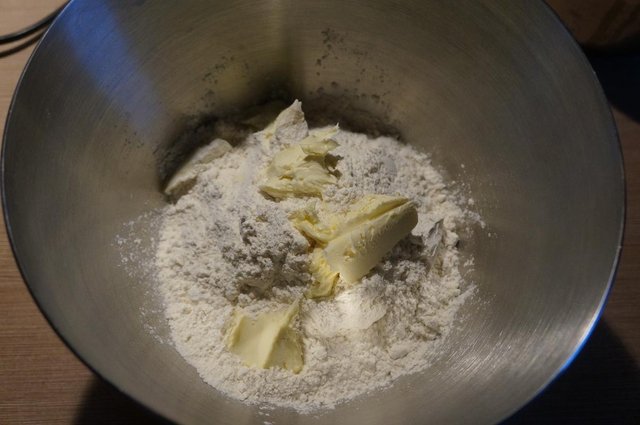 Mix eggs, sugar, salt and sour cream. And we get some liquid mass. Butter is mixed with flour (without much fanaticism, just like a short dough, that is, if only the butter is more or less evenly dispersed by flour). Add the liquid part and knead the dough.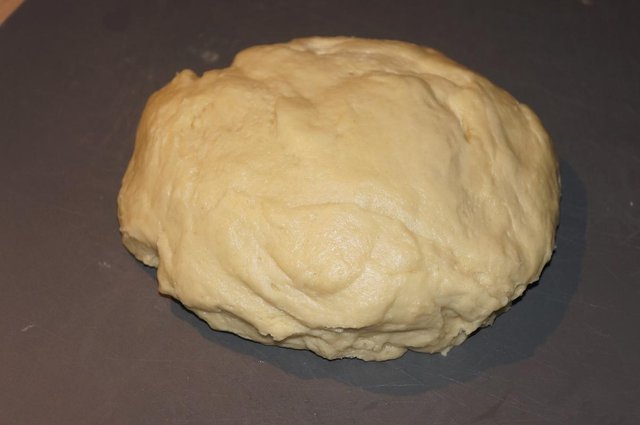 It will not turn out to be very tight, but you can roll it out and store it in one refrigerator. We wrap the dough in a food film (so as not to get fouled) and let's lie down for about ten minutes. In principle, it can be stored in the refrigerator for a day or two, it will not deteriorate.
Actually, now we will prepare cookies from the dough.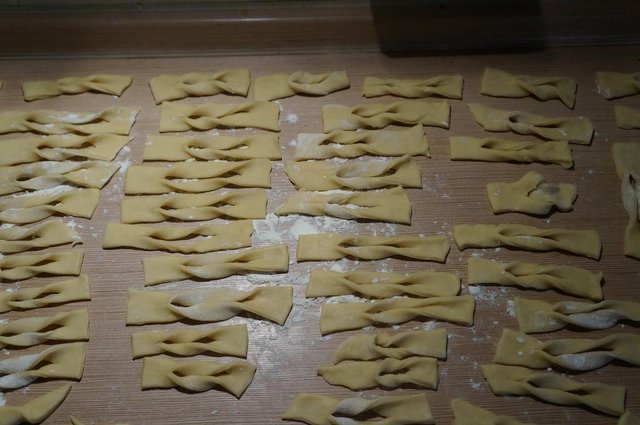 Roll out a piece of dough to a thickness of 2 mm (take flour and sprinkle the table and dough, do not be afraid). Cut it into strips of ten centimeters long, and a width of one and a half to two.
In the middle of the strip we make a short cut and pass one of the ends into it, we get such strips turned inside out (okay, okay twisted, like in the picture).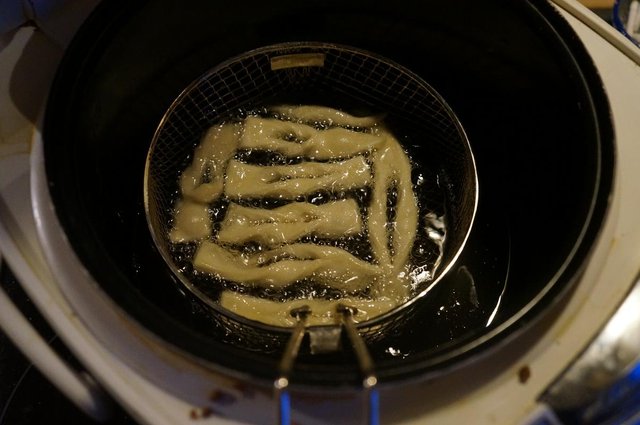 Actually these billets we will bake-fry in deep-fried until tender golden color. After that throw them back on a paper towel (to get out excess oil) and sprinkle abundantly with powdered sugar.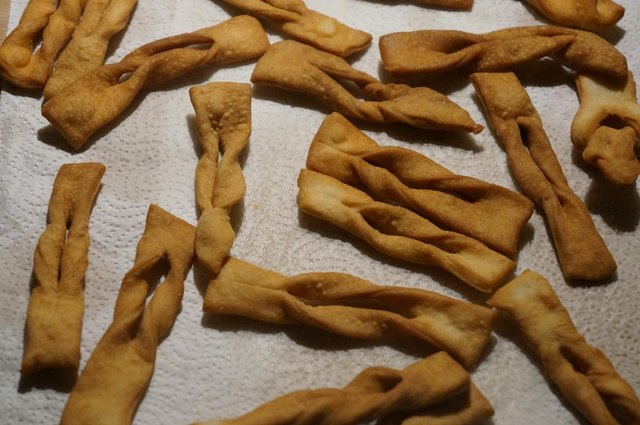 That's all. Crisp, thin, deliciously delicious cookies according to my grandmother's recipe. Enjoy!
---
La próxima pastelería nacional rusa, Hvorost, ahora se puede comprar en las tiendas.
En cuanto a esta receta particular para maleza, me la dio mi propio padre (él es un técnico electrónico y no un cocinero, por cierto). Y él me lo dio con las palabras "esta es la receta de mi madre, y si su sabor será el mismo para sus galletas, te dejaré publicarlo".
El proceso de lograr el sabor de la maleza de la abuela se extendió por dos intentos.
Pero ahora se obtiene el resultado, y la publicación está permitida. ¡Así que, atrapa!
¡Oh si! También debo advertir que la masa se hace aquí con bastante facilidad, pero la cocción llevará bastante tiempo. Sin embargo, mientras se cocina el matorral, cuídate de otra cosa ... socialmente útil ...
Composición:
Harina - 350 gramos
Huevo - 2 piezas
Azúcar - 3 cucharadas
Sal - una pizca (1-2 gramos)
Crema agria - 100 gramos
Mantequilla - 50 gramos
Jugo de limón: 1-2 gramos o un cuarto de cucharadita
Freír nuestras galletas, lo freiremos en freidoras profundas, por lo que necesitará una gran cantidad de aceite vegetal. Y al final rociaremos nuestras galletas con azúcar en polvo, por lo que vale la pena guardarlo también.
Concentrado, recogió los ingredientes y condujo!
Mezcle los huevos, el azúcar, la sal y la crema agria. Y obtenemos un poco de masa líquida. La mantequilla se mezcla con harina (sin mucho fanatismo, como una masa corta, es decir, si la harina se dispersa más o menos uniformemente). Agregue la parte líquida y amase la masa.
No resultará ser muy ajustado, pero puede extenderlo y guardarlo en un refrigerador. Envolvemos la masa en una película alimenticia (para no ensuciarnos) y nos acostamos durante unos diez minutos. En principio, puede almacenarse en el refrigerador por un día o dos, no se deteriorará.
En realidad, ahora prepararemos las galletas de la masa.
Estirar un pedazo de masa hasta un espesor de 2 mm (tomar harina y espolvorear la mesa y la masa, no tengas miedo). Córtalo en tiras de diez centímetros de largo y un ancho de uno y medio a dos.
En el medio de la banda hacemos un atajo y pasamos uno de los extremos en él, obtenemos las tiras dadas vuelta hacia adentro (de acuerdo, está bien torcido, como en la imagen).
En realidad, estos palanquillas los vamos a hornear y freír en fritos hasta que estén dorados. Después de eso, tírelos nuevamente a una toalla de papel (para sacar el exceso de aceite) y espolvoree abundante azúcar en polvo.
Eso es todo. Galletas crujientes, delgadas y deliciosamente deliciosas según la receta de mi abuela. ¡Disfrutar!