[EN-ES] Guriev pancakes. And you tried to make pancakes from semolina porridge? | Panqueques Guriev. ¿Y trataste de hacer panqueques con gachas de sémola?
The perverted fantasy of the Black Chef is looking for something else to please his family and friends (and make them to grieve about their dream for a shrinking waist size)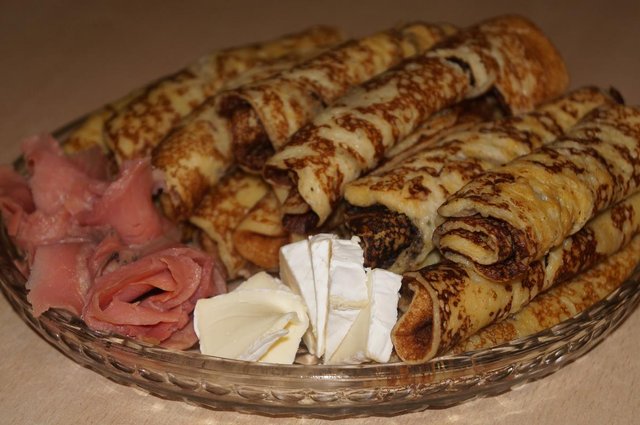 This time we will make pancakes from semolina porridge, and they will be called Guryevskies (may be some of you know the phrase "Guryev's porridge") ... The recipe is again an old Russian (it was invented in the 18th century, not ancient times, but it's too old enough).
These pancakes, as binary ammunition, are dangerous and consist of two parts. Actually, semolina and fuming base.
The composition of semolina includes:
Baked milk - 0.5 liters
Semolina - 60 g
Butter - 220 g
Salt - 10 g
Sugar - 50 g
Egg - 3 pieces
As about fuming base it's easy:
Baked milk (again) - 0,5 liters (we finish the 1 liter package)
Sugar - 10 g
Yeast - 14 grams (a bit, but you would have seen how ready dough tends to free will!)
Flour 250 gr
So, let's go:
We cook semolina.
We pre-pour sugar, salt and butter to milk and bring it to a boil. We wait until the butter finally dissolves and begin to actively stir this boiling milk, while pouring a thin stream of semolina. We wait until our porridge is cooked (do not stop stirring so that it does not stick and do not clump) and we set aside the saucepan to cool aside.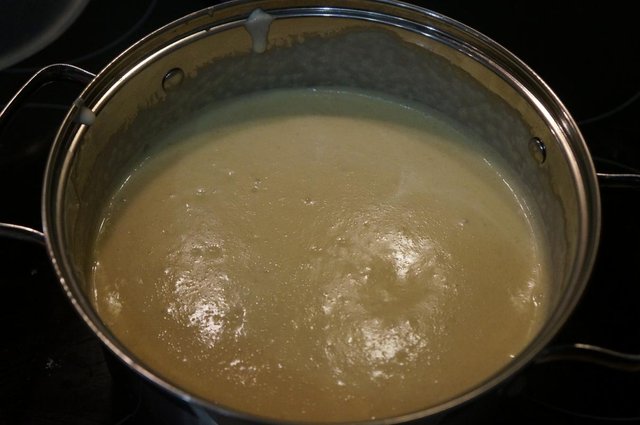 Now let's get on with the fuming base.
Everything is elementary simply - we mix everything up to uniformity and leave it for yeast to work (this is determined by the appearance of bubbles). Here in our actions there will be a pleasant break (until the porridge cools, and while yeast starts to work - you can do charitable deeds).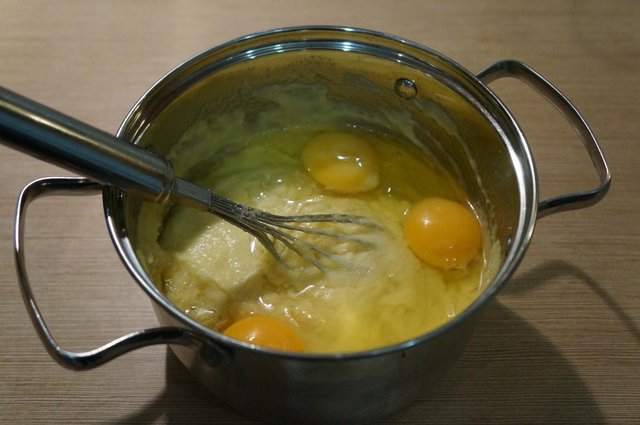 OK. The porridge has cooled down and it is possible to mix in the eggs, and then mix the gruel with the fuming base to a uniform substance, from which we will bake pancakes. There is nothing special to say. The thickness of pancakes is also not important, do it as you like.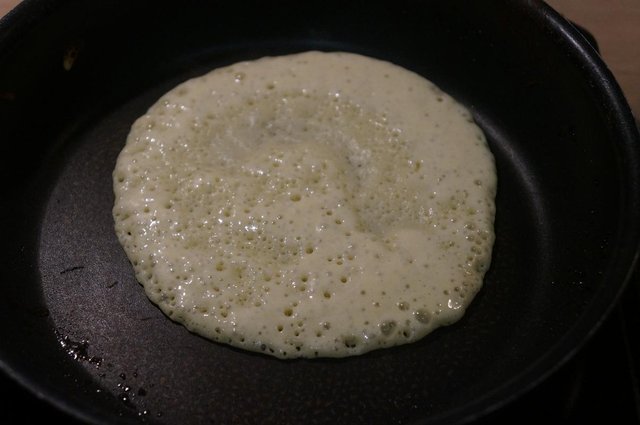 Pancakes are not very sweet, so the choice with which eat them is yours.
---
La fantasía pervertida del Black Chef está buscando algo más para complacer a su familia y amigos (y hacer que lloren por el sueño de una cintura encogida)
Esta vez haremos panqueques de gachas de sémola, y se les llamará Guryevskies (tal vez algunos de ustedes conocen la frase "gachas de Guryev") ... La receta es nuevamente una antigua rusa (fue inventada en el siglo XVIII, no tiempos antiguos, pero es demasiado viejo).
Estos panqueques, como municiones binarias, son peligrosos y constan de dos partes. En realidad, la sémola y la base humeante.
La composición de la sémola incluye:
Leche al horno - 0.5 litros
Sémola - 60 g
Mantequilla - 220 g
Sal - 10 g
Azúcar - 50 g
Huevo - 3 piezas
Sobre la base de humos es fácil:
Leche al horno (nuevamente) - 0,5 litros (terminamos el paquete de 1 litro)
Azúcar - 10 g
Levadura: 14 gramos (un poco, pero ya habrías visto qué tan preparada está la masa para liberarla).
Harina 250 gr
Entonces vamos:
Cocinamos sémola
Previamente vertimos azúcar, sal y mantequilla en la leche y la llevamos a ebullición. Esperamos hasta que la mantequilla finalmente se disuelva y comience a agitar activamente esta leche hirviendo, mientras se vierte una pequeña cantidad de sémola. Esperamos hasta que nuestra papilla esté cocida (no deje de remover para que no se pegue y no se aglutine) y guardamos la cacerola para que se enfríe.
Ahora sigamos con la base humeante.
Todo es simple simplemente: mezclamos todo hasta la uniformidad y dejamos que la levadura trabaje (esto está determinado por la aparición de burbujas). Aquí en nuestras acciones habrá un descanso agradable (hasta que la papilla se enfríe, y mientras la levadura comience a funcionar, usted puede hacer obras de caridad).
DE ACUERDO. La papilla se ha enfriado y es posible mezclar los huevos, y luego mezclar las gachas con la base humeante en una sustancia uniforme, de la cual hornearemos panqueques. No hay nada especial que decir. El grosor de los panqueques tampoco es importante, hazlo como quieras.
Los panqueques no son muy dulces, por lo que la elección con la que los come es suya.