[EN-ES] Libzhe from beef. We get acquainted with Kabardian cuisine. | Libzhe de la carne. Nos familiarizamos con la cocina de Kabardian.
It so happened that my vacation at a ski resort in the Elbrus region was smoothly turned into a culinary tour of the dishes of Kabardian cuisine. So now, my friends, we will have a number of posts about Kabardian dishes. By the way, everyone who loves mountains, mountain skis (or snowboards) and of course delicious food is highly recommended to go to the foot of the highest peak of Europe - Elbrus, you definitely will not regret.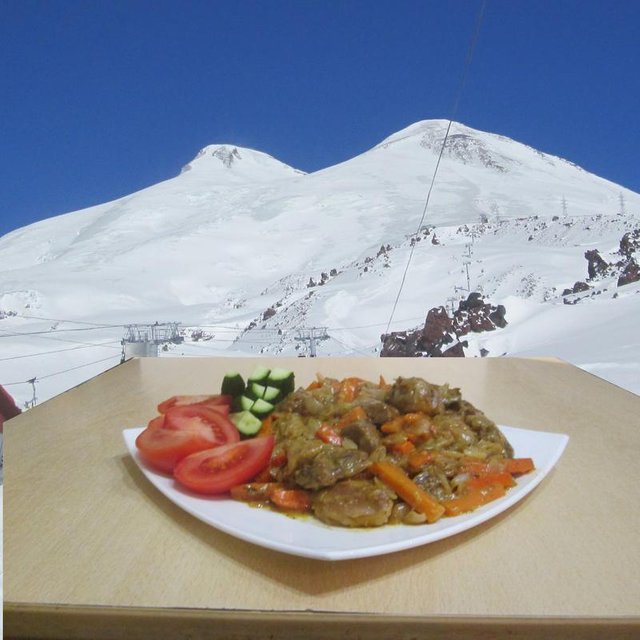 The handsome Elbrus and libzhe from the beef </ center> </ center>
So today we have a terrific recipe of stewed beef in Kabardian, which is called "Libzhe" (translated as "stew in the fire"). There is also a chicken libzhe (gedibzhe, as you can see the name is very similar, just because it is more by fact, the way of preparation). But now about beef. And the owner and chef of one small cafe at the foot of the mountain Cheget (not far from Elbrus) told me this recipe.
What do we need?
Beef (by itself) - 1.2 kg Onions - 650 grams Carrots - 250 grams Sour cream - 60 grams Flour - 25 grams Vegetable oil - 4 tablespoons Water - 850 grams And of course spices! hot pepper powder - 1 teaspoon paprika powder - 1 tablespoon black pepper powder and salt - here I hope for your taste ;-)
Well, let's begin!
Cut the meat, onions and carrots. The meat is fairly large cubes, about 3x3 centimeters, the onions are smaller, but also cubes 1x1, and carrots are bars.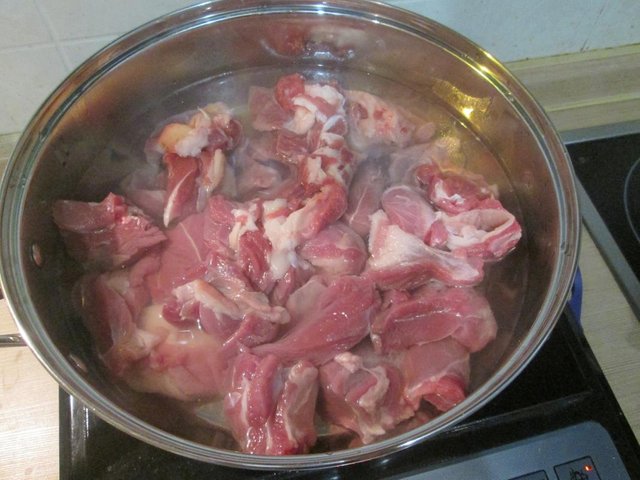 </ center>
Lay the meat in a frying pan, fill it with two glasses of water, close the lid and extinguish until the water runs out of the word at all. But how it ends, we fill instead of water with vegetable oil and now we will fry the meat to a beautiful golden crust.
Now add the onion and fry it together with the meat until the golden color of the onion.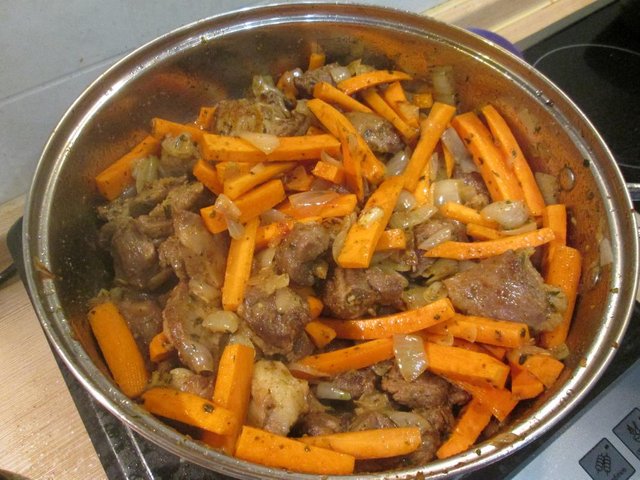 </ center>
We will cover everything with spices and mix it qualitatively. Add the carrots, stir again and fry a little more until the half-ready carrots (as they say "al-dente").
We intervene in the resultant thermonuclear mixture of flour, and then sour cream. And, at last, we shall add the remaining water, we will close a cover and we will extinguish until carrots are ready.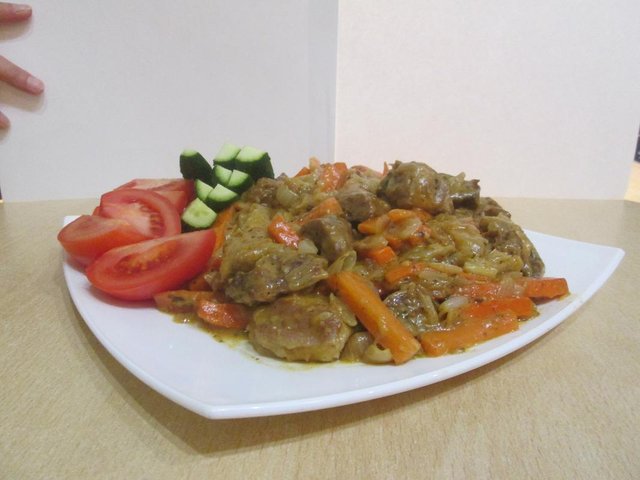 </ center>
In general, as you can see, not the most difficult dish (though a lot of body movements), but the meat melts right in your mouth and you can eat it even without a garnish (let them be carrot ;-).
---
Dio la casualidad de que mis vacaciones en una estación de esquí en la región de Elbrus se convirtieron sin problemas en un recorrido gastronómico por los platos de la cocina kabardiana. Así que ahora, mis amigos, tendremos una serie de publicaciones sobre platos Kabardianos. Por cierto, a todos los que aman las montañas, los esquís de montaña (o las tablas de snowboard) y, por supuesto, la deliciosa comida, se les recomienda ir al pie del pico más alto de Europa: Elbrus, definitivamente no te arrepentirás.
Así que hoy tenemos una excelente receta de carne guisada en Kabardian, que se llama "Libzhe" (traducido como "estofado en el fuego"). También hay un libzhe de pollo (gedibzhe, como se puede ver el nombre es muy similar, simplemente porque es más por hecho, la forma de preparación). Pero ahora sobre la carne. Y el dueño y el chef de un pequeño café al pie de la montaña Cheget (no lejos de Elbrus) me dijeron esta receta.
¿Qué necesitamos?
Carne de res (solo) - 1.2 kg Cebollas: 650 gramos Zanahorias: 250 gramos crema agria - 60 gramos Harina: 25 gramos Aceite vegetal - 4 cucharadas Agua: 850 gramos ¡Y, por supuesto, especias! pimiento picante en polvo - 1 cucharadita polvo de pimentón - 1 cucharada pimienta negra en polvo y sal; aquí espero que sea de tu agrado ;-)
Bien, ¡comencemos!
Corta la carne, las cebollas y las zanahorias. La carne es bastante grande cubos, alrededor de 3x3 centímetros, las cebollas son más pequeñas, pero también cubos 1x1, y las zanahorias son bares.
Coloque la carne en una sartén, llénela con dos vasos de agua, cierre la tapa y extinga hasta que el agua se acabe. Pero cómo termina, llenamos en vez de agua con aceite vegetal y ahora vamos a freír la carne a una hermosa corteza dorada.
Ahora agregue la cebolla y frítela junto con la carne hasta que el color dorado de la cebolla.
Cubriremos todo con especias y lo mezclaremos cualitativamente. Agregue las zanahorias, revuelva de nuevo y fría un poco más hasta que las zanahorias estén listas para la mitad (como dicen "al-dente").
Intervendremos en la mezcla termonuclear resultante de harina y luego en crema agria. Y, finalmente, agregaremos el agua restante, cerraremos una tapa y nos extinguiremos hasta que las zanahorias estén listas.
En general, como puede ver, no es el plato más difícil (aunque tiene muchos movimientos corporales), pero la carne se derrite directamente en la boca y puede comerla incluso sin una guarnición (que sean zanahoria ;-).