[EN-ES] Well, a little more about the kitchen of the Elbrus region. Khychyn's | Bueno, un poco más sobre la cocina de la región de Elbrus. Khychyn's
And one more dish that I brought from a trip to the Elbrus region is a folk Kabardian cake called Khychin (which means, in the translation into the language of native aspen, a crochet cut crosswise)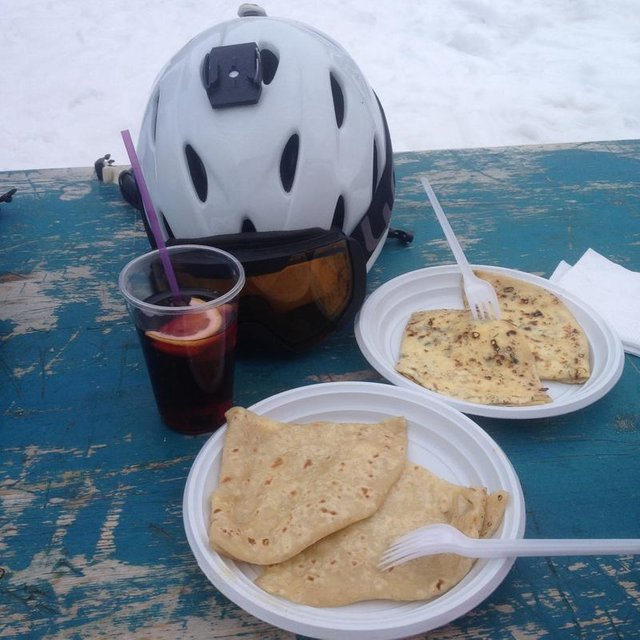 Still, the main seasoning for Khychyn's is a snowboard and a height of 3850 above sea level! </ center> </ center>
In the composition of this surprising in its simplicity the dishes:
dough and stuffing ;-)
and in the dough:
jogurt - 1/2 cup (in principle, you can substitute it for milk)
water - 1/2 cup
flour - 2.5 cups
salt - 1 teaspoon (or 7 grams)
soda - 1/2 teaspoon
By the way, who does not know about the standard Russian faceted glass it's volume is 250 grams of water (and about the same amount of milk)
Now about the stuffing. There are a lot of fillings for Khychyn's, but the classic ones are: meat, cheese and cottage cheese. We will have a cheese version of fresh homemade cheese and greens
home-made fresh cheese - 300 grams
greens (I use coriander) - to taste
Salt, however, also to taste.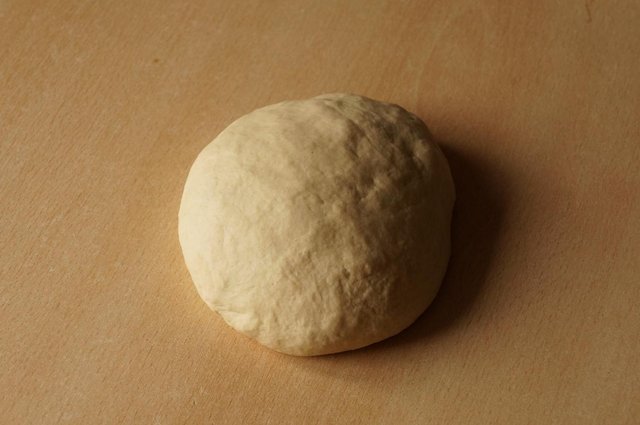 </ center>
Let's start! Mix all the ingredients of the dough into one heap and mix until you get a smooth dough that does not stick to your hands. Put it aside (cover with a towel so that it does not become airborne) and turn your attention to stuffing.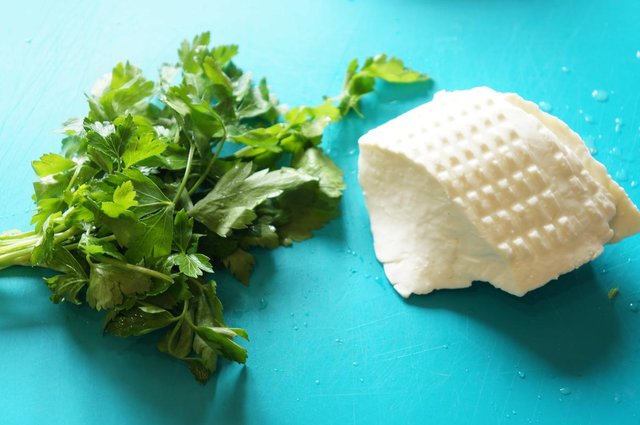 </ center>
Everything is elementary here at all - mix cheese, salt and finely chopped herbs in a uniform mass and proceed to the actual production of khychin.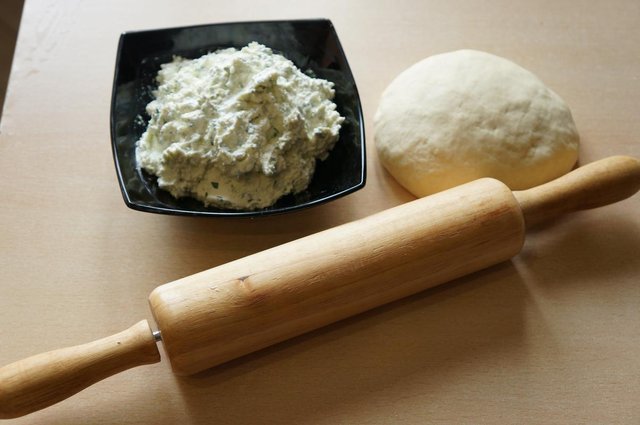 Prepared! </ center> </ center>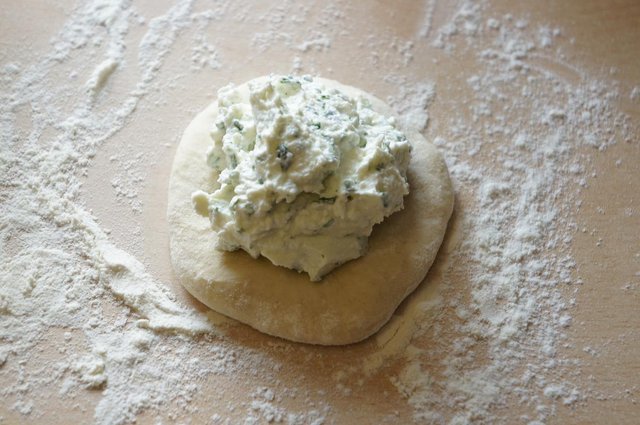 Started! </ center> </ center>
We tear off a piece of dough and exactly the same piece of stuffing. We roll the dough into a ball, turn it slightly into a cake (or roll it out) and put the ball of stuffing in the middle.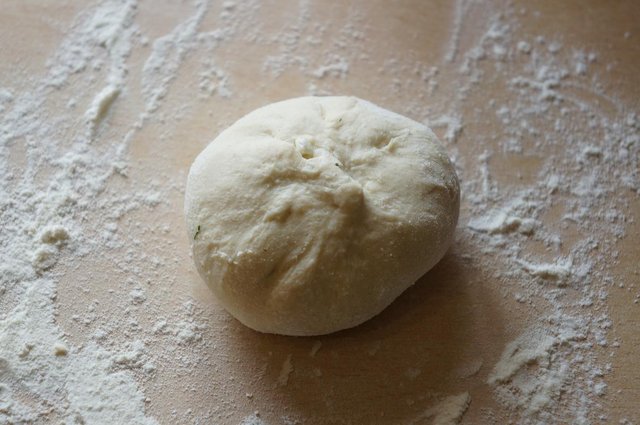 </ center>
We cover the stuffing with a dough (a la Hinkali ;-), put the result downwards and start gently rolling into a thin (3-5 mm) cake. Do not forget to pre-sprinkle the surface with flour. Here it is the most difficult stage, roll out carefully, so that the stuffing does not climb out.
Almost ready khychin throw on a dry heated frying pan and bake on the principle of pancake, that is, first one side, and then the other. Attention! You do not need to throw butter or oil on the frying pan.
Cover ready khychin with butter, while it's hot and send it to the pan next.
Well, before serving, we cut the hutchin's into four pieces with a cross.
---
Y un plato más que traje de un viaje a la región de Elbrus es un pastel Kabardiano popular llamado Khychin (lo que significa, en la traducción al idioma del álamo temblón nativo, un corte de ganchillo en sentido transversal)
En la composición de este sorprendente en su simplicidad los platos:
masa y relleno ;-)
y en la masa:
jogurt - 1/2 taza (en principio, puedes sustituirla por leche)
agua - 1/2 taza
harina - 2.5 tazas
sal - 1 cucharadita (o 7 gramos)
refresco - 1/2 cucharadita
Por cierto, quien no sabe sobre el vidrio facetado ruso estándar, su volumen es de 250 gramos de agua (y aproximadamente la misma cantidad de leche)
Ahora sobre el relleno. Hay muchos rellenos para Khychyn, pero los clásicos son: carne, queso y requesón. Tendremos una versión de quesos frescos y hechos en casa con queso
queso fresco casero - 300 gramos
verdes (yo uso cilantro) - al gusto
Sal, sin embargo, también para probar.
¡Empecemos! Mezcle todos los ingredientes de la masa en un montón y mezcle hasta que obtenga una masa suave que no se adhiera a sus manos. Déjelo a un lado (cúbralo con una toalla para que no se transforme en el aire) y preste atención al relleno.
Aquí todo es elemental: mezcle queso, sal y hierbas finamente picadas en una masa uniforme y proceda a la producción real de khychin.
Arrancamos un pedazo de masa y exactamente la misma pieza de relleno. Enrollamos la masa en una bola, la convertimos en una torta (o la desplegamos) y colocamos la bola de relleno en el medio.
Cubrimos el relleno con una masa (a la Hinkali ;-), ponemos el resultado hacia abajo y comenzamos a enrollar suavemente en una torta fina (3-5 mm). No te olvides de espolvorear la superficie con harina. Aquí es la etapa más difícil, despliegue cuidadosamente, para que el relleno no se salga.
Casi listo khychin arrojar sobre una sartén seca y caliente y hornear en el principio de panqueque, es decir, primero un lado, y luego el otro. ¡Atención! No necesita arrojar mantequilla o aceite sobre la sartén.
Cubra khychin listo con mantequilla, mientras está caliente y luego envíelo a la sartén.
Bueno, antes de servir, cortamos los hutchin en cuatro pedazos con una cruz.