[EN-ES] What is Smokva? Or a dictionary of Old Russian Language from the Black Chef. | ¿Que es Smokva? O un diccionario de lengua antigua rusa del Black Chef.
Today in my blog another old Russian sweetness, which you all know and, I hope, love. Once upon a time this yummy was called "Smokva", but now ... As it is called now, I will not say, you will easily guess it yourself.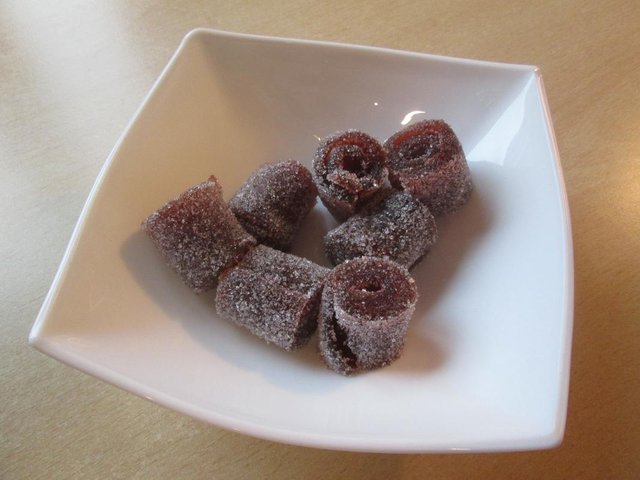 From the production point of view, it is close to my beloved Belev's pastile, but fortunately does not require the same amount of effort.
And we only need two ingredients
Puree from plum (you can take any berry with a lot of pectin, for example cranberries) - 370 grams (this amount of puree is obtained from about 800 grams of plum)
Honey (you can substitute for sugar, but lose authenticity;) - 120 grams (well, or to taste, if you want a sweeter or more sour, sugar should be - 380 grams, or again to taste)
Now the actual process
Prepare the mashed berries.
Take away plum drupels, put plums in a saucepan with a thick bottom or on a similar frying pan. We need it to become soft.
Use your favorite way to turn the plum in puree (I do it with a chopper, and you at least use a meat grinder) and rub through a sieve to make puree become homogeneous and cute
Now add the honey in the puree, we will throw the mixture into the pot and will boil until it becomes thick and easily detached from the walls and bottom of the pan.
It took me about twenty minutes, and I kept the fire pretty strong. The main thing do not forget to stir your mixture actively so that it does not burn to the bottom.
Excellent! The preparatory stage is over and we, whistling a merry tune, unload our almost finished Smokva on a baking sheet covered with baking paper, spread out a layer of millimeters in thickness and send it to the oven to dry.
The temperature of the oven should be 50-60 degrees, and the whole process takes 12 hours (you can do it without the oven, but then you'll have to dry Smokva for a couple of days, but it'll be frugally!)
Somewhere around 8-10 hours I recommend turning over a layer on another paper, take away the old one and dry Smokva for some more time
Done? Excellent!
We cut strips in width of 2-3 centimeters and length of 10-15 centimeters and roll into rolls. Now we have to roll it up in sugar, and Smokva is ready!
Main brew delicious tea, because your work should be rewarded with a pleasant tea party in the family circle ;-)
---
Hoy en mi blog otra vieja dulzura rusa, que todos ustedes conocen y, espero, les encanta. Érase una vez que este delicioso se llamaba "Smokva", pero ahora ... Como se llama ahora, no lo diré, tú mismo lo adivinarás fácilmente.
Desde el punto de vista de la producción, está cerca del pastilero de mi querido Belev, pero afortunadamente no requiere la misma cantidad de esfuerzo.
Y solo necesitamos dos ingredientes
Haga puré de ciruela (puede tomar cualquier baya con mucha pectina, por ejemplo arándanos) - 370 gramos (esta cantidad de puré se obtiene de alrededor de 800 gramos de ciruela)
Miel (puedes sustituir el azúcar, pero perder autenticidad;) - 120 gramos (bueno, o para probar, si quieres un azúcar más dulce o más agrio, debería ser - 380 gramos, o de nuevo para probar)
Ahora el proceso real
Prepare las bayas trituradas.
Quite las drupas de ciruela, ponga las ciruelas en una cacerola con un fondo grueso o en una sartén similar. Necesitamos que se vuelva suave.
Use su forma favorita de convertir la ciruela en puré (lo hago con un picador, y al menos use una picadora de carne) y frote a través de un colador para que el puré se vuelva homogéneo y lindo
Ahora agregue la miel en el puré, vamos a arrojar la mezcla en la olla y hervir hasta que se vuelva gruesa y se desprenda fácilmente de las paredes y el fondo de la sartén.
Me llevó unos veinte minutos y mantuve el fuego bastante fuerte. Lo principal no te olvides de remover tu mezcla activamente para que no se queme en el fondo.
¡Excelente! La etapa preparatoria ha terminado y, silbando alegremente, descargamos nuestro Smokva casi terminado en una bandeja para hornear cubierta con papel de hornear, extendimos una capa de milímetros de espesor y lo enviamos al horno para que se seque.
La temperatura del horno debe ser de 50-60 grados, y todo el proceso toma 12 horas (puedes hacerlo sin el horno, pero luego tendrás que secar Smokva durante un par de días, ¡pero será frugal! )
En algún momento entre 8 y 10 horas, recomiendo voltear una capa en otro papel, quitar el viejo y secar Smokva por un tiempo más
¿Hecho? ¡Excelente!
Cortamos tiras de ancho de 2-3 centímetros y una longitud de 10-15 centímetros y enrollamos en rollos. ¡Ahora tenemos que enrollarlo en azúcar, y Smokva está listo!
Principal preparar té delicioso, porque su trabajo debe ser recompensado con una agradable fiesta del té en el círculo familiar ;-)