UN POSTRE AGRADABLE!!!!!A NICE DESSERT !!!!!
Hola a todos y a todos que por alguna razón se le hace imposible poder efectuar su publicación debido a problemas de internet, energía eléctrica, sin datos en su teléfono celular, para poder interactuar en esta enorme y bendecida comunidad social, donde nos explayamos, dejando en cada palabra un sentimiento de nuestros principios, teniendo en cuenta la conducta con la que efectuamos dicho post, mas halla de las diversidades personales, del clima y del momento que cada uno esta pasando o sea por el animo personal, porque bien se sabe que en esta actualidad es como que tenemos flanqueadas nuestras expectativas de seguir adelante, pero asimismo todos sabemos que existe un DIOS, que es TOPODEROSO Y TODO LO PUEDE, siempre que creamos en el y depositemos toda nuestra FE, la cual dice en la sagrada escritura lo siguiente.
ES PUES LA FE LA CERTEZA DE LO QUE SE ESPERA, Y LA CONVICCION DE LO QUE NO SE VE.
Hebreos 11.1
Por eso si ponemos todo de nosotros, nuestra fe, de esa manera llegaremos a la meta soñada.
Así que amigos en esta ocasión poniendo todo de mi y con mucha FE, me puse a elaborar un postre para el almuerzo, en lo personal lo llame TORTA FRUTADA y sus ingredientes so.
Bizcochuelo de vainilla, elaborado tradicionalmente.
Crema moca para el relleno, la cual contiene , crema de leche con café y azúcar.
La parte exterior, utilice crema de leche batida.
Ahora viene lo de mi iniciativa el agregado en la parte de arriba.
Variedades de fruta como, naranja, ciruela, uva, frutilla y kiwi.
Para darle mas seguridad a dicho postre lo coloque en la nevera por un buen tiempo, 2 horas, y cuando llego el momento de degustarlo, les digo que principalmente mis nietas repitieron hasta tres veces, porque cada porción tenia una opción la misma Hera agregarle caramelo, mas frutilla o dulce de leche, por tal motivo no quedo nada y yo en lo personal muy satisfecho por mi logro que como digo siempre, si todo lo que hacemos le ponemos AMOR Y PERSEVERANCIA, sale muy bien, en este caso también fue con mucha FE.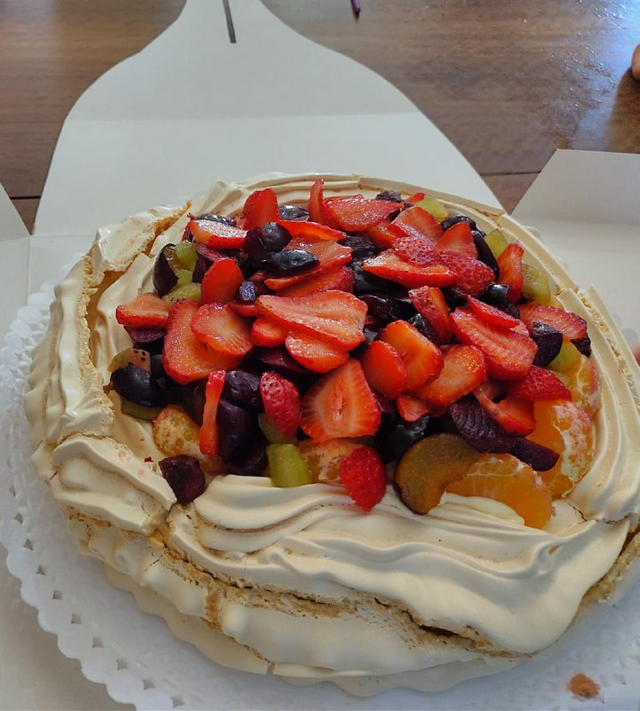 Entonces, queridos amigos y integrantes de esta gran plataforma, a veces para iniciar alguna iniciativa como en este caso y que no estamos seguro de como terminara, yo en lo personal medite unos minutos pidiéndole al SEÑOR que me diera ENTENDIMIENTO para realizar todo esto, entonces de haberles agradado esta gran receta de ( comandoyeya ), no dejen de efectuar sus comentarios.
TRADUCIDO EN INGLES.
Hello everyone, for some reason it is impossible to make your publication due to internet problems, electricity, without data on your cell phone, to be able to interact in this huge and blessed social community, where we expand, leaving in each word a feeling of our principles, taking into account the behavior with which we carry out said post, plus it finds the personal diversity, the climate and the moment that each one is going through, that is, due to personal spirit, because it is well known that This actuality is like we have flanked our expectations of moving forward, but also we all know that there is a GOD, who is POWERFUL AND CAN DO EVERYTHING, as long as we believe in him and deposit all our FAITH, which says in the sacred scripture the following .
THEREFORE, FAITH IS THE CERTAINTY OF WHAT IS EXPECTED, AND THE CONVICTION OF WHAT IS NOT SEEN.
Hebrews 11.1
That is why if we put everything of ourselves, our faith, that way we will reach the dream goal.
So friends this time putting all of me and with a lot of FAITH, I started to make a dessert for lunch, personally I call it FRUITED CAKE and its ingredients are.
Vanilla sponge cake, traditionally made.
Mocha cream for the filling, which contains, milk cream with coffee and sugar.
The outside, use whipped cream.
Now comes my initiative, the addition at the top.
Varieties of fruit such as orange, plum, grape, strawberry and kiwi.
To give this dessert more security, I put it in the fridge for a good time, 2 hours, and when it was time to taste it, I tell them that mainly my granddaughters repeated up to three times, because each portion had an option, Hera herself adding caramel , more strawberry or dulce de leche, for this reason there is nothing left and I am personally very satisfied with my achievement that as I always say, if everything we do we put LOVE AND PERSEVERANCE, it turns out very well, in this case it was also with much faith.
! [image.png] (
)
So, dear friends and members of this great platform, sometimes to start an initiative like in this case and we are not sure how it will end, I personally meditate for a few minutes asking the LORD to give me UNDERSTANDING to do all this, then If you have liked this great recipe from (Commandoyeya), do not stop making your comments.
THANK YOU SO MUCH FOR STOPPING BY MY BLOG, READING AND COMMENTING ON IT
MUCHAS GRACIAS POR PASAR POR MI BLOG, LEERLO Y COMENTARLO.