Former Bomb Shelter Turned Into Underground Farm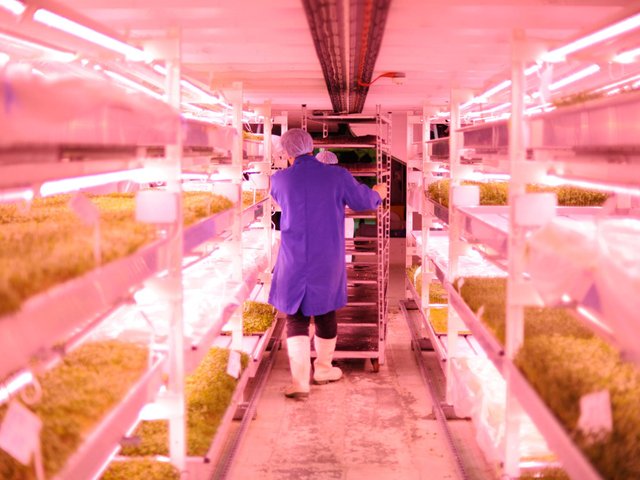 About 100 feet under the ground in London, there is a company-fittingly named Growing Underground-that is currently growing a variety of different types of herbs; able to feed and accommodate roughly 8,000 people in the area.
The company has combined both hydroponics and vertical farming methods and they are growing their produce using LED lights with nutrient solutions in water.
The space where the food is being grown allegedly used to be used as an air-raid shelter back during WWII. And since they set up their operation a few years ago, they've been supplying both local consumers in the area as well as restaurants.
They are also inspiring farmers in the area who are now interested in learning about the new growing techniques; they could combine the new technology with their old growing methods for overall improved growing efficiency.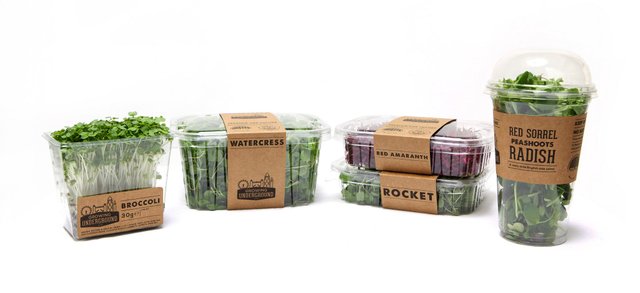 At their facility they've been growing things like:
fennel
coriander
garlic chives
red mustard
Thai basil
pea shoots
watercress
Their business endeavor has landed them the BBC Future Food Award thanks to its innovative growing approach.
Those behind the Growing Underground initiative wanted to get quality food to consumers in a way that reduces waste and food miles and so far they seem to be proving successful at the endeavor. Their growing methods are also using roughly 70 percent less water than traditional methods.
They also say that their approach to farming is far cheaper, provides them with more control, and they're able to grow the produce faster.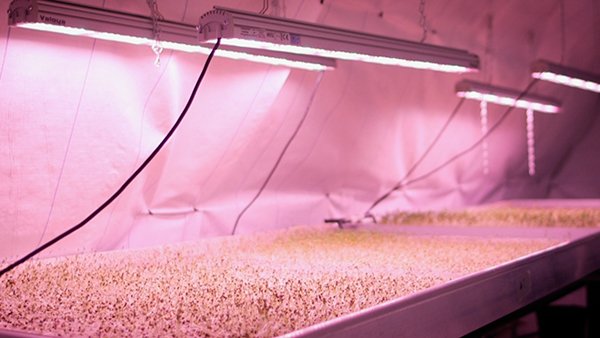 Those behind the project believe that we have the ability to feed the growing food demand for the plant, it's just about taking the time to explore creative and unique growing initiatives to get the job done.
Those would be options like aquaponics, hydroponics, vertical farming, and more
.
Growing Underground was successful in raising over 1 million thanks to crowdfunding methods and they hope to eventually expand and supply internationally. They also just recently managed to land a lucrative deal with a major online retailer in the UK—Ocado.
They will be providing the company with a variety of bagged salads that are expected to be available for sale on their online grocery market. And the products are also available via FarmDrop.
The vertical farming market continues to grow in popularity all around the world and it's estimated that this market will reach $13 billion globally by 2024.

Pics:
Growing Underground via independent.co.uk/Business/indyventure/growing-underground-london-farm-food-waste-first-food-miles-a7562151.html#gallery
Zero Carbon Food via archipanic.com/wp-content/uploads/2014/10/12208760126_09a47bf8f1_k.jpeg
Seven Story Media via factor-tech.com/gaming/27299-atari-tells-fans-its-new-ataribox-console-will-arrive-in-late-2018/
Sources:
http://www.fruitnet.com/fpj/article/173471/growing-underground-win-bbc-future-food-award
https://phys.org/news/2017-09-underground-air-raid-london-restaurants.html
http://www.independent.co.uk/Business/indyventure/growing-underground-london-farm-food-waste-first-food-miles-a7562151.html
http://www.themalaymailonline.com/eat-drink/article/underground-air-raid-shelter-feeding-london-restaurants#JU435fQmhRoZeucC.97
http://www.archipanic.com/growing-underground/
http://www.independent.co.uk/news/business/news/london-underground-farm-ocado-deal-a7557441.html
http://markets.businessinsider.com/news/stocks/Vertical-Farming-Market-US-4-Billion-for-Asia-Pacific-by-2024-1002410528
Related Posts:
Hydroponics: New Life To An Old Way Of Growing
https://steemit.com/market/@doitvoluntarily/hydroponics-new-life-to-an-old-way-of-growing
Hydroponics Market Expected To Show Tremendous Growth In Years To Come
https://steemit.com/food/@doitvoluntarily/hydroponics-market-expected-to-show-tremendous-growth-in-years-to-come
Aquaponics Continues To Grow In Popularity
https://steemit.com/life/@doitvoluntarily/aquaponics-continues-to-grow-in-popularity