Garlic Spaghetti (with recipe!)
This is one of my husband's favorite side dishes. Actually he would eat this as a whole meal! But I like to serve it with a spicy meat dish. I made it last night and thought maybe you might like the recipe?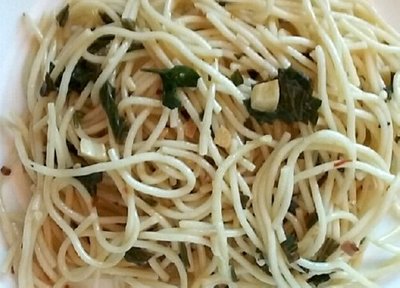 I am lucky that we both like lots of garlic and heat and there is plenty of both here. If you'd like it milder just use less garlic and chili flakes. In fact this recipe is more of a guide, easy to make more or less
Garlic Spaghetti for Two
Ingredients
2 – 3 Tbsp. Olive oil
10 Cloves of garlic, peeled and sliced thin
½ tsp. Dried red chili flakes
1 Tbsp. Fresh lemon juice
1 cup Fresh Italian (flat-leaf) parsley, chopped
6 oz. Thin spaghetti (angelhair or vermicelli) broken in half
Salt to taste
Shredded Parmesan cheese for serving.
Directions
Bring a large pot of water, well-salted, to a boil. Cook the pasta until al dente, about 10 minutes. Drain, reserving about 1 ½ c. of the pasta water.
In a large pan saute the garlic slices in the olive oil. Watch carefully, you want the garlic to turn slightly brown but not burnt. Remove garlic, keeping as much oil in the pan as you can. Drain garlic on a paper towel.
To the reserved oil, add the chili flakes and fresh parsley. Stir until parsley is limp, then add the lemon juice. Add cooked pasta and the fried garlic, reserving 2 Tbsp. of the garlic for garnish. (This is important, it gives a nice crunch.)
Combine well, adding the reserved pasta water as needed to keep the pasta from sticking together. Add salt to taste.
To serve sprinkle some fried garlic on top and add the Parmesan cheese.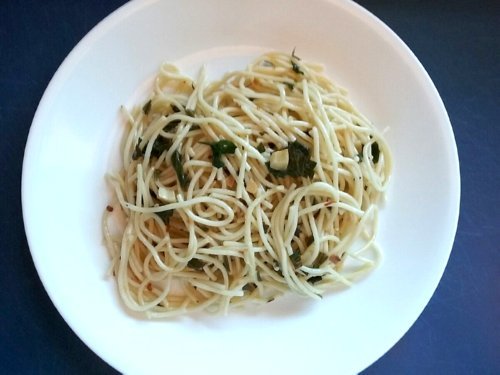 Come and get it while it's hot!

I am a member of #ccc by @freedomshift
This is an Invitation to join #ccc for Guaranteed ? Daily Income ? and Payout ? for Newbies (2.0) ? ? ? in #ccc ? and Follow ? the Honor Code ? - the Creed (Conditions and Limits Inside)
AND
the latest update <<< _please click to read.