Killing For a Living - "Become a Talent In The Meat Industry"
Would you like to bone pig heads and slice up cattle and lamb with an automatic saw on a day-to-day basis? Well, that's the qualifications, if you'd like to become the "new talent in the meat industry" 
I'm currently looking for work and I came across this ad (down below) while searching for a peaceful job online. I can't imagine someone honestly, full-heartedly enjoying this kind of work. Slaughterhouse workers are very vulnerable for psychological problems and can also face physical dangers while working. In an environment of constant suffering with fear, anxiety, and dread being the emotional expressions received after a day at work.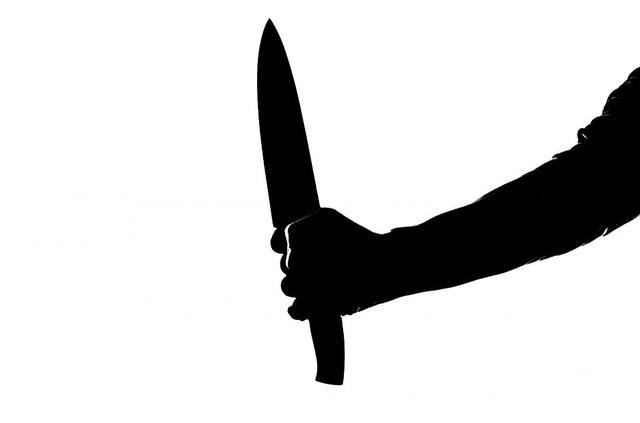 A different kind of job ad 
"Are you our new talent in the meat industry?
For our clients in the meat industry, we are looking for motivated,  skilled meat cutters and butchers. Work tasks consist mainly of  processing of pig, cattle and lamb. Our clients is located in different  places in Norway. The products are of high quality and it is important  that you are also concerned with quality.

Responsibilities 
- Food Production
- Cutting
- Butching
- Skin beef with machine
- Cut lamb, pork or cattle
- Packing of meat products
Other tasks related to production
Qualifications 
- Must have good knowledge of different parts of cattle, pig and lamb
- Boning pigs head
- Knowledge with white and red ovals
- Must be able to work with automatic saw
- Experience from industrial production within meat
- Diploma or journeyman in meat cutting, but long experience can compensate for lack of education
Speak fluent English, and preferably Scandinavian
Be familiar with food hygiene and HSE "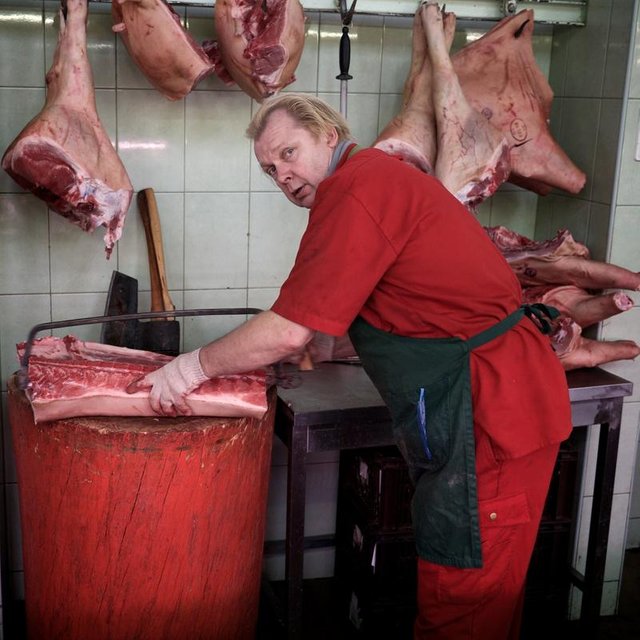 Studies on slaughterhouse workers and meat production says
About 25 % of slaughterhouse workers become ill or injured from the work. 
Panic, depression, paranoia, dissociation, and anxiety is not uncommon for people involved in the act of killing animals 
One study found that 85 % of meat consumers were not willing to kill to obtain meat. 
Drugs and alcohol is often used substances for slaughter employees to cope with the emotional toll 
"If slaughterhouses had glass walls, everyone would be a vegetarian." - PaulMcCartney
Is it room for compassion towards people that work at these places? Isn't very damaging and hard for the human heart to experience these horrible realities found inside slaughterhouse walls. They are forced to not care - how can they, when animals come up to them wanting to be cuddled, and then a minute later they'll need to kill them? 
The "I don't care attitude" is simply a coping mechanism to avoid the trauma and pain resulting to the raw reality of killing sentient beings. To look them in their eyes as they die in despair and shock, to smell the scent of death and blood rushing through the air, to hear them scream so desperately that the only thing our human heart want to do, is to help. 
It's not only the animals that die, the workers become emotionally dead in the process.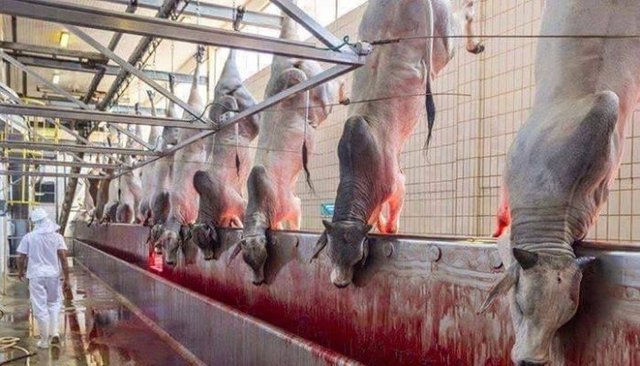 What're your thoughts on the subject? Could you ever work at a slaughterhouse? Do you think it's a destructive process for all humans or do you think some people can work there without leading any negative consequences? Any perspective is welcomed, express yourself in the comments! 
Pictures from (pxhere.com)
Related posts:
Thanks for stopping by! Grateful for any support! Be well, eat well.