All the secrets of a perfect TIRAMISU Hmmmmmmm :)
The indispensable ingredients of tiramisu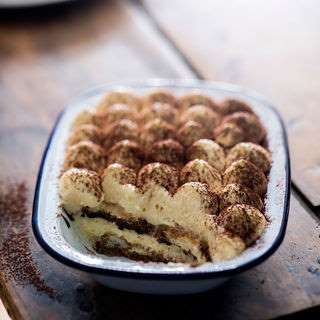 © Deslandes-Attali / Sweet Salty
Difficult to make a tiramisu worthy of the name without some basic ingredients that are:
Mascarpone: it is this Italian cheese specialty that gives a creamy and unique flavor to this dessert. Pearly, milky and especially very fat, it assures him an unparalleled outfit. If you find one at your dairy, crack without hesitation. Otherwise, a good industrial vintage will do. Eggs: whether you use them whole or only the yolks, they will not be cooked. We therefore favor the extra-fresh eggs, of course organic or at least outdoor.
The other ingredients are variable according to the variations that you want to develop, fruity or more greedy. We will also use:
Cookies: in Italy, savoiardi or pavesini are used. The Italian equivalent of spoon cookies. We make them home, it's better, or we buy good ones. Possible variants: boudoirs, pink biscuits from Reims, sponge cake, speculoos ... Coffee: no snapshot, no. We make a real espresso, very strong and let it cool before dipping the biscuits to avoid seeing them go to a pulp. Possible variants: fruit juice (often acidic: red fruits, pineapple, orange ...), a perfumed syrup ... Alcohol: amaretto or marsala for real truths. To mix with coffee for some, with mascarpone cream for the others. Possible variants: whiskey, rum, wine santo (Tuscan straw wine) ...
The perfect recipe of the classic tiramisu INRATABLE :)
The ingredients of classic tiramisu
For 4 to 6 people
3 egg yolks
80 g of sugar
250 g of mascarpone
20 to 24 spoon cookies
15 cl espresso
5 cl of amaretto (or marsala)
bitter cocoa
The steps of the recipe
1- Beat the yolks with the sugar (electric bater) until the mixture whitens and triples in volume. This step is essential, we need more to see the grains of sugar.
2- Relax the mascarpone with a fork and add it by whisking a few seconds to the mixer.
3- In a deep plate, mix the cooled coffee with the amaretto.
4- Dip the cookies quickly (1 to 2 seconds) in the coffee and drop them as you go in the bottom of a small gratin dish (or verrines).
5- Pour half of the mascarpone cream then make a second stage of soaked ingredients and finish with the cream.
6- Store in the refrigerator at least 3 hours at best 12 hours. Sprinkle with bitter cocoa when serving.
Tips and tricks for a tiramisu well to your liking
A sparkling tiramisu and light as a cloud
If you want to lighten the texture, add the snow-whites. Be sure to mount them firmly so they do not fall out and your cream with them. Tighten them with a little icing sugar at the end of the assembly: slightly meringues, they will hold it better.
Pierre Hermé uses an Italian meringue. This allows him to add a little coffee and rum directly into the cream, while maintaining an impeccable hold.
A tiramisu that remains presentable over the hours
Do you have to take your tiramisu with friends? To keep it looking good, first sprinkle a layer of icing sugar
before switching to bitter cocoa. It is the sugar that will drink the moisture of the cream, the cocoa, it will not turn. Thanks WHO ? Thank you Christophe Michalak!
Gourmet greedy tiramisu
Even if the tradition does not foresee it, it is clear that coffee and mascarpone marry perfectly with the chocolate. So, like Jamie Oliver flowing over his layer of soaked biscuits, 200 grams of melted chocolate with 50 grams of butter. He gives a nice time to do the rest of his preparation in a classic way. I hear naughty people who want to replace this ganache with spread. Yes it's possible. Some chocolate chips on the top and the case is done.
A delicate and refined tiramisu
If you have time, try the Conticini way to prepare the tiramisu: you whip yellow + sugar + alcohol on a water bath until the triple volume preparation. It's a sabayon. Mix gently with whipped cream, possibly whites. Beautiful (but long and dangerous).
A tiramisu that can be kept over 24 hours
Of course, desserts without cooking raw eggs, better eat them quickly. However, if you cook your yolks whisking with sugar prepared in syrup and cooked at 120 ° C, you will double its shelf life.