Peanut Butter Banana Protein Pancakes (FOOD PHOTO SHOOT)
Hey guys, anyone want pancakes for breakfast?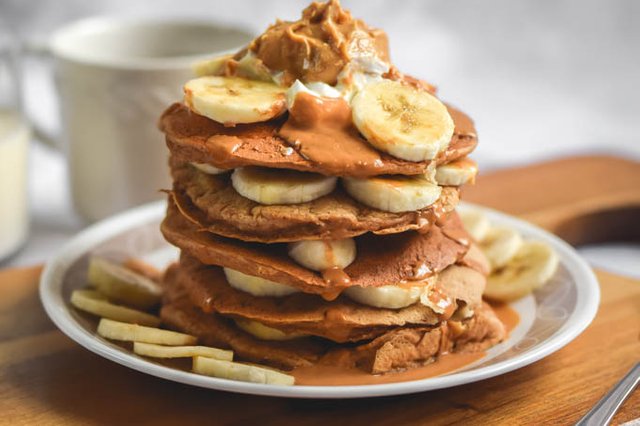 Or lunch, or dinner, or even (my favorite) pancakes for dessert! I'm the type of person who doesn't discriminate foods based on what mealtime category they fall into. I'll mix and match what I like and eat any kind of food anytime of day. In fact, as I'm typing out this post I'm thinking about how good veggies sound for breakfast so I'll probably go for something savory this morning. But pancakes, now pancakes are definitely a great example of a food that works well anytime of the day.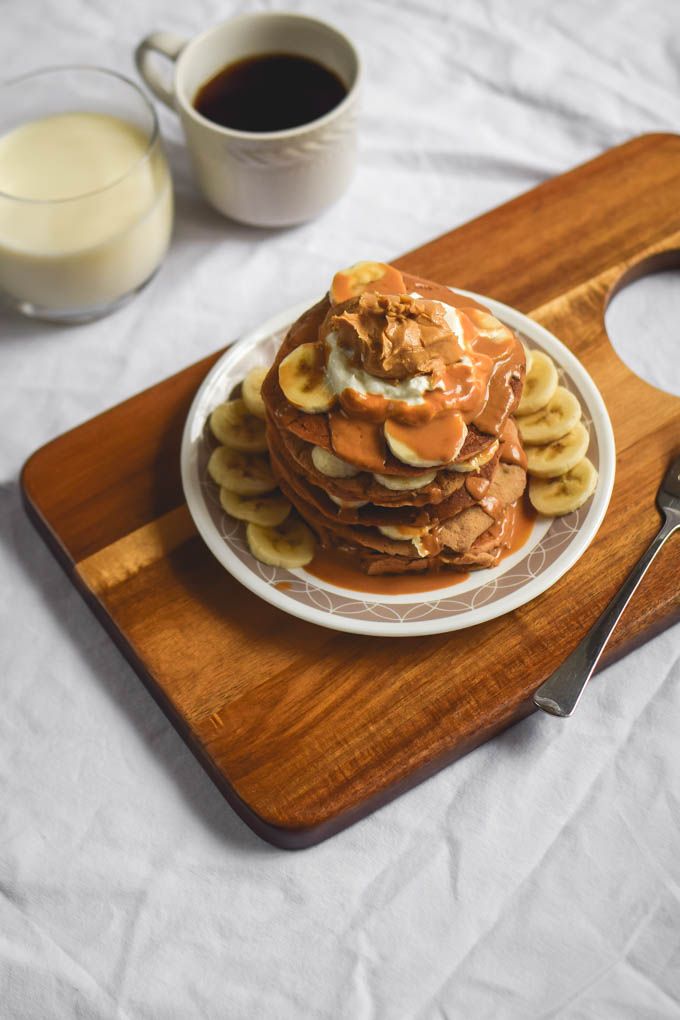 Also, I know I know I've emphasized my peanut butter affair over and over, but it's been legit recently. All time high obsession! You get the point. Now for these pancakes I was focused on the protein aspect so the pancakes themselves actually have powdered peanut butter in them to give them their nutter-buttery-ness (<- I'm going to copyright this term, YES!)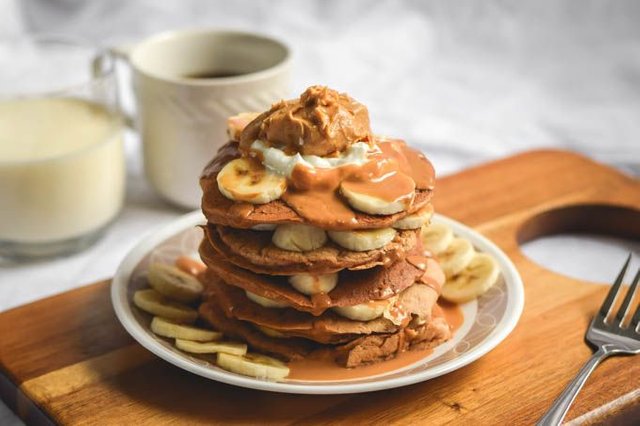 I also used one of my favorite short-cuts and added some of the Kodiak cakes Protein waffle mix (you can buy it online) that I love using. By the way, I'm not being sponsored I just genuinely like it. The ingredients are pretty basic and I love the flavor it adds, however if you can't get a hold of it where you live or you just prefer making these from scratch let me know and I'll give you a version completely from scratch. Oh, and these are pretty easy to turn vegan if that fits your needs better.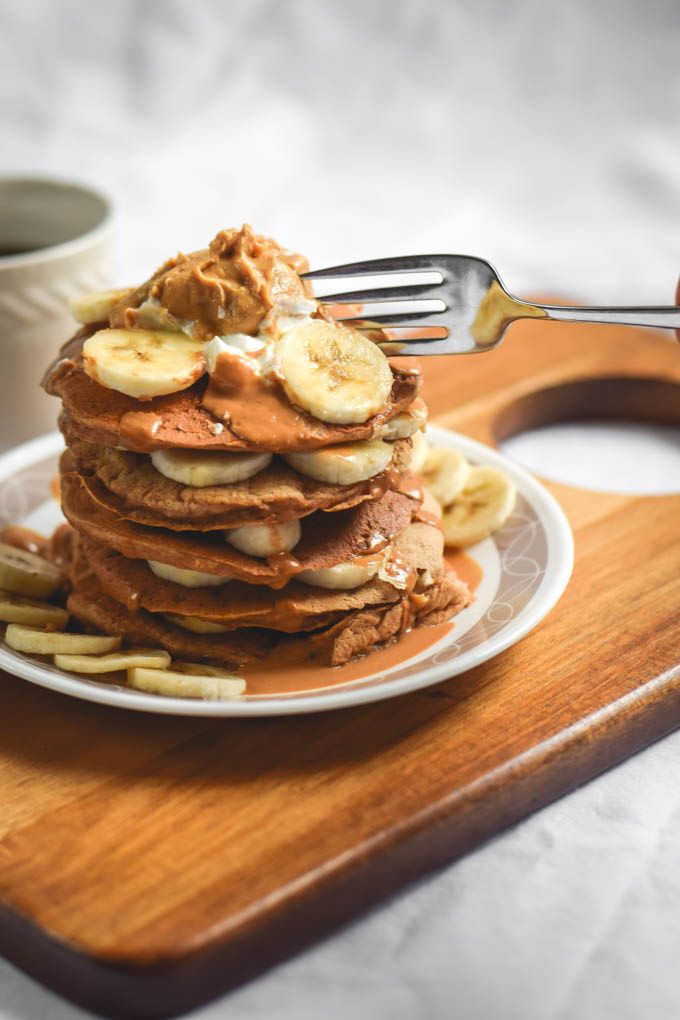 Alright, and now we get into the toppings! Does anyone else get overwhelmed if they let their creativity run wild in this kind of thing? Maybe that's just me. It's just that there are endless possibilities! Some kind of nut butter is a no-brainer of course, and then you can add any kind of fruit, nuts, syrups, granola, chocolate, and then top it off with yogurt or whipped cream. The pictured pancakes were topped with some peanut butter, banana, vanilla greek yogurt, and a quick sauce of some extra powdered peanut butter for good measure.
Most of the time though, I'll go straight for the berries and double or triple up the yogurt on the side, in a bowl, with some granola on top. Haha, so basically my favorite way to eat pancakes in reality looks like $#%*, but it tastes amazing! That's what counts, right?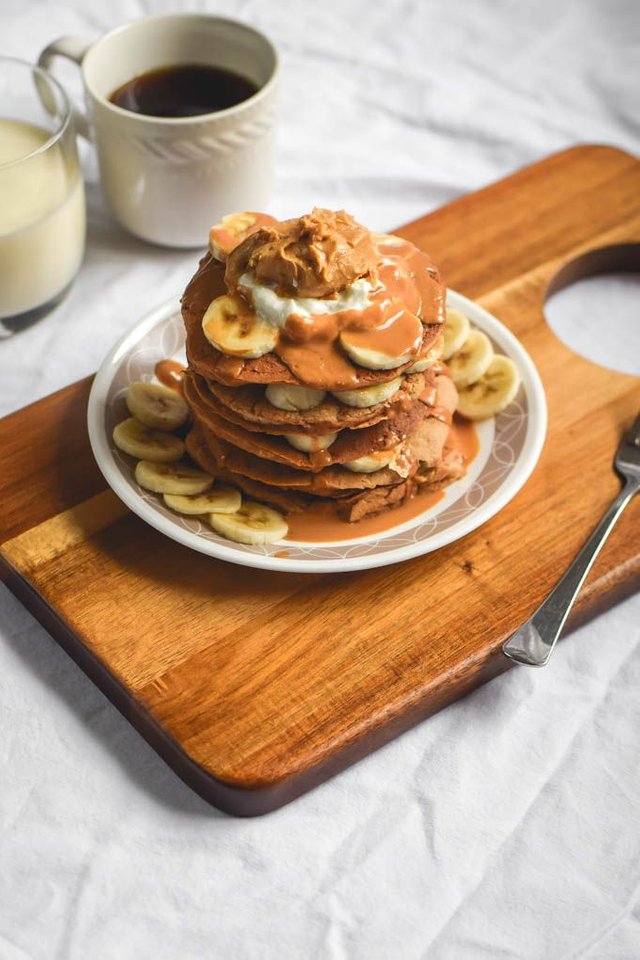 No matter how or when you like your pancakes, these are probably my favorites right now, but I won't sit around trying to convince you all day. Try them out and let see for yourself and don't forget to let me know what you think in the comments and even share a picture on your socials. I'd love to know what you like to add to yours!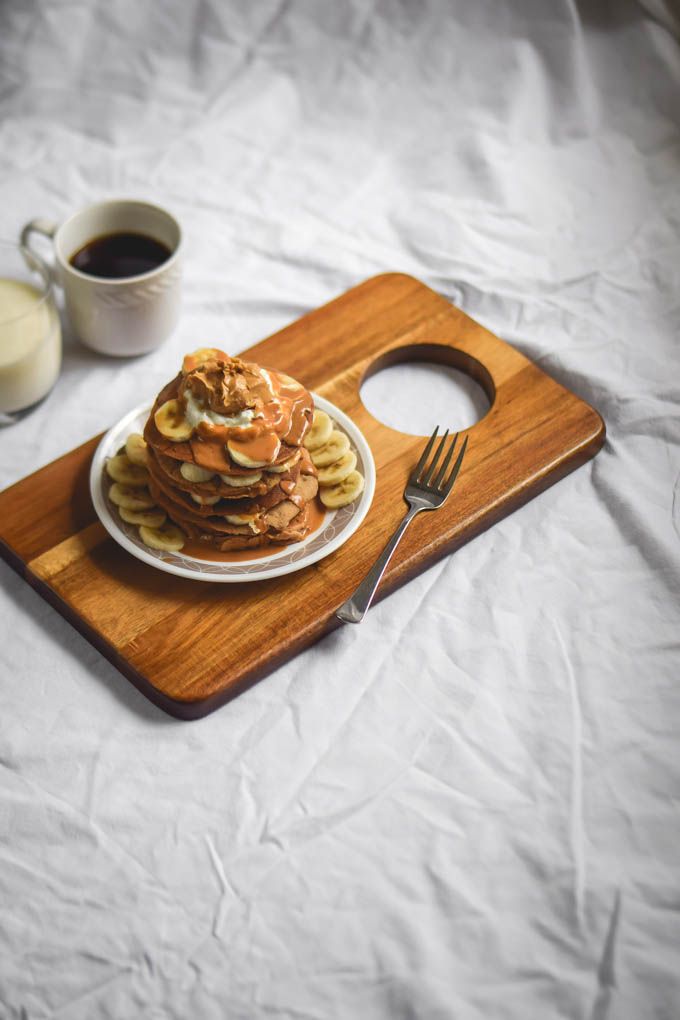 Peanut Butter Banana Protein Pancakes
Prep Time: 15 minutes
Cook Time: 5 minutes ~~ Yield: 1 serving
Total Time: 20 minutes ~~ Serving Size: 1 recipe
Ingredients
1/2 large banana (65g), mashed
2 tablespoons powdered peanut butter
30g (1/3 cup) Kodiak cakes Protein waffle mix
1/2 teaspoon baking powder
3 tablespoons unsweetened almond milk
46g egg whites (3 tbsp or 1 white)
pinch of sea salt
1 - 2 teaspoons of stevia (or sweetner of choice, sugar, honey, agave) to taste
Instructions
Whisk together the egg whites, mashed banana, and almond milk in a small mixing bowl. In a separate bowl, mix the dry ingredients, salt, baking powder, sweetener, pb powder, and pancake mix..
Combine the wet with the dry and whisk until you have a nicely thick pancake batter. Heat a non-stick skillet over medium high heat and grease with oil if desired.
Pour the batter into desired size pancakes and cook for 1 - 2 minutes per side. Remove and top with any desired toppings and enjoy!
Notes
For one recipe using stevia (without toppings) Kcal: 200 Protein: 13.5 Carbs: 30.5 Fat:2.5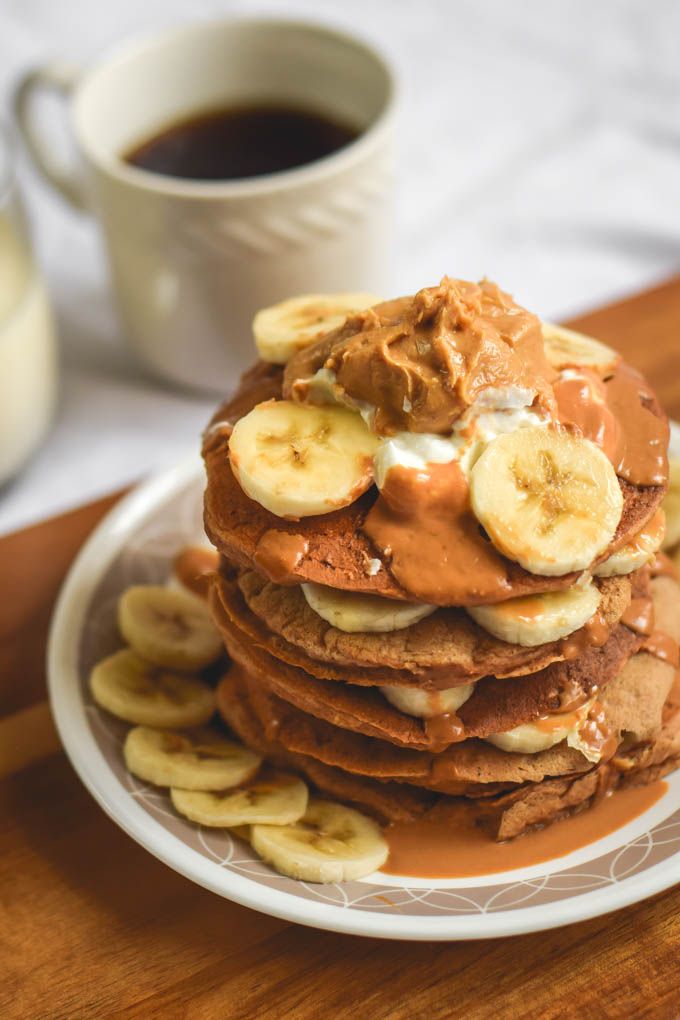 ALL CONTENT IS MINE AND ORIGINAL! All of these food photos were taken with my Nikon D5300 and my favorite Lens, the Nikon AF-S FX NIKKOR 50mm f/1.8G. You can find out more in my INTRO POST. And by the way, my intro post did a huge $0.21
Oh, and I've recently made new accounts on social media just for my Steemian friends to follow so don't forget to go follow me on all your favorites!
Don't forget to check out my other recent food posts:
AND A HUGE MASSIVE SHOUT OUT TO
@rigaronib
for designing my logo!!!!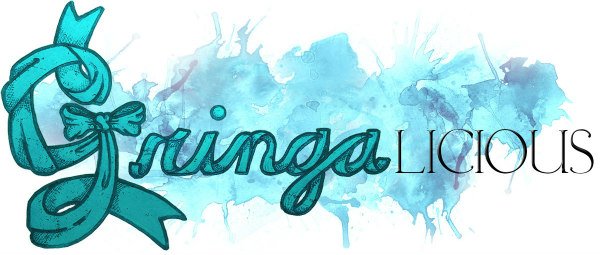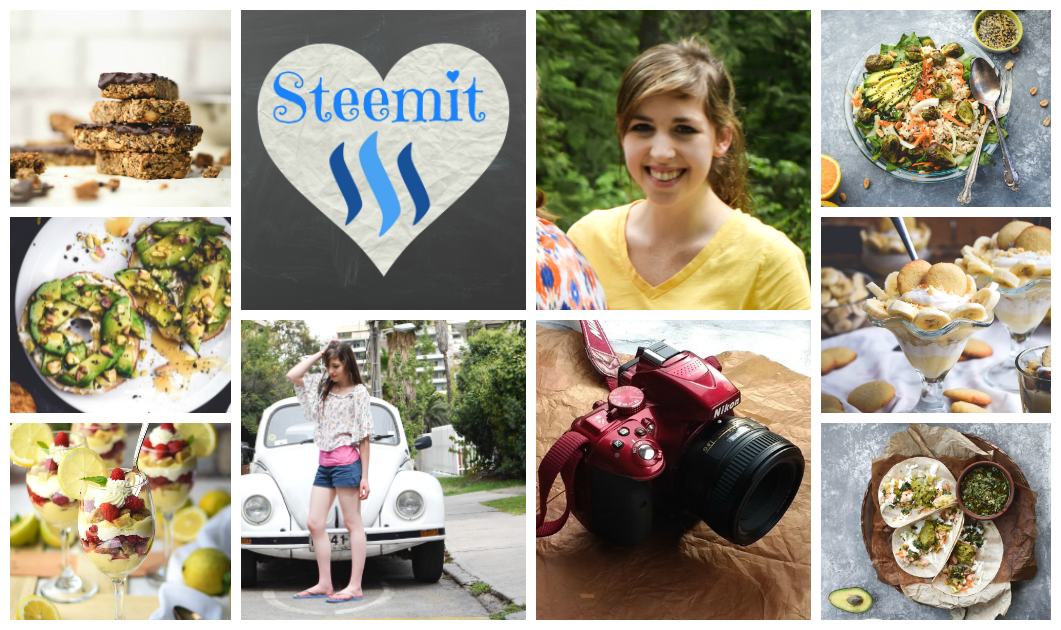 23 DAYS UNTIL I LEAVE FOR STEEMFEST!!
I HOPE TO SEE YOU THERE