🌾You Can't Hurry Love (But You Can Hurry Dinner!) (Vegan, Gluten Free)🌾
20 minutes and this meal is on the table ready to be gobbled up!
---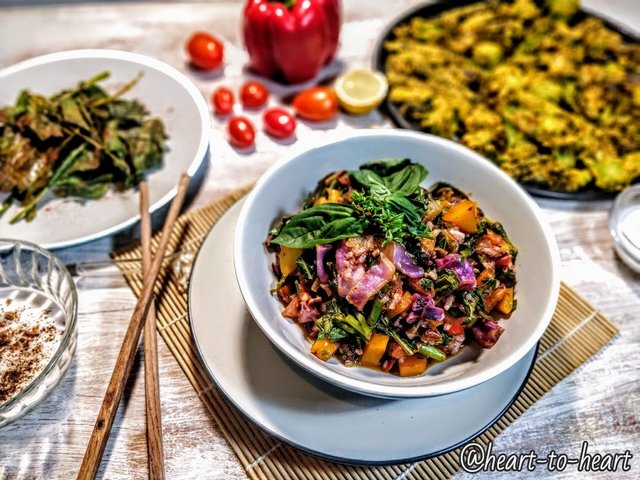 ---
This is a meal I whip up when I'm in a hurry or if I'm going somewhere I need to take food with me for!
You can sub out different veggies and add spices based off of whatever you have available to you but if you follow these steps, it's a quick meal that works well to take along with you if you're looking to bring some food with you wherever you may go.
Pro Tips:
Having pre-made rice in the fridge means you just need to toss it in and let it heat up with the other ingredients
Don't forget to soak your rice overnight before you cook it (it's so much better for your tummy, trust me!)
Steaming veggies is a quick way to make them "chewable"without boiling out all of their good stuff so I like to steam them and then add them into the flavors at low heat for small amounts of time
---
What You Need:
---
1 cup organic red rice (soaked overnight and cooked)
½ red bell pepper
½ yellow bell pepper
½ yellow onion
1/2 cup purple cabbage
¾ cup acorn squash
1 big beefsteak tomato
1 bunch kailan
3-4 chives
1 tsp garlic salt
1 tsp paprika
1 tsp pepper
lemon juice
1 tsp olive oil
1/2 cup veggie broth (as needed)
---
What To Do:
---
In a food processor, "pulse" the bell peppers, tomato and onion so you easily get bite sized pieces
(alternatively you can chop them up but it's faster to throw them in the machine)

Cut the acorn squash into small pieces and steam for about 3-5 minutes
(you want the pieces to be just tender enough to pick up easily with a fork but not mushy)

Cut the kailan into small pieces, chop up the chives and squeeze the lemon

In a skillet on medium heat, add in the olive oil and then pour the ingredients from the food processor in with the garlic salt, paprika and black pepper

After about 3 minutes, add in the squash, cooked rice, cabbage and kailan and turn the heat down to low

Let everything simmer together for about 10 minutes stirring occasionally (add in some veggie broth if it starts to stick)

When it's ready (everything is warm and the kailan is tender), sprinkle with chives and stir in the lemon juice!
This meal was served with some kale chips and crispy veggies with some homemade vegan ranch but it's great on it's own, cold out of a tupperware container too-- totally up to you!
Enjoy :)
---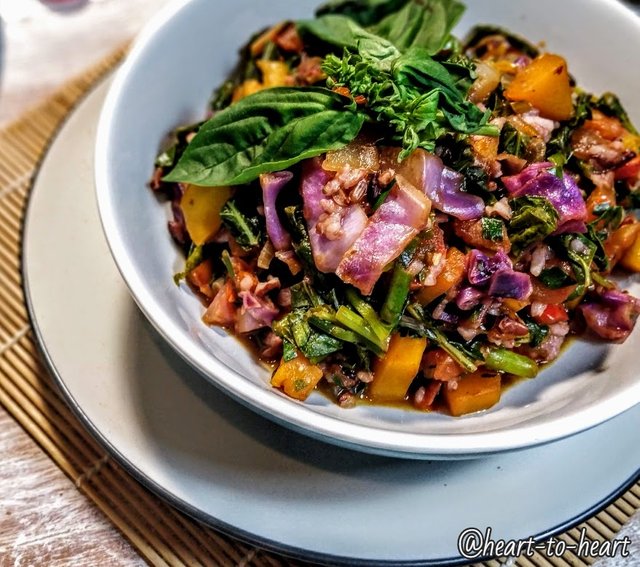 ---
Love and light ✨
Cece 😘🧙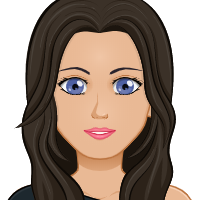 What did you miss from me? Here's what I've been up to lately:
Mas-A-Better-Man-Curry
Unsuspecting Veggie Drool Inducer
Thai Squoodles
Handheld Avos
Pumpkin Spice "Latte" Nibbles
Jicama Hash Mash Bash
Rad Rainbow Coleslaw! (Rainbows are ALWAYS DELICIOUS!)
Something Like Ratatouille
Not Your Plain Ol' Veggie Tray
Feel Good Crispy Kale Chips
"Meaty Lasagna"
Make Me Strong Super Spinach Salad
Stuffed Avocado Boats
Sugarless Super Snacks for Super Bowl Sunday
Mind Mapping Yourself Out of Limiting Beliefs
Game Time Greens
Winner Walnut Wraps
Cleansing Coconut Curry
Easy Veggie Zoodles
Triple Bakon Vegan, GF Burgers
Plantain Bakon