No-Bake Oreo Cheesecake Recipe + Full Video Recipe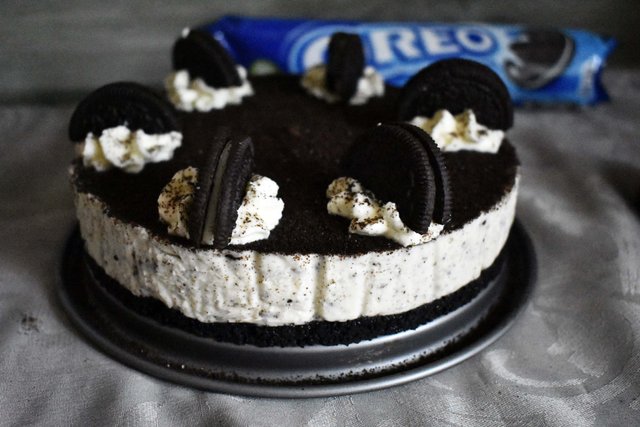 Oreo is one of popular cookies and every family member love it and lately we start to use it in our desserts as cake and cheesecake and i think it is so delicious and perfect. My kids love it and always ask me to make oreo desserts, so yesterday i made this easy and yummy oreo cheesecake as a dessert and i barely could take photos to my piece LOL.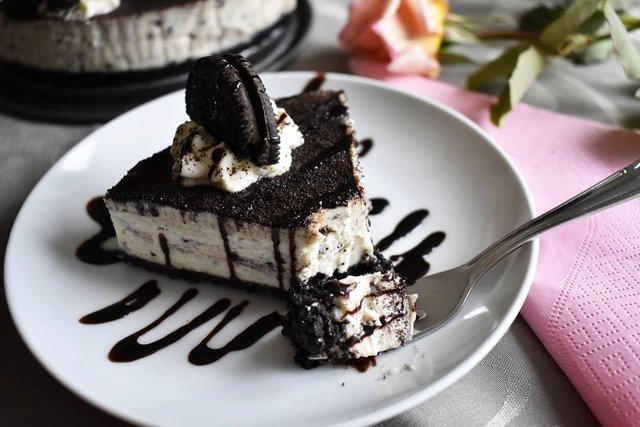 To make this dessert you need 4 ingredients and very easy steps to follow. I made a 18cm mold perfect for my small family me, my husband and my two little girls, if you have a medium size mold you have to add more cookies for the crust, 250g of cream cheese and 80g of white chocolate.
No-Bake Oreo Cheesecake
Prep time: 15 mins
Refrigerate time: 6 hours
serving: 6
Ingredients :
for 18cm springform pan
For crust:
12 pieces oreo cookies
60g melted butter
for cheese filling:
500g Cream cheese (room temperature)
160g white chocolate
For decoration:
6 oreo cookies
whipped cream
The way:
Remove 12 oreo cookies filling, keep cream filling in another small bowl we will add it later to our cheesecake.
Place oreo cookies into a plastic bag, crush the cookies with rolling pin, roll over across the bag, or use a food processer.
Place the crushed cookies into a large bowl, add the melted butter mix together until well incorporate.
Press into a bottom of a springform pan, place in refrigerator until prepare the cheese layer.
Cut white chocolate into small pieces to melt easily, i melted it on a water bath you can melt yours in microwave. Let it cool.
Melt the cream filling in microwave for 15 seconds.
In a large bowl mix the cream cheese, add the cream filling and melted chocolate, mix all together until all well combined, add the 2 tbsp of crushed oreo and give the mixture quick mix.
Pour cheese mixture on to prepared crust.
Smooth the top of cheesecake with a spoon. Chill at least 6 hours or overnight.
To decorate: finely grind 2 oreo cookies, cut the others into 2 halfs.
Sprinkle the top of cheesecake with finely grind oreo. Decorate with whipped cream and top each with half oreo cookie.
Enjoy :)
Full video recipe here:
Thanks for stopping by. All my contents are original and were taken with my Nikon D3400; Be free to UPVOTE, COMMENT and RESTEEM my post also check out my latest post here:

Join us @steemitbloggers

Love,
Angie