**CHICKEN CORDON BLEU**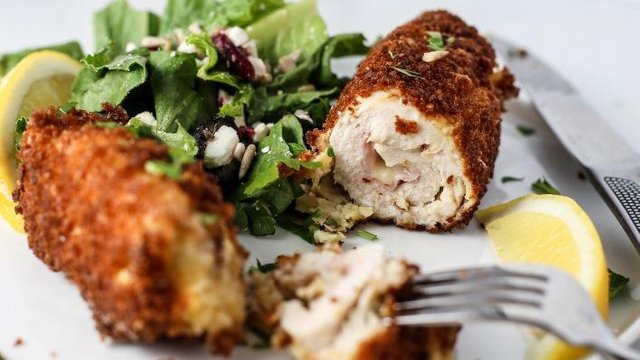 This recipe is very delicious, it is ideal to surprise your family and friends.
The chicken is juicy and very crusty, my husband loves to surprise him with this meal.
**INGREDIENTS **
6 chicken breasts
6 slices swiss cheese
6 slices ham
3 tablespoons flour
1 teaspoon paprika
6 tablespoons butter
1⁄2 cup dry white wine
1 teaspoon chicken bouillon
1 tablespoon cornstarch
1 cup whipping cream

DIRECTIONS
Pound chicken breasts if they're too thick.
Place a cheese and ham slice on each breast within 1/2 inches of edge.
Fold edges of chicken over filling and secure with tooth picks.
Mix flour and paprika and coat chicken.
Heat butter in skillet and cook chicken until browned on all sides.
Add wine and bouillon.
Reduce heat to low, cover and simmer 30 minutes.
Remove tooth picks and transfer breasts to warm platter.
Blend cornstarch with cream and whisk slowly into skillet.
Cook, stirring until thickened and pour over chicken.
http://www.geniuskitchen.com/recipe/chicken-cordon-bleu-7678