CUBAN RICE WITH BANANA
CUBAN RICE WITH BANANA
The Cuban rice , is a recipe consisting of white rice, accompanied by a tomato sauce, a fried egg and a banana poached in butter. It is a very common recipe and very easy to make and that will please rice lovers. It also has few ingredients and they are all very cheap. There are several ways to cook Cuban rice but, let us go to do a "standard" way. A form that, without a doubt, will fulfill the expectations created. Although you can add other ingredients, to taste, such as garlic, parsley or basil.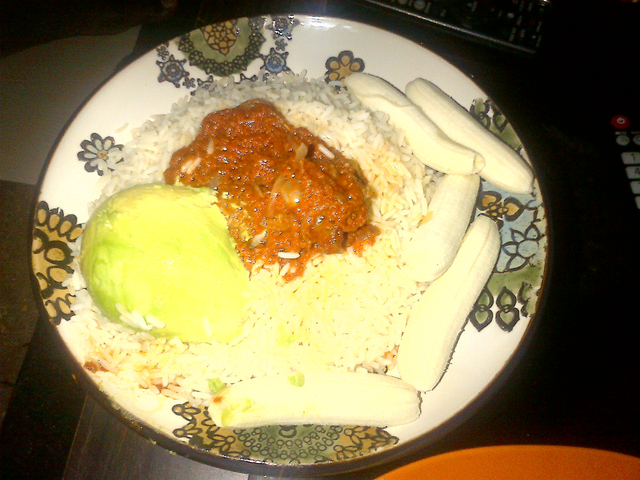 Image source


Ingredients
400g of round rice. Usually round rice is used although, you can use a long rice, if you wish
800ml of water
4 eggs
4 bananas
400g of tomato sauce
a spoonful of butter
Salt
Preparation
1.- The first thing is to cook the rice. Put the water over medium heat, with a handful of salt and when it breaks to boil, put the rice inside. It will take about 17-20 minutes to cook, depending on the brand of rice. Until you have absorbed all the water. If the time passes, you think it has been a bit hard, you can put out the fire and cover the container. The residual heat and steam will finish cooking the rice.
2.- While the rice is cooking, we prepare the banana. Put the butter spoonful in a nonstick skillet and melt it over medium heat. Beware of the power of fire that the butter is denatured and burns very easily! Once it has been discarded and has started to smoke a little, we introduce the banana. I put it in half, along (like the photograph above). Cook it over low heat for about 4 minutes on each side. Until we see that it is soft and well cooked. Once this is done, we remove the banana.
3.- Now, we cook the egg. I like to do it in the same butter, where we had made the banana. So, at medium heat, we put the egg and let it cook. It will take about 3 minutes to be ready. If you prefer to fry it, add plenty of olive oil, heat it over a high heat and cook it for 30 seconds.
4.- Finally, we put the rice to the Cuban one. We put the rice on a plate, we put it on top of tomato sauce, then we put the bananas and the egg. And it will be ready! An easy cooking recipe where there are.
---
Thanks for following. Hope you like the article.