Stew with cabbage and chicken : Recipe
This delicious stew is prepared first on the stove, and then in the oven. A little longer than usual, but the result is worth it.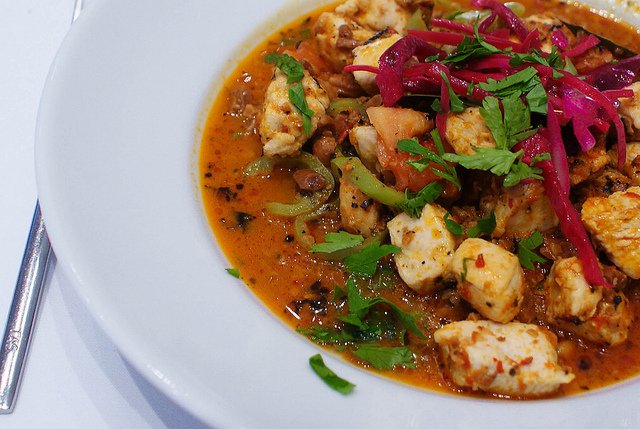 Image source
Ingredients
4 tablespoons of olive oil;
2 large heads of onions;
120 g of tomato paste;
4 cloves of garlic;
1 400 grams of sliced ​​tomatoes in their own juice;
3 tablespoons brown sugar;
3 tablespoons apple cider vinegar;
1 lemon;
salt - to taste;
ground black pepper - to taste;
2 fresh laurel leaves;
¼ teaspoon cinnamon;
½ teaspoon ground nutmeg;
1 large head of cabbage;
6 small carrots;
300 grams of spelled;
1 400 g boneless chicken;
a few twigs of fresh thyme;
1 bunch of dill;
a little vegetable oil.


Preparation


Preheat 2 tablespoons of olive oil over high heat. Fry one chopped onion. Add tomato paste, stir and cook another minute. Then put the chopped garlic and sliced ​​tomatoes and mix again well.
Turn down the fire. Add sugar, vinegar, whole lemon juice, salt, pepper, laurel leaves, cinnamon and nutmeg to the vegetables. Cut cabbage in small strips, carrots - circles and put them in a frying pan. Stir, cover and simmer, stirring occasionally, for an hour, until the cabbage is very soft. Then take out the laurel leaves.
In the meantime, prepare a pill. In the saucepan, heat the remaining oil and fry the chopped onions. Put the flask and cook for a couple of minutes, stirring constantly. Pour broth, add the crushed leaves of thyme and bring to a boil. Then reduce the heat, cover the saucepan with a lid and cook for 15 more minutes.
In a large bowl, mix the mince, the pound (along with the liquid), chopped dill and salt to taste. Grease a large baking dish with vegetable oil. At the bottom lay out the meat mixture, then the stewed cabbage. Cover with foil and bake in preheated to 180 ° C oven for an hour.
---
Thanks for reading. Stay healthy!