Kuphi Khop : Sensasi Minum Kopi dari Gelas yang dibalik (The Sensation of Drinking Coffee from an Inverted Cup)
Suatu siang di kota Meulaboh yang lagi panas membara kaka dapat pesan singkat dari Uswah, kawan masa SMA yang statusnya masih available sama kaya kaka (tiba tiba jadi curhat) . "Nyak, qe lagi disini kan? nanti sore ngumpul yok. Udah lama kita gak ngopi. Tempatnya yang dibawah jembatan Suak Ribee ya. Biar aku ajak yang lain di grup" gitulah kira-kira pesannya. "iya boleh, tapi qe yang jemput aku ya. Aku lagi manja. lagi pengen dimanja" Tanpa mikir lagi kaka langsung mengiyakan. Maklum,kaka memang jarang bisa ngumpul sama kawan-kawan SMA . Apalagi tempat kami ngopi nanti sore punya olahan kopi spesial, kuphi khop namanya.
.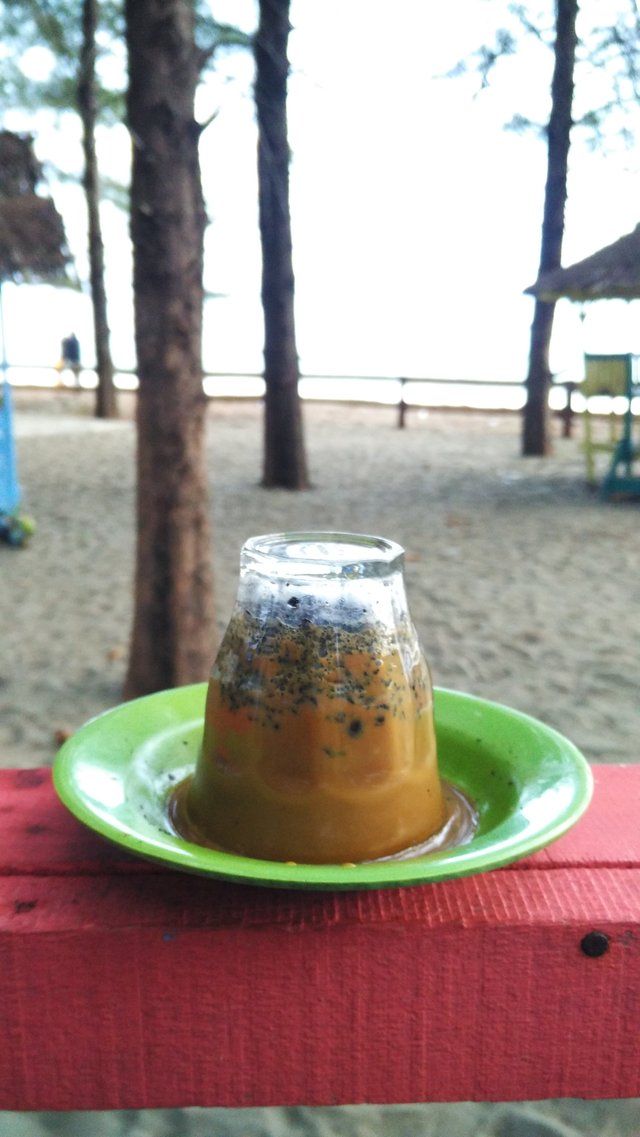 One afternoon in the city of Meulaboh which is have very hot weather, i got short message from Uswah, a high school friend, she ask me. "Nyak, are you here?(in Meulaboh). Let's meet up. We do not have a cup of coffee for a long time. The place is under the Suak Ribee bridge. Let me invite others in the group chat " ofcouse i'm exicted, i replied . "Yes, indeed. But, you should pick me up in my home. I'm kinda a little bit lazy to ride" . Actually,i'm rarely able to gather with my high school friends because now i live in other town. Moreover, the place where we have coffee later in the afternoon have special coffee preparations,it's called kuphi khop
Kuphi Khop merupakan minuman kopi khas meulaboh, Aceh Barat. Kopi ini sebenarnya hampir sama dengan kopi lainnya.cara membuatnya menggunakan biji kopi yang ditumbuk kasar,lalu diseduh dengan air panas. Varian rasanya ada dua, original atau kopi hitam biasa dan kopi susu. Yang membuatnya berbeda adalah cara penyajiannya yang unik. Kalau biasanya kopi disajikan di dalam gelas dan tinggal diseruput manja, yang ini agak berbeda. Kopi disajikan didalam gelas yang dibalik, dengan dialasi piring kecil. Cara minumnya pun harus menggunakan sedotan. Pertama kita harus memastikan ujung sedotan tidak terlipat, lagu dengan agak kuat, tiup bagian pinggiran gelas menggunakan sedotan. Kalau cara caranya benar,dari sekitar gelas akan keluar kopi dan akan menggenangi piring,. Tapi tenang aja. Kopi tidak akan tumpah. Tinggal seruput dikit-dikit, kalau kopi dalam piring sudah habis tinggal ditiup lagi.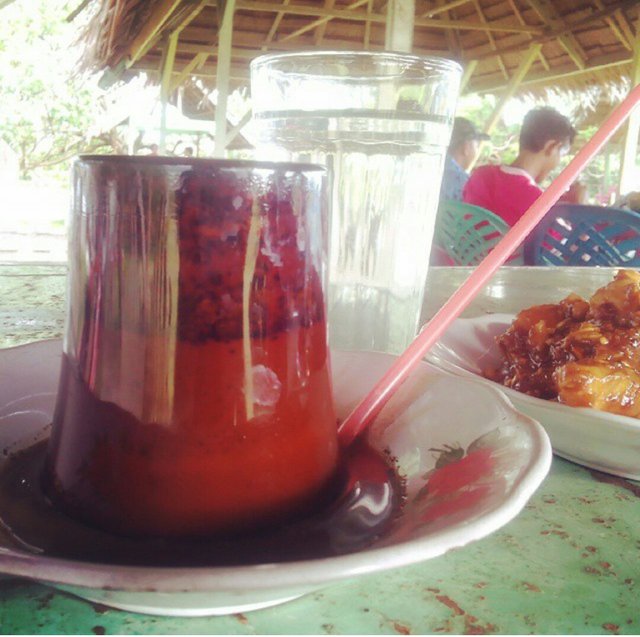 Kuphi khop is a typical coffee of Meulaboh,West Aceh. This coffee is actually almost as same as other coffees. it makes using coarsely ground coffee beans, then brewed with hot water. It has two Variants : original black coffee and milk coffee. What makes it different is its unique way of presenting it. If coffee is usually served in a normal cup, it is somewhat different. Coffee is served in an inverted cup, with a small plate under it. How to drink must also use a straw. First, we have to make sure the end of the straw is not folded, blow the edges of the glass using a straw. If you do it right, from around the cup will come out coffee and will flood the plate ,. But just calm down. Coffee will not spill out. Drink it with a straw. if the coffee in the plate had been left,just blown again.
Sore itu kami ngumpul setelah sekian lama tidak bersua. Rasanya bahagia mendengar celotehan kawan-kawan yang mengundang tawa. Semua ikut bicara. Kalau udah ngumpul begini pembahasan wajibnya adalah kejadian kejadian lucu jaman kami tinggal di asrama. Tentang seorang kawan yang menjawab "kucing' waktu ditanya "sebutkan contoh hewan porifera", tentang usaha kami bolak balik mengangkut air dari sumur di depan sekolah demi mengisi bak mandi di asrama yang letaknya jauh kaya diseberang sana, sampai cerita seorang kawan yang dikira maling karena berusaha keluar dari asrama ditengah malam demi menonton piala dunia. Ah, segelas kopi memang bisa menghasilkan banyak cerita
Note : Qe adalah sapaan yang digunakan sebagian besar masyarakat di Aceh. Biasa digunakan untuk memanggil teman yang sebaya. Sama kaya fungsi kata 'ko, kau dan kam' di sumatera utara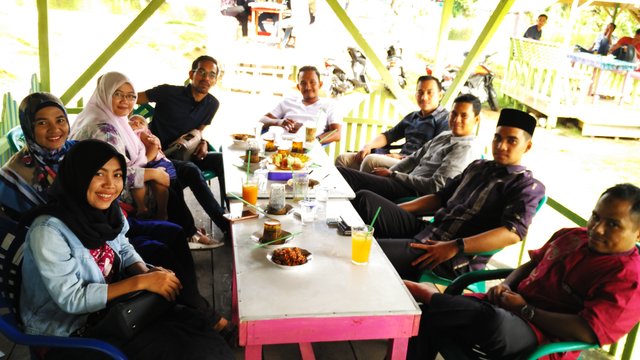 That afternoon we gathered after so long didn't meet. I was happy to hear the story of friends that make me laught. Everyone talked. Whenever we've gathered like this, we always talk about these funny incident when we lived in the dormitory. About a friend who answered "cat" when asked "mention the example of a porphera animal", about our business back and forth carrying water from a well in front of the school to fill the bath in a dormitory that is far away across there, until the story of a friend who thought as a thieve because trying to get out of the dorm in the middle of the night for the sake of watching the world cup. Ah, a cup of coffee can indeed bring out old stories
Note: Qe is a greeting used by most people in Aceh. Usually used to call peers. Similar functions of the word 'ko, kau and kam' in north sumatera