Pie with cabbage and potatoes: Recipe
Pie with cabbage and potatoes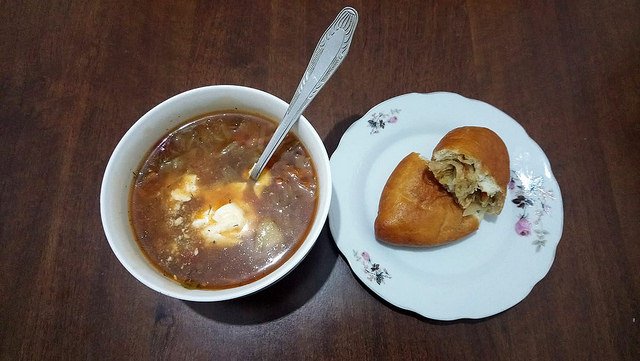 Image source
Ingredients
6 tablespoons vegetable oil;
1 onion;
¼ cabbage cabbage;
1 carrot;
3-4 potatoes;
salt - to taste;
ground black pepper - to taste;
200 g of sour cream;
100 ml of water;
1 teaspoon of sugar;
600-700 g of flour;
½ teaspoon baking powder;
1 egg.


Preparation


Preheat half the oil in a frying pan and lightly fry on it small strips of onions. Lay the finely chopped cabbage and grated carrots and cook for a couple of minutes, stirring occasionally. Add the diced potatoes, salt and pepper and mix. You can add other condiments of your choice. Fry for 5-7 minutes, then cool.
Mix the remaining oil, sour cream, water, sugar and a pinch of salt. Sift the flour and add it to the liquid ingredients together with the baking powder. Knead the dough. If it turns liquid, add a little more flour. Leave the dough for 15 minutes.
Then roll it in two layers to the size of the baking dish. Put half the dough on the bottom of the mold, distribute the filling over it and cover with another layer. Firmly connect the edges, make a few punctures on the top with a fork and grease with a beaten egg. Bake cake at 180 ° C for about 30 minutes.
---
Thanks for reading. Stay healthy!