Crunchy Raw Pizza - Wholesome and Tasty (Vegan)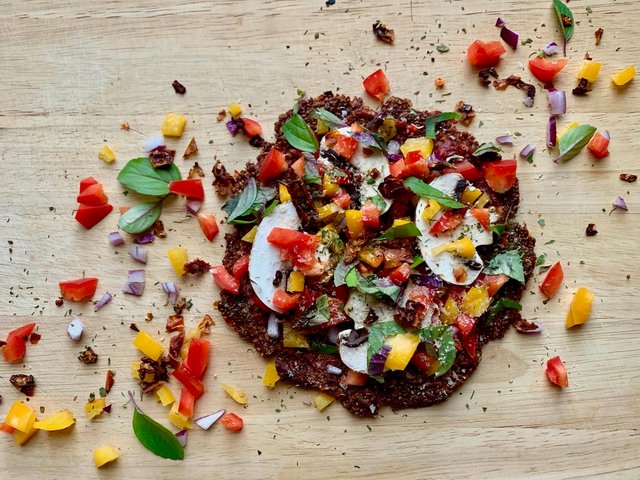 Only a few weeks away from Bali and I already missed the abundance of affordable and super delicious raw vegan dishes. My green salad for dinner with all the great ingredients was tasty, but just couldn't keep up to the crunchy raw pizza, flavorful pasta, lasagne and creamy soups I got used to on Bali, where we lived a few months this year.
So back in Germany visiting our families, we went through a little withdrawal and had to come up with our own creations to stay satisfied in this transition to more simple dinner meals again. 
And if you know a little about the raw cuisine, you might have heard about all those amazing dishes that often need a dehydrator to get as crisp and flavorful as we like it. But, I found a little trick to transform our oven in a dehydrator that I happily share with you.
The following recipe is for three small pizzas, with the size similar to that on the pictures.  
Crunchy pizza base
1/3 cup flaxseeds 
1/3 cup chia seeds 
1/3 cup sunflower seeds 
1 red bell pepper 
Creamy tomato sauce 
4 tomatoes  
3 tbsp dried tomatoes 
2 dates 
Herbs and spices of your choice 
Colorful pizza toppings 
1-2 bell peppers 
4 champignons 
1 red onion 
A few leaves wild basil  
1 tbsp nutritional yeast
Italian herbs 
For the dough, blend the pizza base ingredients with a hand mixer or a food processor. It should become a homogenous and creamy dough. 
Spread the dough evenly onto a baking paper, in any shape you like. I myself prefer the pizza foundation to be very thin, which also reduces the time in the oven and saves some energy.  
Put the baking paper onto a baking tray and into your oven at the lowest temperature, which is normally around 45-50°C so that the enzymes in the food still stay intact. You can put a wooden spoon into the oven door to increase the air flow inside and reduce the baking time. 
The pizza base needs about 2-3 hours in the oven until it becomes firm and crunchy. Check its texture now and then, your version might need more or less time.  
For the tomato sauce, blend all the ingredients mentioned above and add some Italian herbs or cayenne pepper if you want. Spread the sauce onto the pizza base, once you take it out of the oven.  
As toppings chop up whatever you feel like and throw it onto your pizza. I like to add some nutritional yeast at the end, it has a cheese-like flavor that you don't want to miss on your pizza creation. 
At this point, some people like to put the pizza in the oven once again, so that the toppings get a cooked-like flavor. I prefer them crunchy and fresh in their rawest state.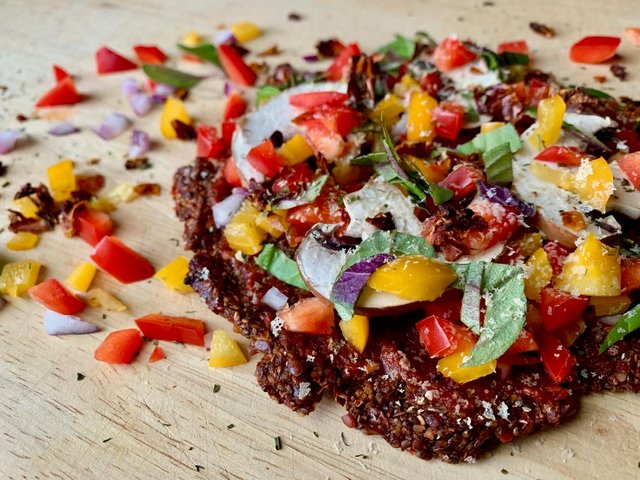 I know, this method of using your oven as dehydrator is not the most economical way of preparing food and I will definitely equip myself with a real dehydrator once I have settled somewhere. For now, I treat myself with such a dish on very rare occasions only. And to be most efficient, I make triple the amount of the recipe so that the whole oven is filled with pizza base, this way I can enjoy the deliciousness for several days in a row.  
Have you ever tried raw vegan pizza? I'd love to hear about your favorite toppings and I hope that this recipe inspires you to try your own raw pizza version!  
✨ This post is taking part in the wonderful Fruits and Veggies Monday competition from @lenasveganliving.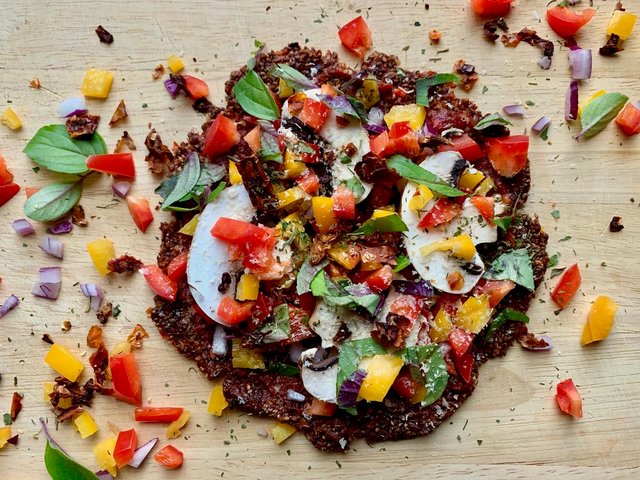 ---
Have a wonderful day and a fruity journey ahead! 
Yours, Anais 
Nomadic adventuress since 2018 | Raw foodie | Health enthusiast | Minimalist | Freedom seeker | Passionate believer in a life full of bliss.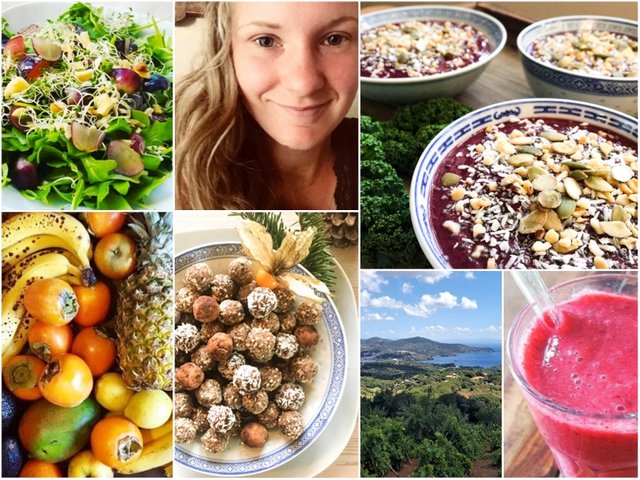 🍓Hungry for some more healthy nuggets? Check out my raw vegan posts:
🌟Explore your full potential, with my health and lifestyle posts:
🗺 Time for some more adventures - follow me around the world: