Cook Pritong Isda With Me (👌Fried Fish ala @sissyjill)🐟
Cook for your parents because it's not everyday that they'll be there eating with you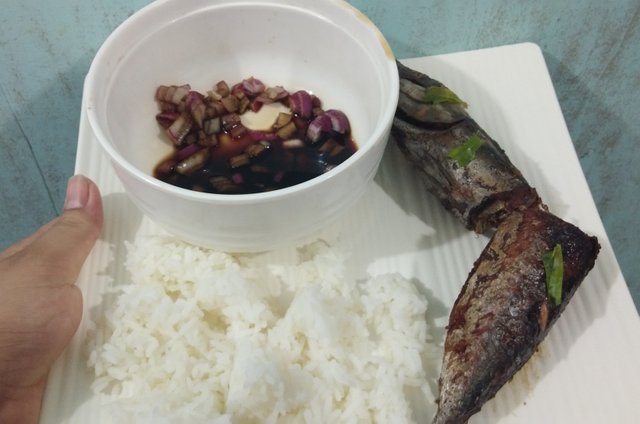 ---
Happy Sunday Steemians! Greetings from sissyjill here in Philippines!
---
I usually wake up every 7 o'clock in the morning but I woke up late this day since I've been so exhausted yesterday for I have done too many works. I didn't even hear my phone alarmed. It's almost noon so I decided to cook our meal. My family were having a karaoke and we all are having fun; laughing our ass out; and making special memories together. Have you ever been in my position when you suddenly thought of serving your parents? They are not getting any younger and I am still studying. I can't give them yet a very great life. The only things I can do is to not give them a hard time and to make them happy.
---
It was exactly 12 o'clock when I decided to go to the market and buy some fishes. I wanted to cook pritong isda (fried fish) and I bought tulingan (tuna fish).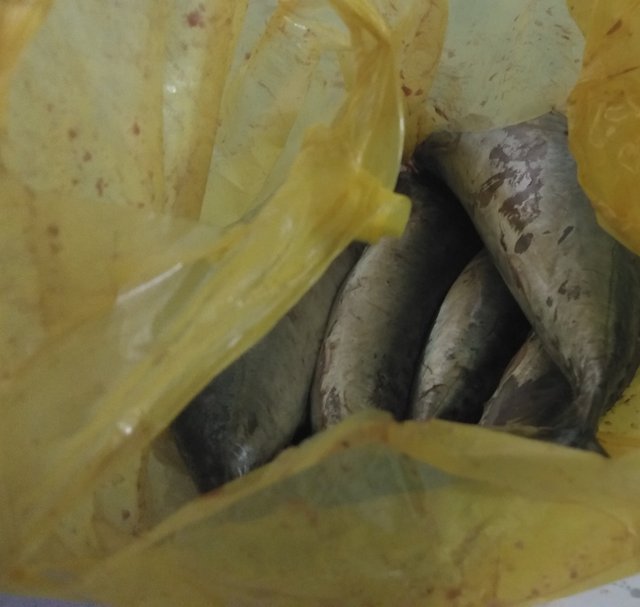 ---
Here are some tips when buying a fish
I advise you to buy in the market and not in the mall. Most of the what the market is selling are fresh from the sea. But you still need to check them and be wise. Since the market doesn't ask for as much fee for the stalls of the sellers as with the malls so they usually have much lesser price.

The eyes are the doors for the soul. When you look at their eyes, they should possess bright and clear bulging eyes.

Pinkish color indicates freshness. You can identify if the fish is fresh when their gills are pinkish or brightly red.

Look at its body. Make sure that the fish is shinny, clean and metallic.

A fish should not sting. A fresh fish should smell like a clean water.
---
After purchasing tuna fish, I immediately gone home and cooked.
---
The ingredients are:
tuna fishes
two cloves of garlic
some scallion
olive oil
onion
soy sauce and vinegar
---
How do I cook pritong isda?
STEP 1 : First and for most, I cleaned the fish and took off those that are not essential and can cause food poisoning.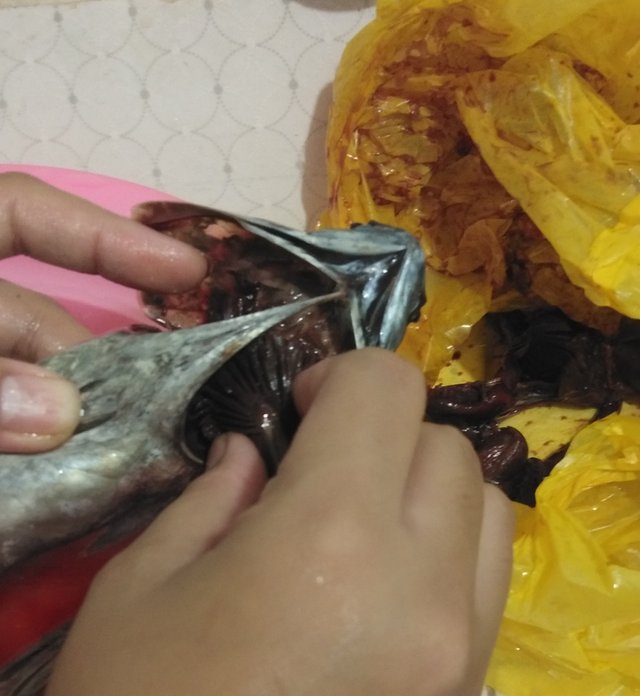 STEP 2 : I cleaned the fish until the water doesn't contain blood anymore.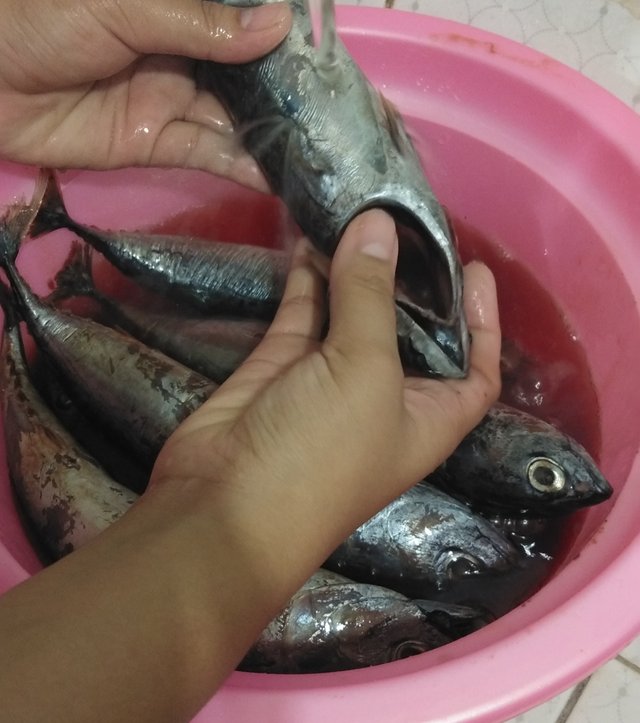 STEP 3 : I sliced them in half because I cook the upper part and the lower part differently.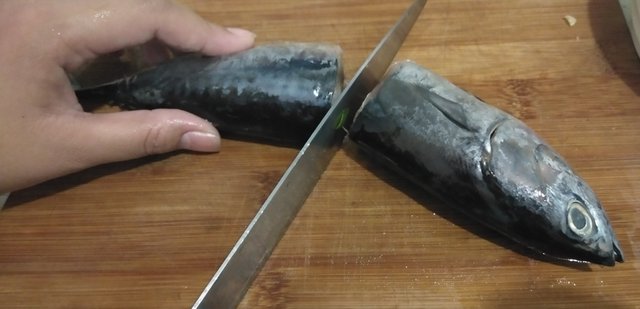 STEP 4 : I set aside the fishes and took 2 cloves of garlic. I pressed and minced the garlic.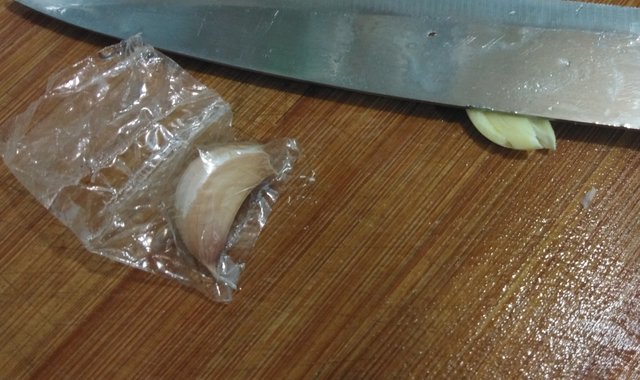 STEP 5 : Then I sliced the scallions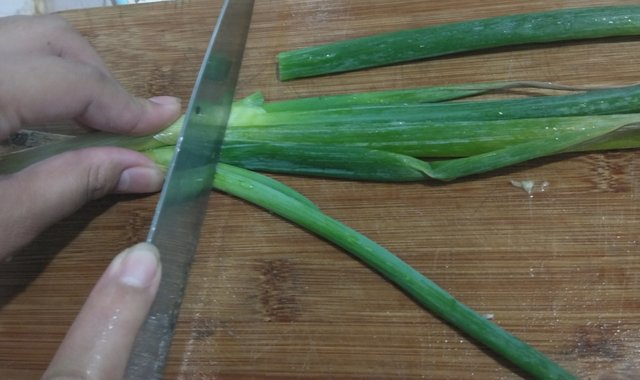 As you can see in the picture below, the main ingredients are the fish, scallions, and garlic.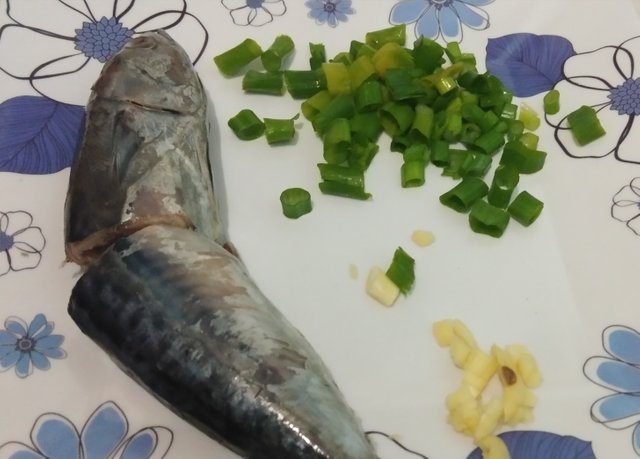 STEP 6 : As I said lately, the upper part and the lower part of the fish will be cooked differently. I put scallions inside the upper part of the fish.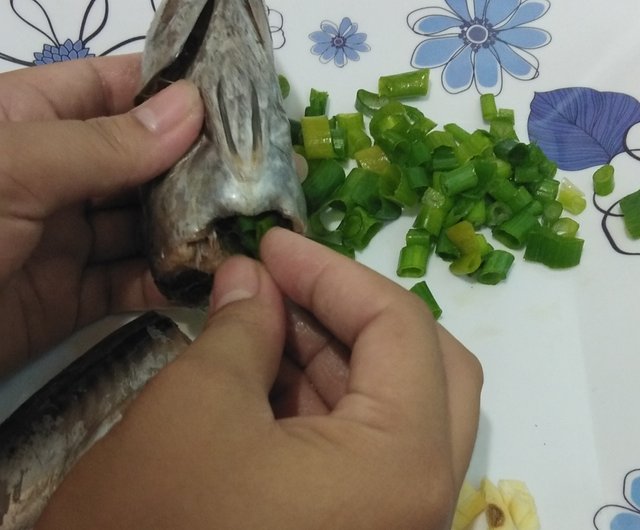 STEP 7 : Wash the pan and heat it up.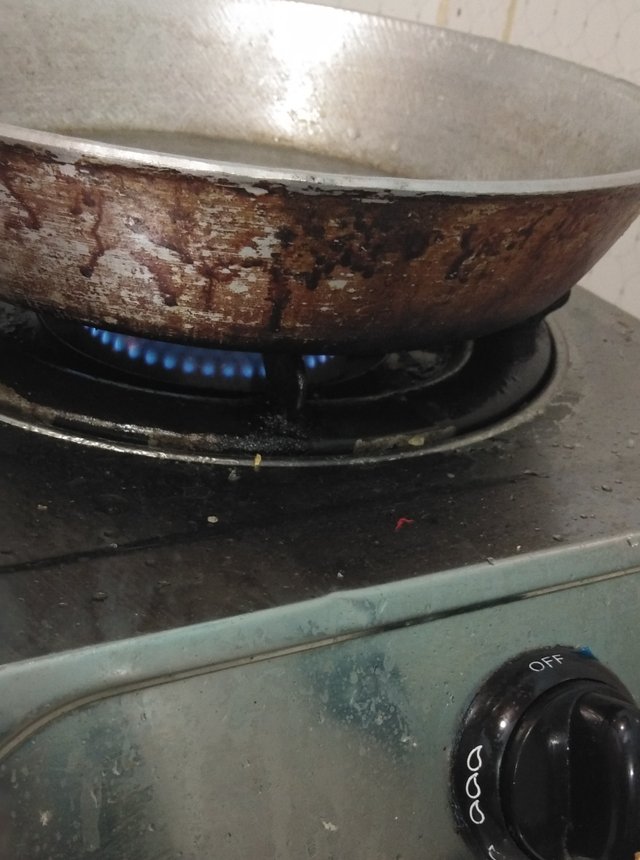 STEP 8 : Once the pan is fully dried up (since we are to deal with oil so there must be no trace of water), put olive oil and heat it under a decent amount of fire.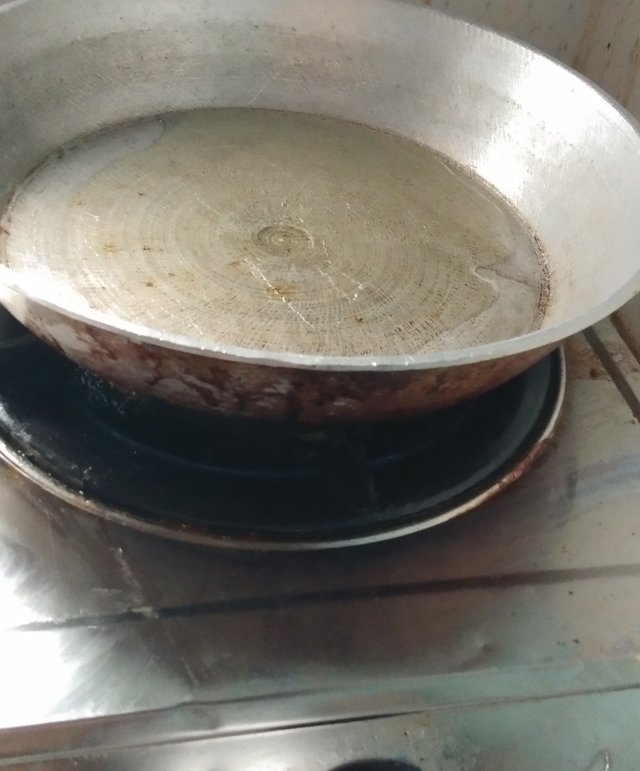 STEP 9 : While waiting for the oil to heat up, put some salt over the fish.These are use to give a better taste for the fish.
For the upper part, just spread it on every side of the fish.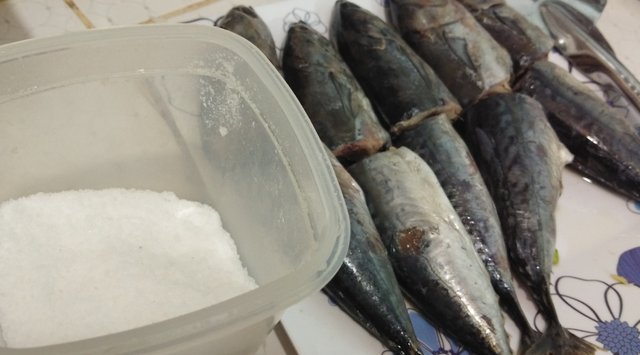 For the lower part, cut the fish and put decent amount inside it and all over its body.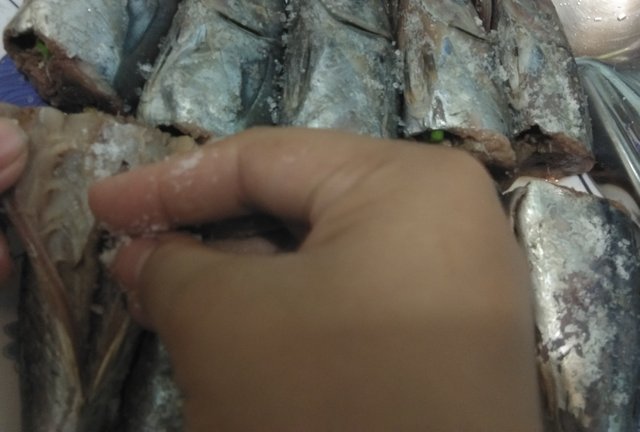 STEP 10 : Stir fry the garlic over the pan.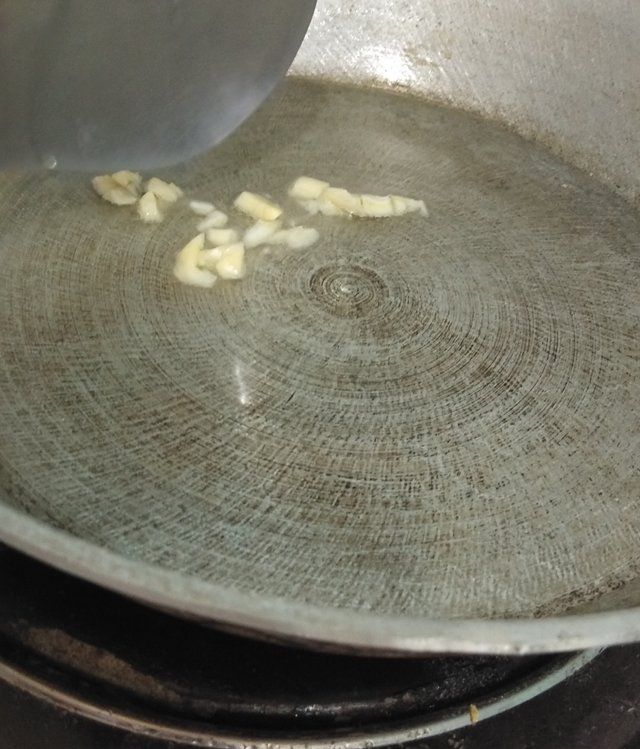 STEP 11 : Fry the fishes and make sure to cook them well because tuna fishes can be poisonous if you don't cook them properly.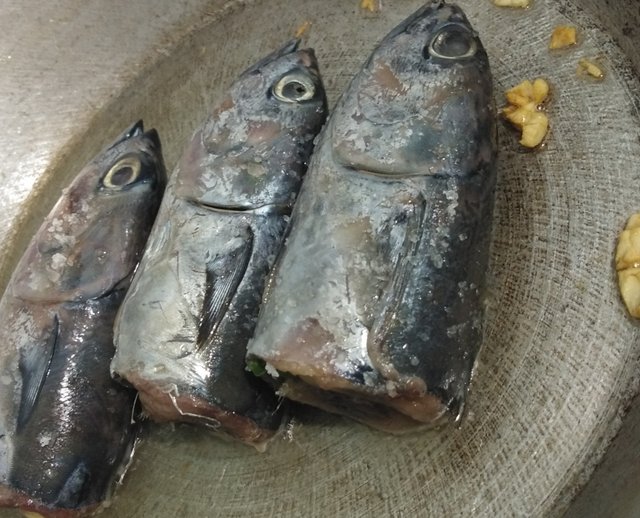 ---
And that's it!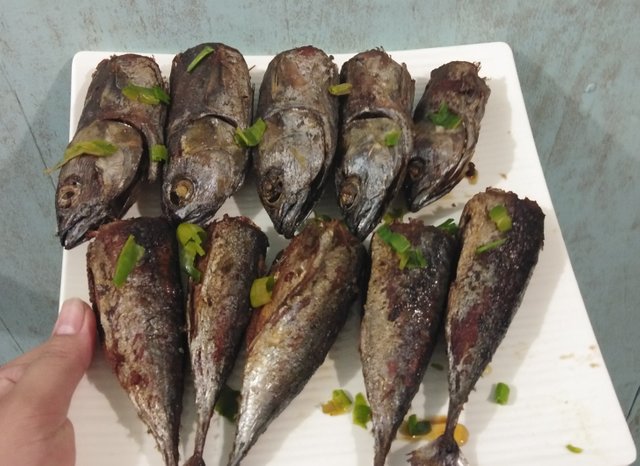 ---
Every time I eat fried fish I always make a sauce made of sliced onions, soy sauce and vinegar.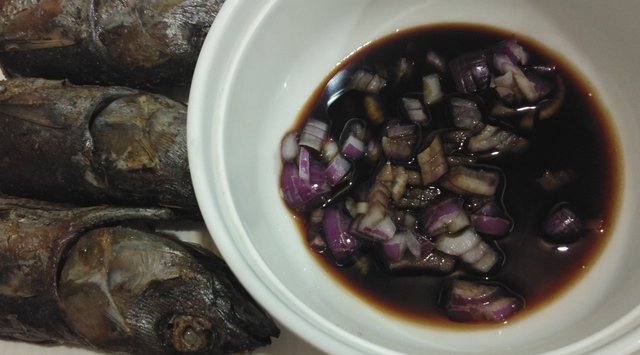 ---
That's what I offered and made for my parents today. How about you? What have you gave your parents today? Remember to always make your parents happy even with simple treats.
---
All of the pictures are mine. Some are taken by my sister since my hands are wet or I am slicing.
---
this is @sissyjill at your service