Lovely Logic makes: Icebox Cheesecake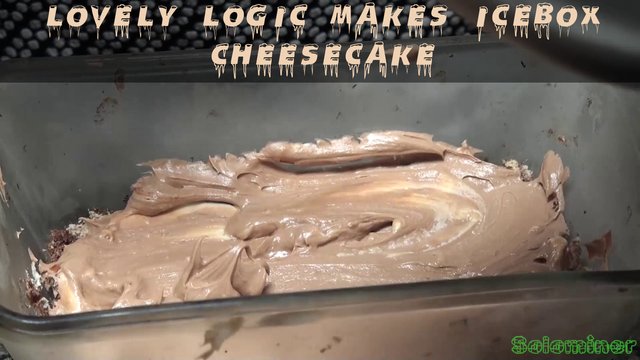 Using goat cheese, we make a oven free cheesecake. Most cheesecakes use cream cheese. But we like to goat cheese as it has an amazing texture and we will be using that for this recipe.
Using almond meal, coconut butter, salt and lemon essential oil. Extracts can be used too. Though most essential oils are not food grade, so make sure you find one thats not meant for scents and for cooking instead.
We made two kinds of cheese cake in this video, one is a keto sugar free. And the other has a little maple sugar in it. We prefer it over refined sugar as it has extra flavor to it. Mixing it all together so it fits the length of the container. If you want you can pop it in the oven to crisp up the breading though not required. Packing down the breading from the almond flour along with some coconut flour will go a long way.
Coconut flour tends to absorb more liquid than other flours so keep that in mind if using it.
Melting the coconut butter and placing it onto the flour it should be pressed down into the flour as even as possible. Using a spoon it makes it easy to do so.
Using room temperature goat cheese, setting it out about an hour before making this. We add it to the mixer along with some grassfed butter. Again it needs to be room temperature and soft.
Lastly we add coconut milk to the goat cheese and grassfed butter. Using about two tablespoons of the cream from the coconut milk we dump it in the mixer adding it to the mix of goat cheese and butter.
Optional, adding chocolate chips will add flavor if you like chocolate. Lovely Logic likes chocolate but Solominer not so much.
---
Addresses below to help me buy better camera equipment and support me to travel to locations to do photo and video and overall great blogs in new places.
| Coin | Address |
| --- | --- |
| BTC: | bc1qhfmvd2gywg4fvrgy2kkkkyqta0g86whkt7j8r7 |
| LTC: | ltc1qdyzm5cwgt8e2373prx67yye6y9ewk0l8jf3ys9 |
| DASH: | XkSqR5DxQL3wy4kNbjqDbgbMYNih3a7ZcM |
| ETH: | 0x045f409dAe14338669730078201888636B047DC3 |
| DOGE: | DSoekC21AKSZHAcV9vqR8yYefrh8XcX92Z |
| ZEN: | znW9mh62WDSCeBXxnVLCETMx59Ho446HJgq |