Delicious Lunch Ideas on a Diet
I'm counting kilojoules for weight loss, and it's working. So, I thought I'd share some meals that this vegan girl eats on a diet. The kilojoule counts were done with the Myfitnesspal app, and then screenshot and edited by me. The number on the far right of the ingredients lists are kilojoules. They can easily be converted to calories by searching for a free online calorie converter.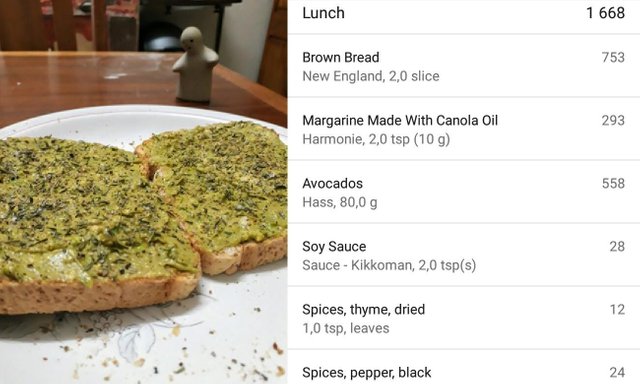 I just smash about half of a large avo with some soy sauce and then sprinkle spices on top. I didn't have paprika in the house when I made this sandwhich, but it would look stunning and add even more to the health benefits if you sprinkled some paprika on top. Avocado contains heart healthy fats.

I made my own "baked beans" by mixing some cooked red kidney beans with a little barbeque sauce. This is much more delicious in my opinion. This one is not quite so healthy; but at least the super food, beans, play a starring role. Beans do not only provide the best quality protein, but also helps your body stabilise blood sugar levels.