Yummy stuff by Stapaman #1: Pot-roast veal with spicy gravy sauce.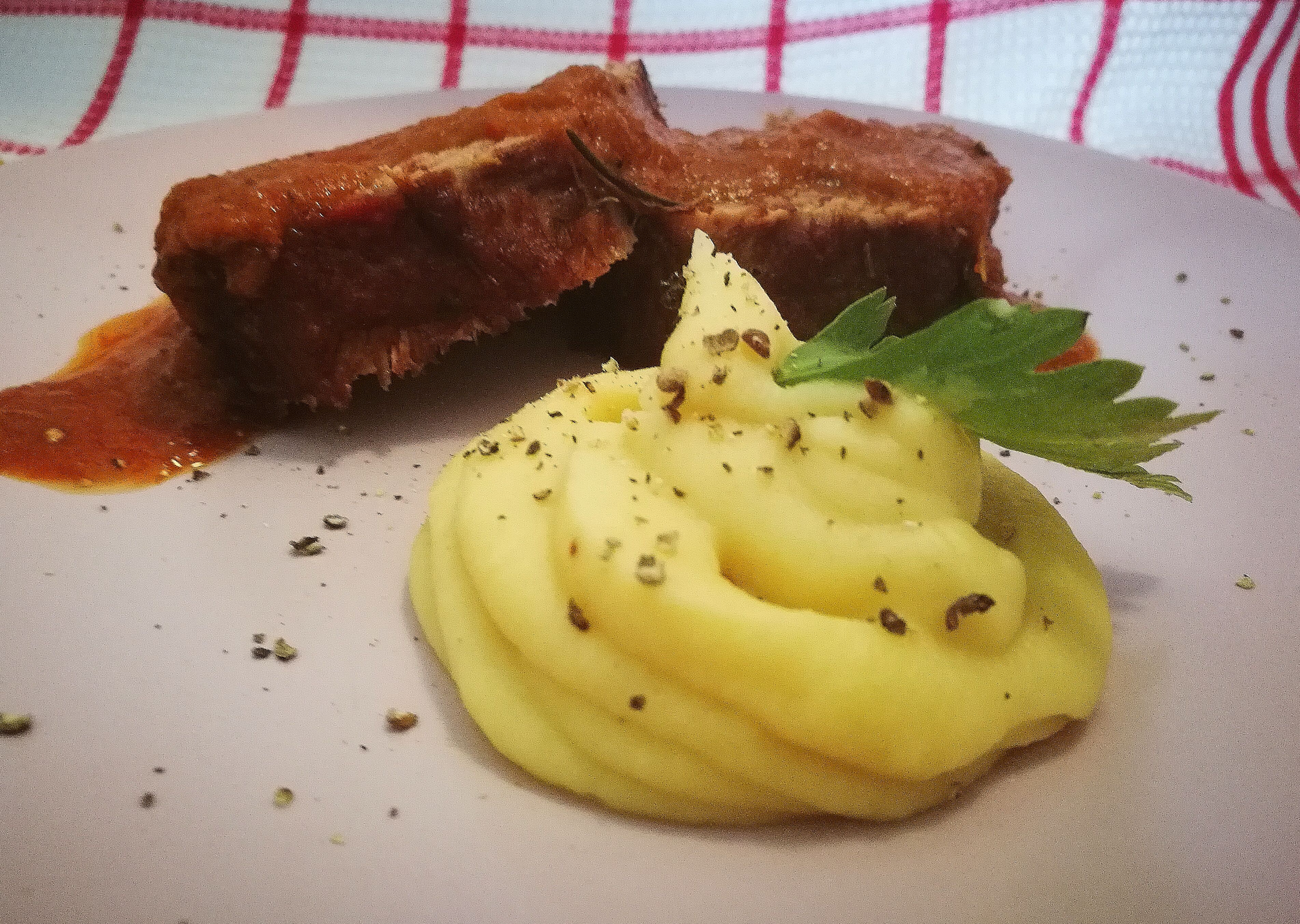 Every Sunday deserves a good meal, and today I decided to cook one of my favorites; pot-roast veal with spicy gravy sauce.
First things first; we need a nice piece of lean veal; I prefer "the eye of round" cut (for my Greek friends, that's «νουά»). I got this 850gr premium-quality eye of round from my butcher, who happens to be extremely picky with what he buys and sells (that is exactly why he is MY butcher) 😊
Let's get the veal out the fridge for about an hour or so, let it rest and get a normal, room temperature; this phase is extremely important!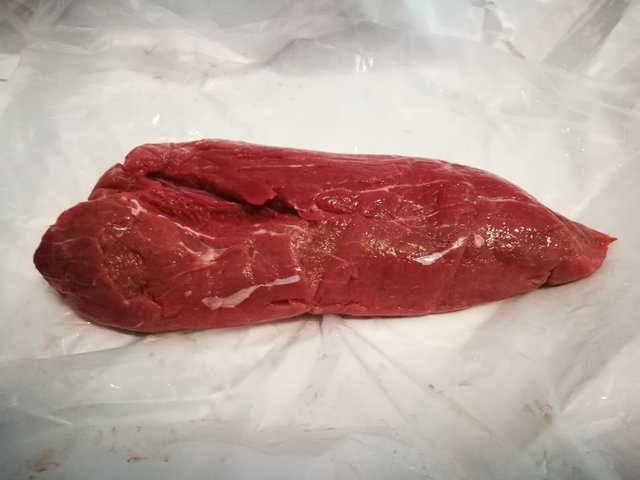 In the meantime, let's get our vegetables washed and cut in large, thick chunks:
1 large onion
4 cloves of garlic
2 large red peppers
plenty of celery (oh yeah, I love it)
4 large carrots
1 tomato (diced)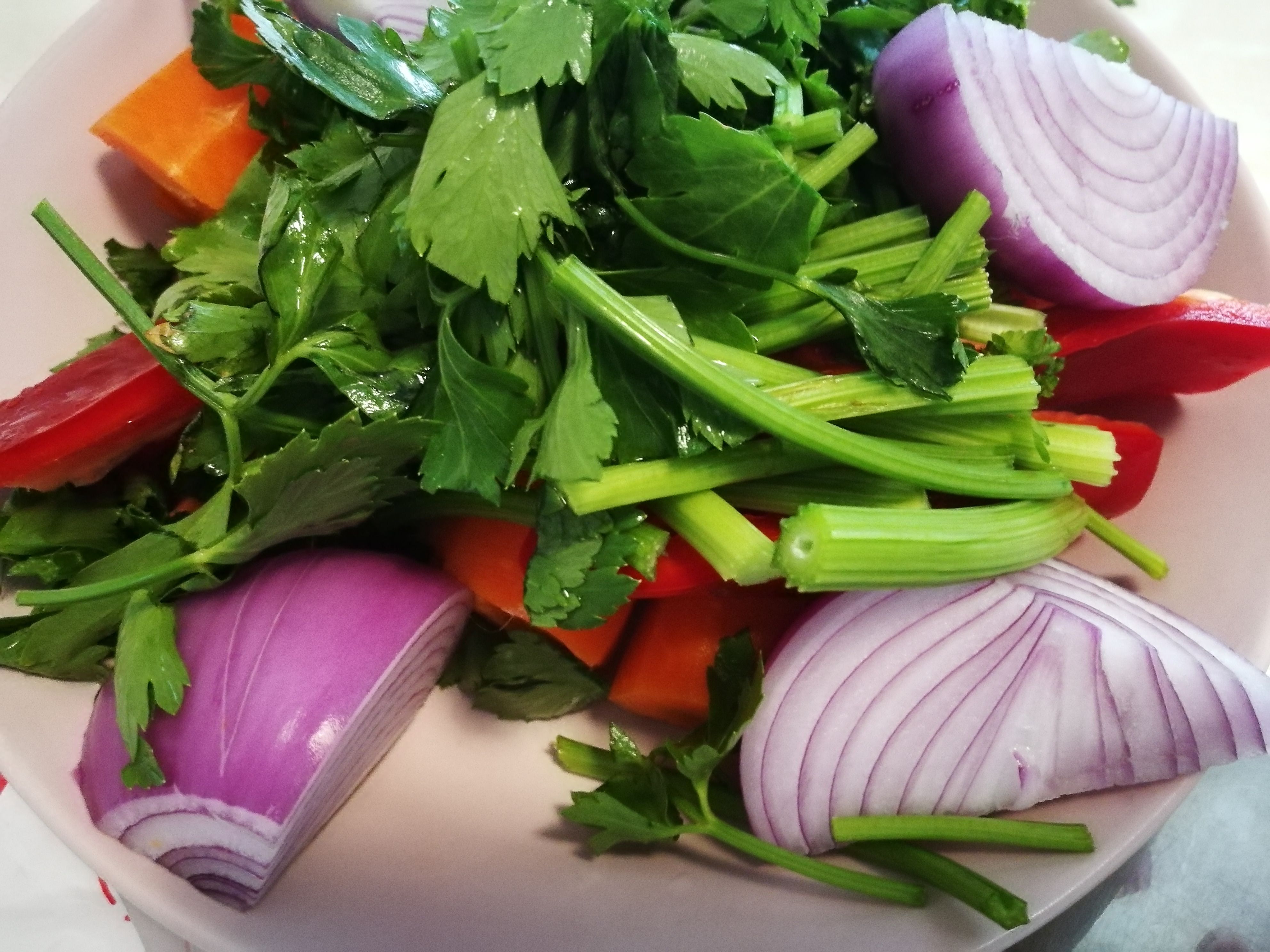 In a large, broad pan, we put plenty of olive-oil and a spoon of butter, and let it get really hot, mixing butter with oil while it melts. Let's put the meat in the pan now and let it get a nice, brown tan all over! That will enclose all the meat's juices and let the meat be tender at the end.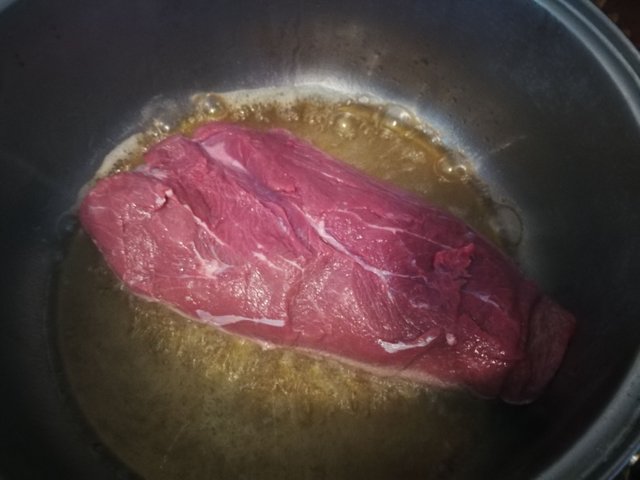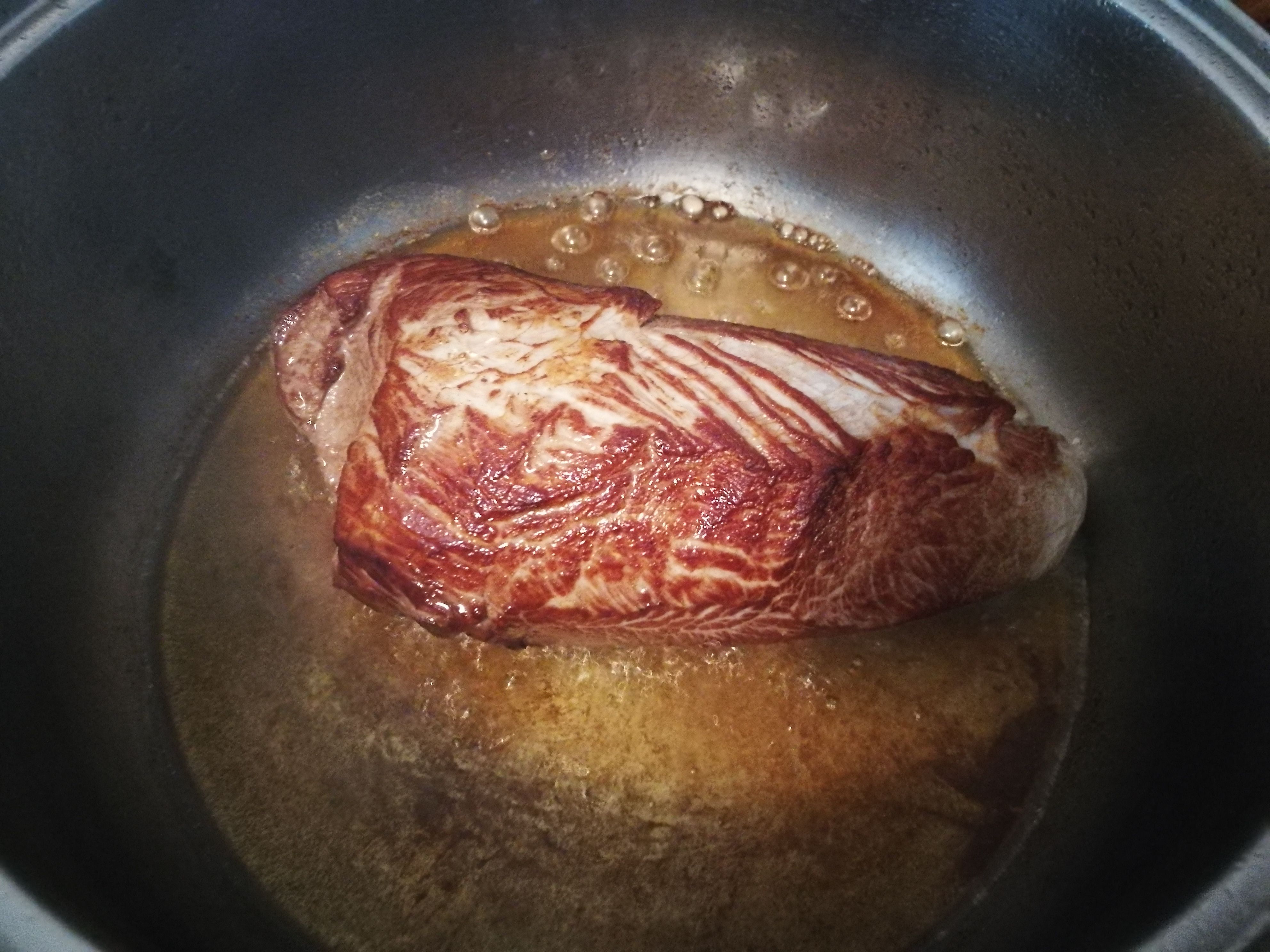 Once we do that, we start putting our veggies around the meat; not all of them at once, as it will reduce the olive-oil's heat! Give the pan a few good shakes while placing the veggies inside and let them sizzle for a while.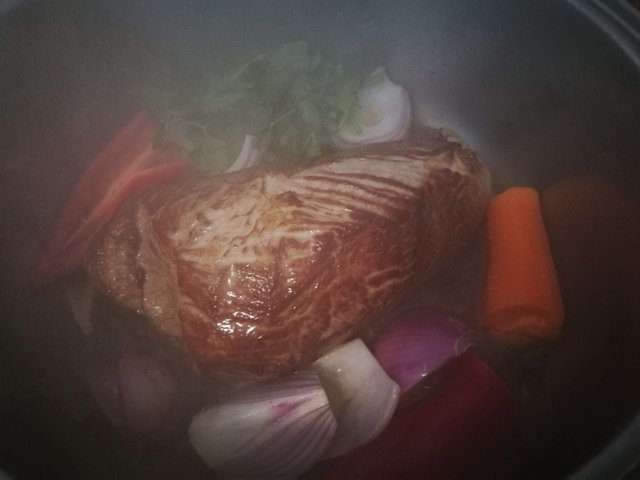 It is now time to add half a glass of rosé wine, and let the alcohol evaporate before adding our diced tomato and a generous spoon of tomato paste! Give the pan a strong shake or two, and add some boiling water, until half of the meat is covered. Add a few cloves of rosemary, a generous pinch of thyme, a small pinch of allspice and one (or two) small hot chili peppers.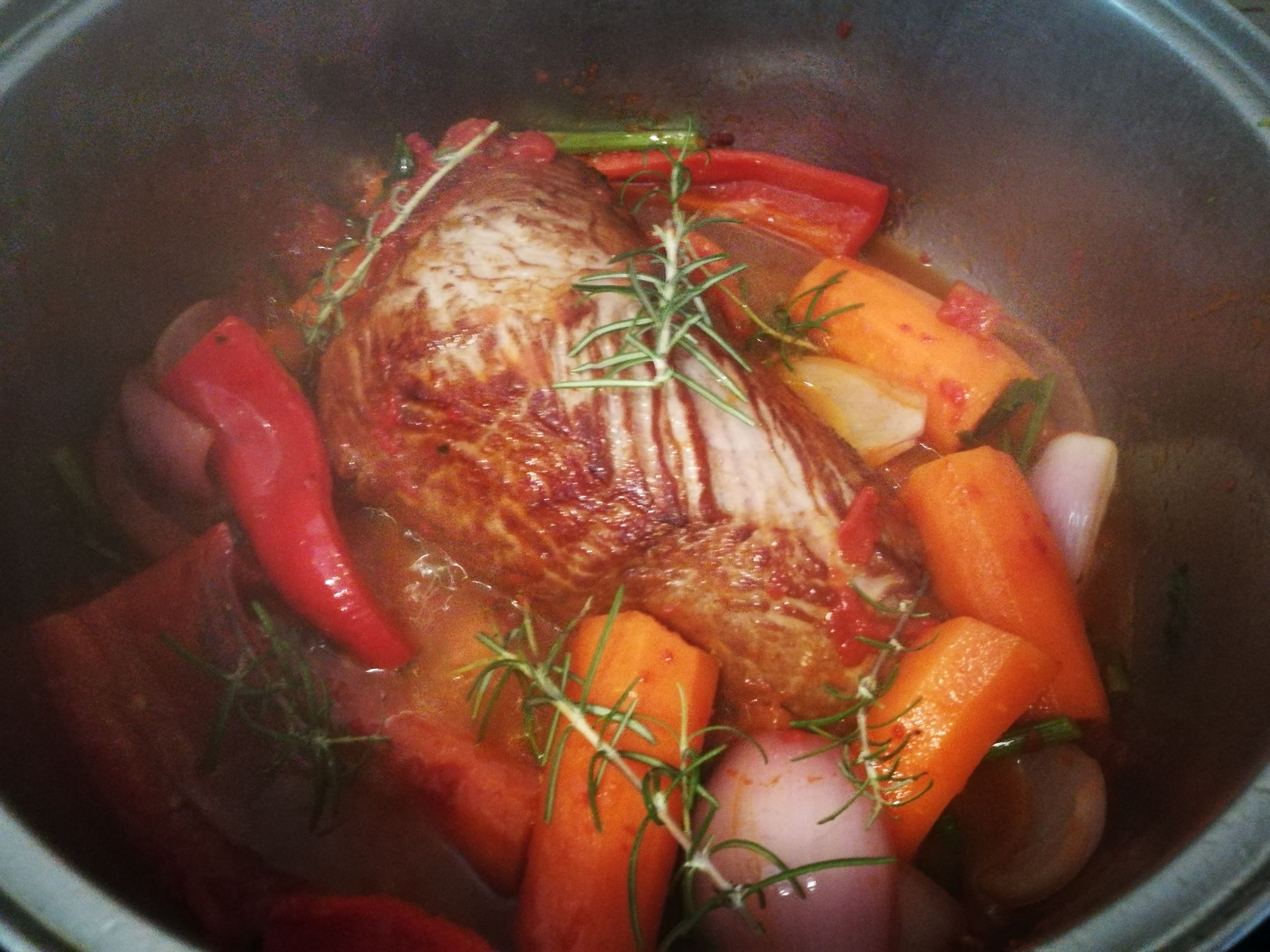 A generous pinch of sugar will help the meat cook faster and keep it tender, but this specific cut is from a quite young veal and needs no more help. No salt added yet, as it makes meat tougher; we'll add it at the end.
Let's put the lid on now and let it on high heat for 5', then put it on low heat and do whatever you want for an hour and a half (I had some coffee and bugged a few FB friends… LOL …) Please note that larger cuts take more time to cook, but we should never cook veal too much, as it will dry out. There should be enough fluids in the pan for that time, but if you feel that you need to add some water at some point, add only a little, and boiling; otherwise you'll reduce the heat and you don't want that!
Tick tock…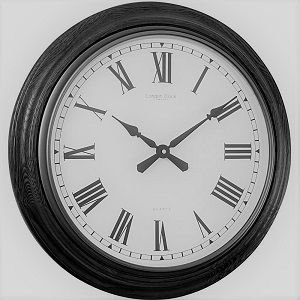 Something like 20' before time is out, we add salt to taste and let the meat cook to the end.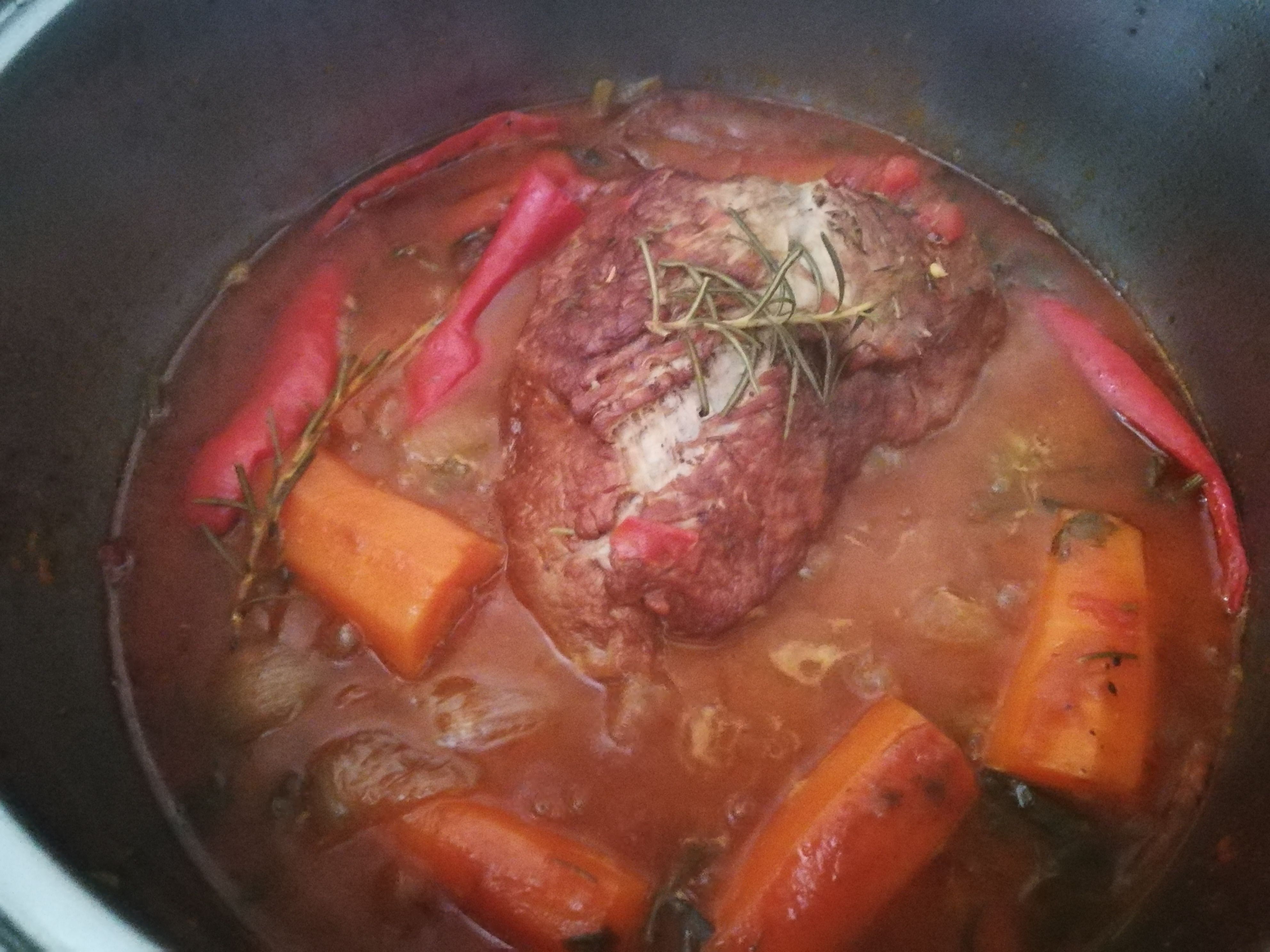 Our veal is nicely done! Let's put it on a cutting board and let it rest, while we put the nicely boiled veggies along with the rest of the sauce in a blender and make a mash of them. We put them back in the pan along with some boiling water and some milk cream and make a nice gravy sauce… Yummy!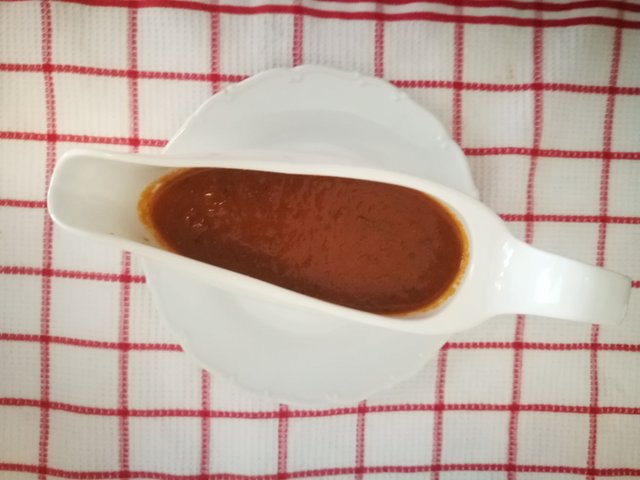 Last thing we do is cut our veal and serve it with the topping of our choosing; I chose mashed potatoes with some rough-grind nutmeg, which is an excellent companion for potatoes…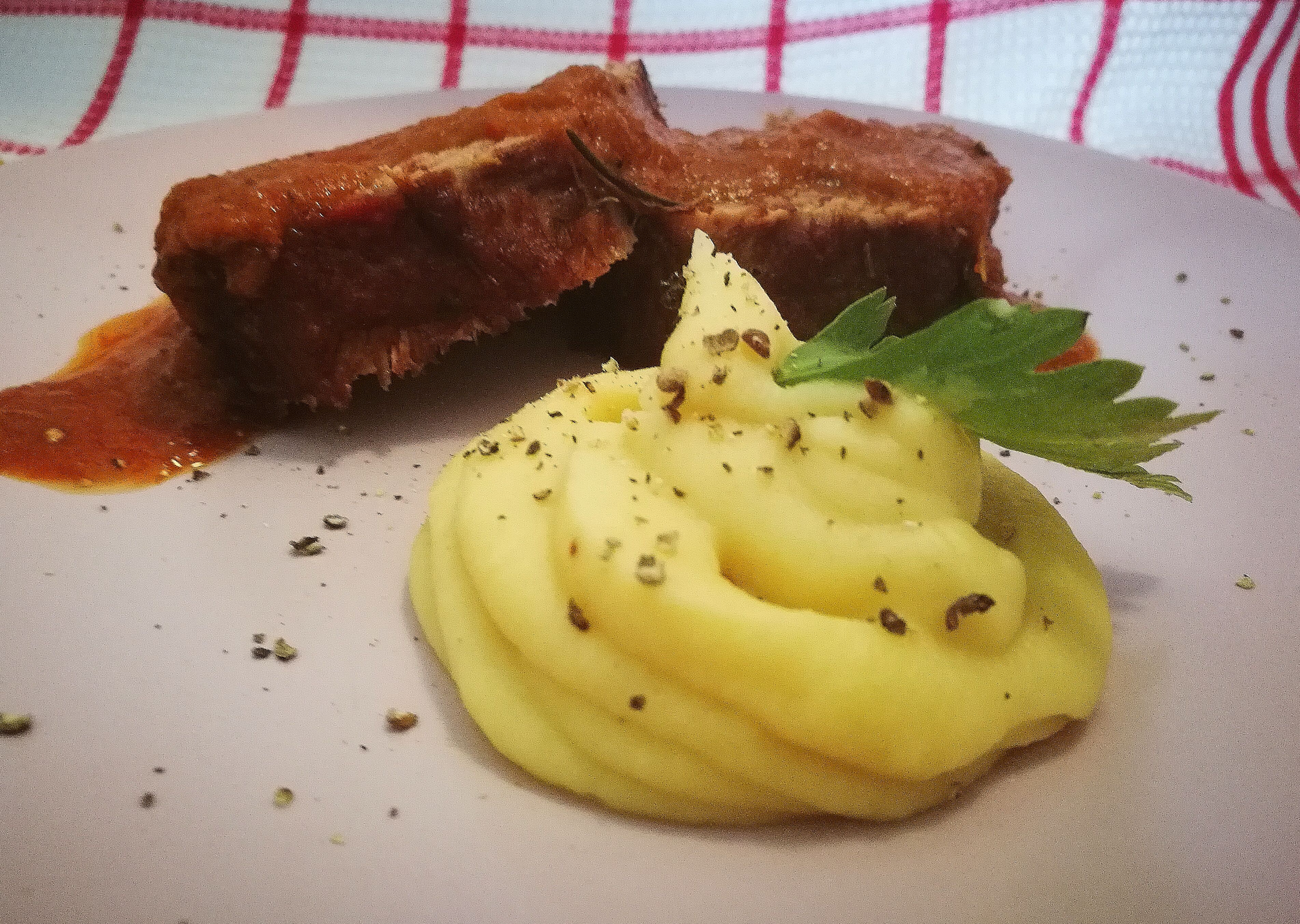 Bon Appetit! 😊