Yummy stuff by Stapaman #2: Pork tenderloin with mushrooms a la creme
Hello, Steemians! Today I'm going to show you how to make a tasty, relatively easy and somewhat impressive meal; Pork tenderloin with mushrooms a la crème. It's one of my long-time favorites and I made it for my mom on Mother's Day. She loved it!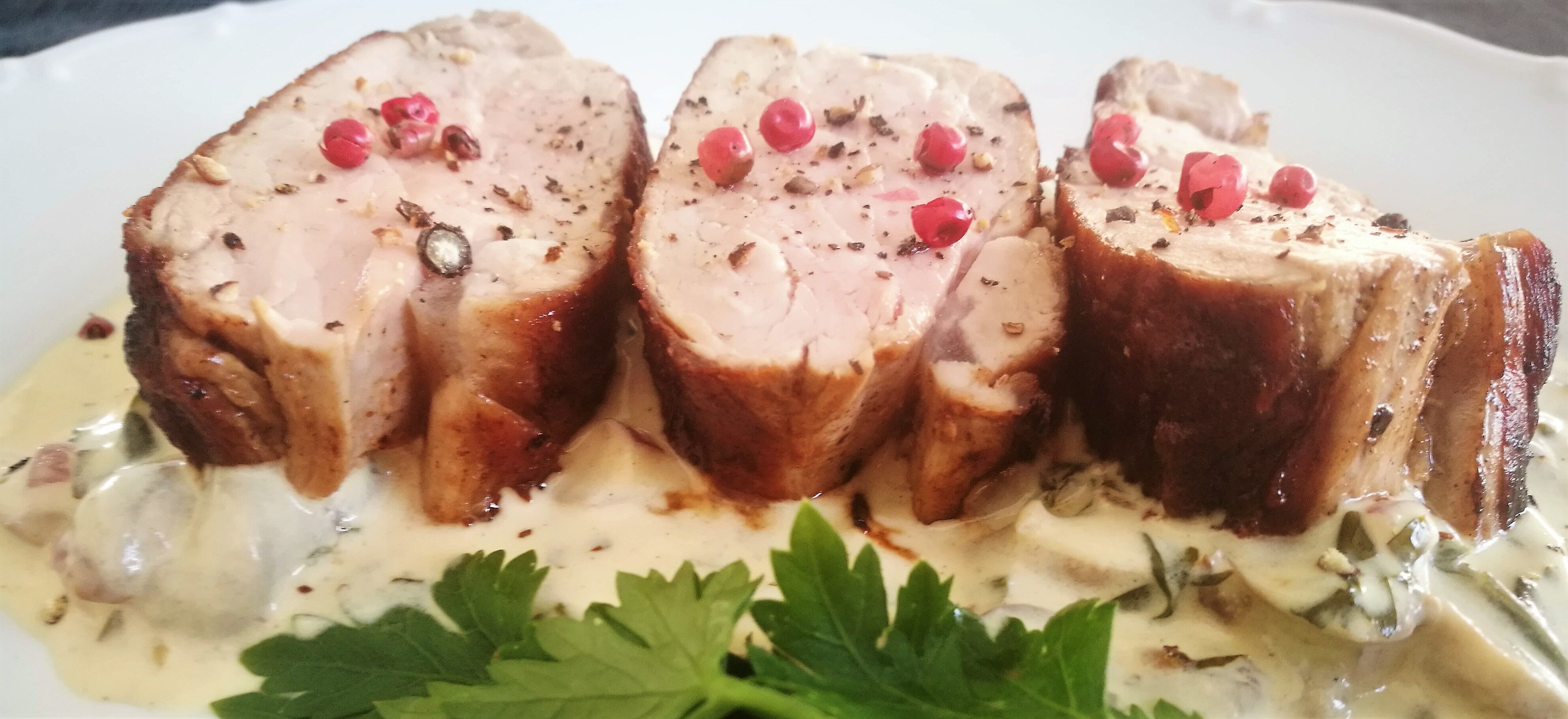 Let's get the meat ready first! We'll need:
2 pork tenderloins
2 generous tbsp of butter
4 tbsp of olive-oil
1-2 cloves of garlic
1-2 cloves of fresh rosemary
Get the tenderloins out of the fridge and let them reach a normal, room temperature. Get rid of the extra lines of fat on the outside; they can even be removed by hand, if your butcher was a little sloppy (mine isn't!) 😊 They should be bashed a bit, so that they are flat and even, but if you forgot to tell your butcher, worry not! Just put them on a cutting board, but some cellophane over them and bash them with the bottom of a heavy frying pan. Now the little rascals should be flat and even! Huh!!!
Poor the olive-oil in a large frying pan and while it gets hot, put the butter and mix them up while the butter melts. When things get hot, place the tenderloins in the frying pan. Pork is notorious for splashing oil all over the place when put in the frying pan, but you can sprinkle some salt inside the frying pan before placing the meat; that will reduce the splashing and keep things cleaner.
Let the meat get a nice brownish tan for about 2' on high heat, then flip it and let the other side get a tan for another 2'. You should now reduce the heat to medium and let the meat sit there for about 8 minutes on each side. If you want your meat very well done, then please feel free to extend time to 10-12', but this will dry things up. I personally vote for medium-rare when it comes to meat!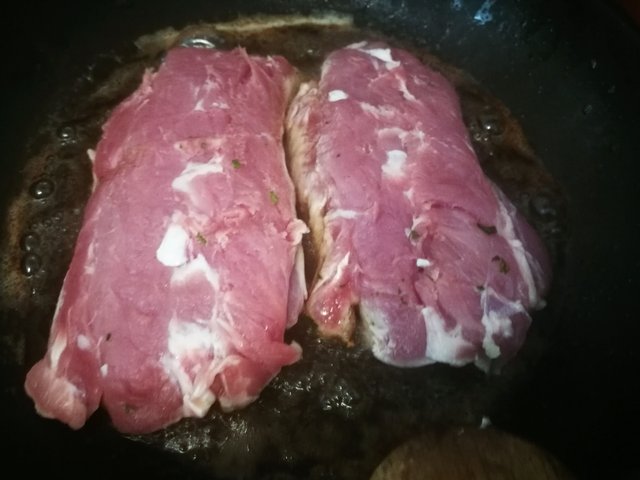 In the meantime place the garlic and rosemary cloves in the frying pan and pour some of the melted butter over the meat occasionally; that will give the meat a nice crunchy outside.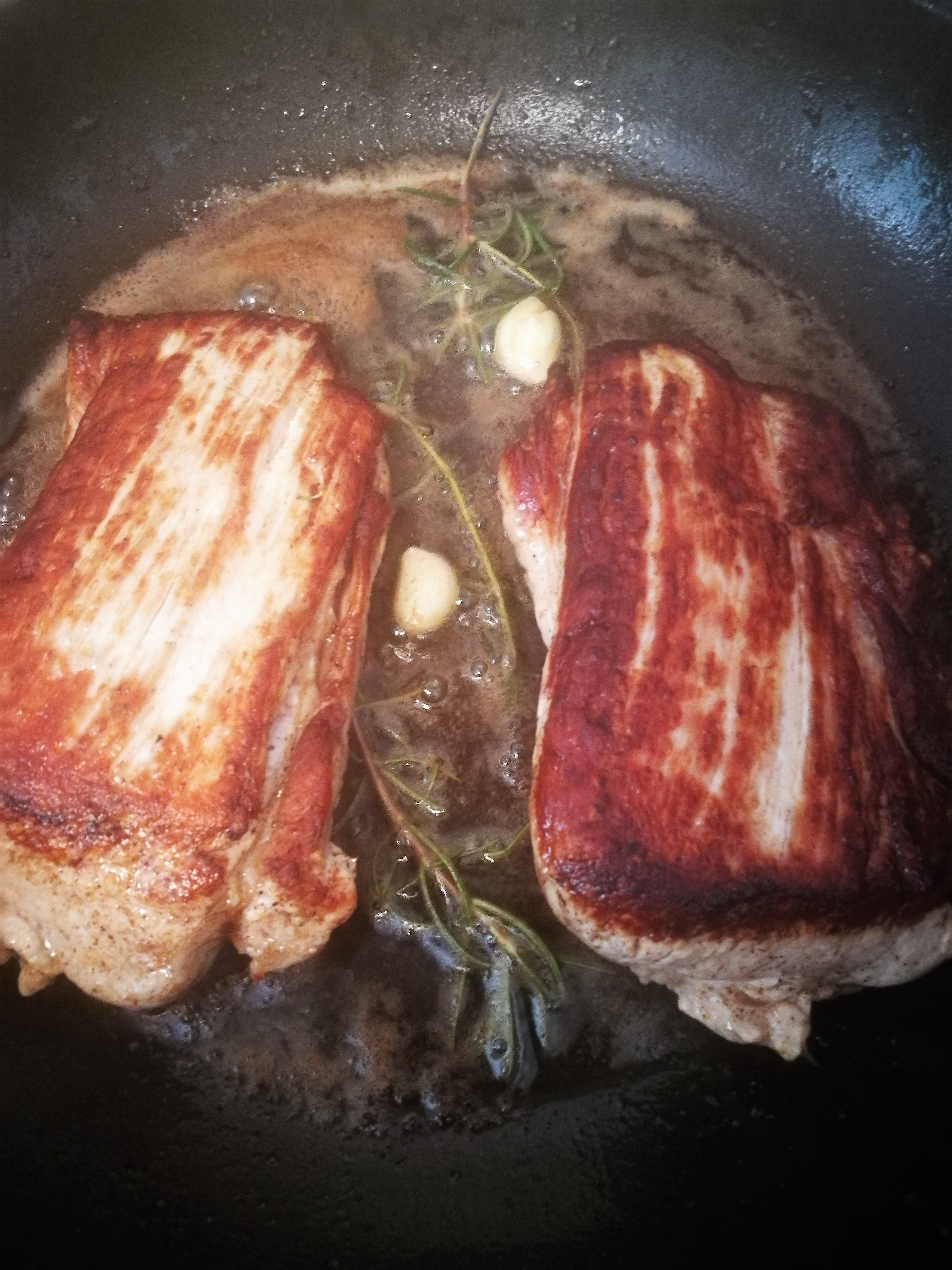 Once done, put the tenderloins in a platter and let them rest; Don't put them in cutting board, because there is plenty of meat juice to be extracted while they are resting there, and you might end up with a mess all over the bench or table!
While the tenderloins rest, we are going to make our sauce a la crème. Here is what we'll need:
2 handfuls of sliced mushrooms (or a little more of them if you are a mushroom-addict; I am!)
2 tbsp of butter
1 small onion, finely chopped
1 clove of garlic, finely chopped
some parsley, finely chopped
1 glass of white wine
1 generous spoon of mustard
1 glass of milk cream
salt and pepper
Place a medium pot over high heat, melt the butter and let it get hot. First put the mushrooms and start stirring them, don't let them stick!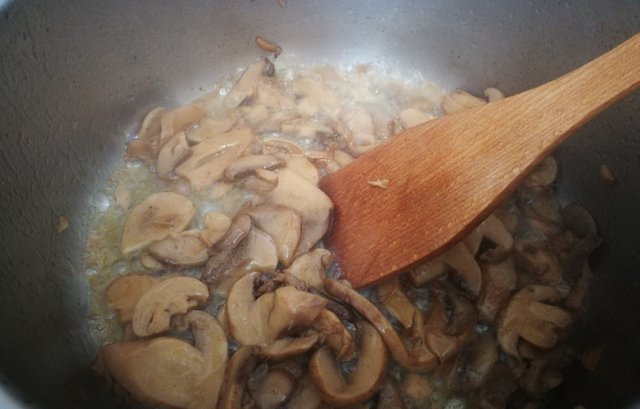 Once they start losing their fluids, place the onion, parsley and garlic into the pot and keep the stirring on. We want them all soft and with as less fluids as possible left there.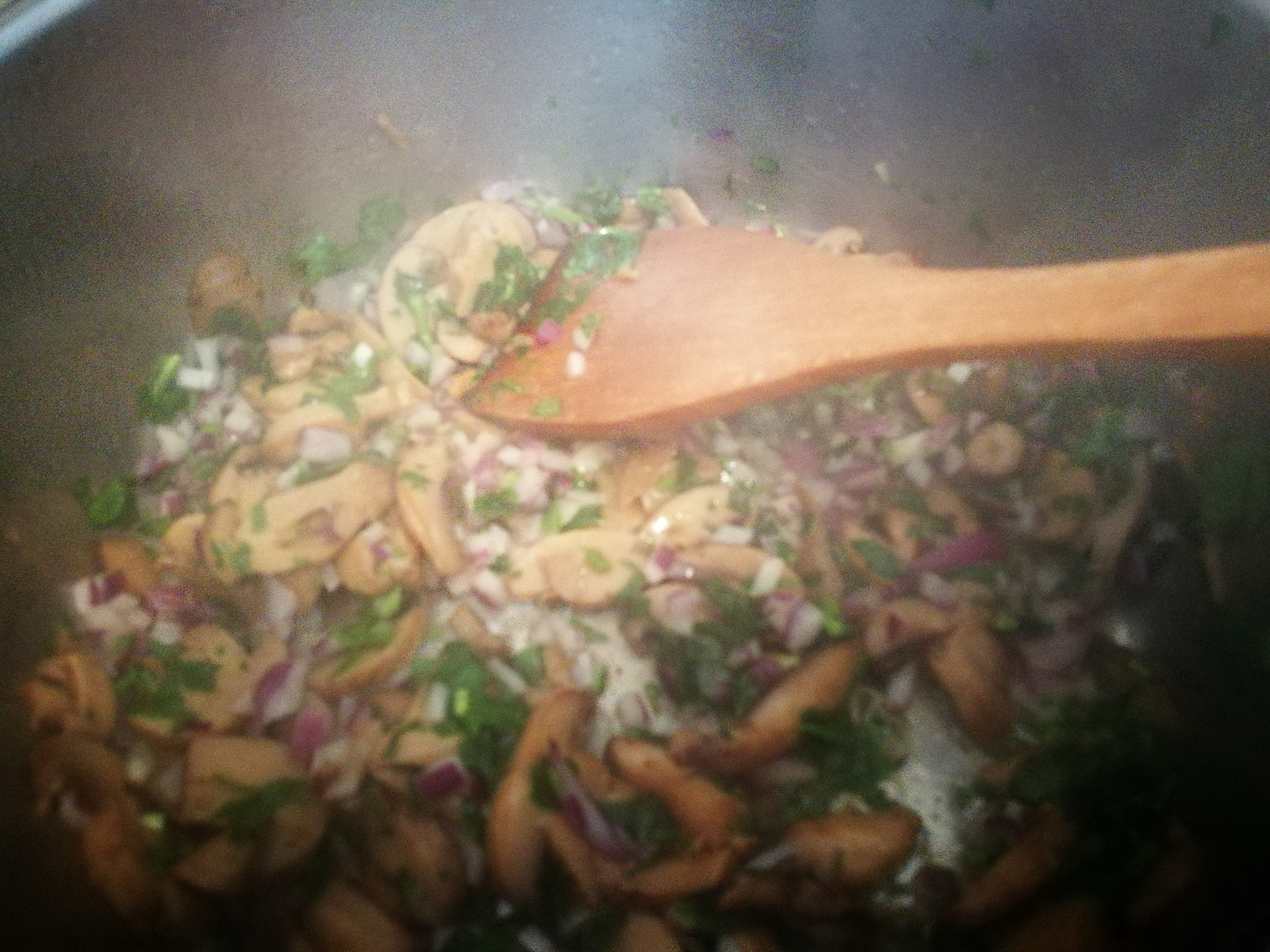 Once you see them all dried out and sizzling pour the wine and give them a good stirring. Let the wine evaporate and once you stop smelling it, put the mustard into the lot, stirring firmly. Things will get sticky now but don't be afraid! Pour the milk cream and mix things well!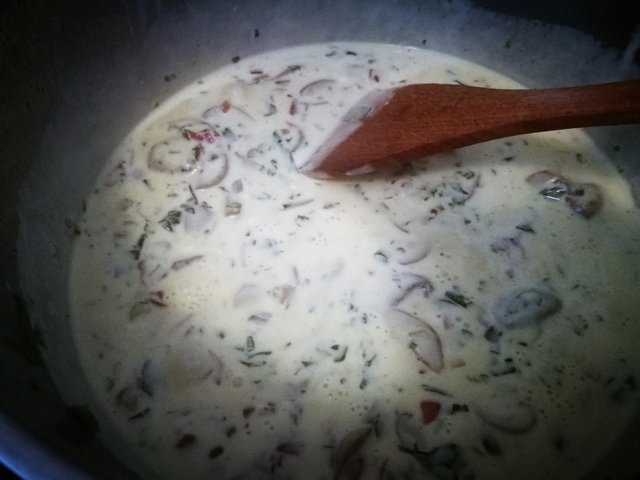 Let the sauce on high heat for a while and then reduce to medium-high heat, stirring occasionally until the sauce gets thick and creamy.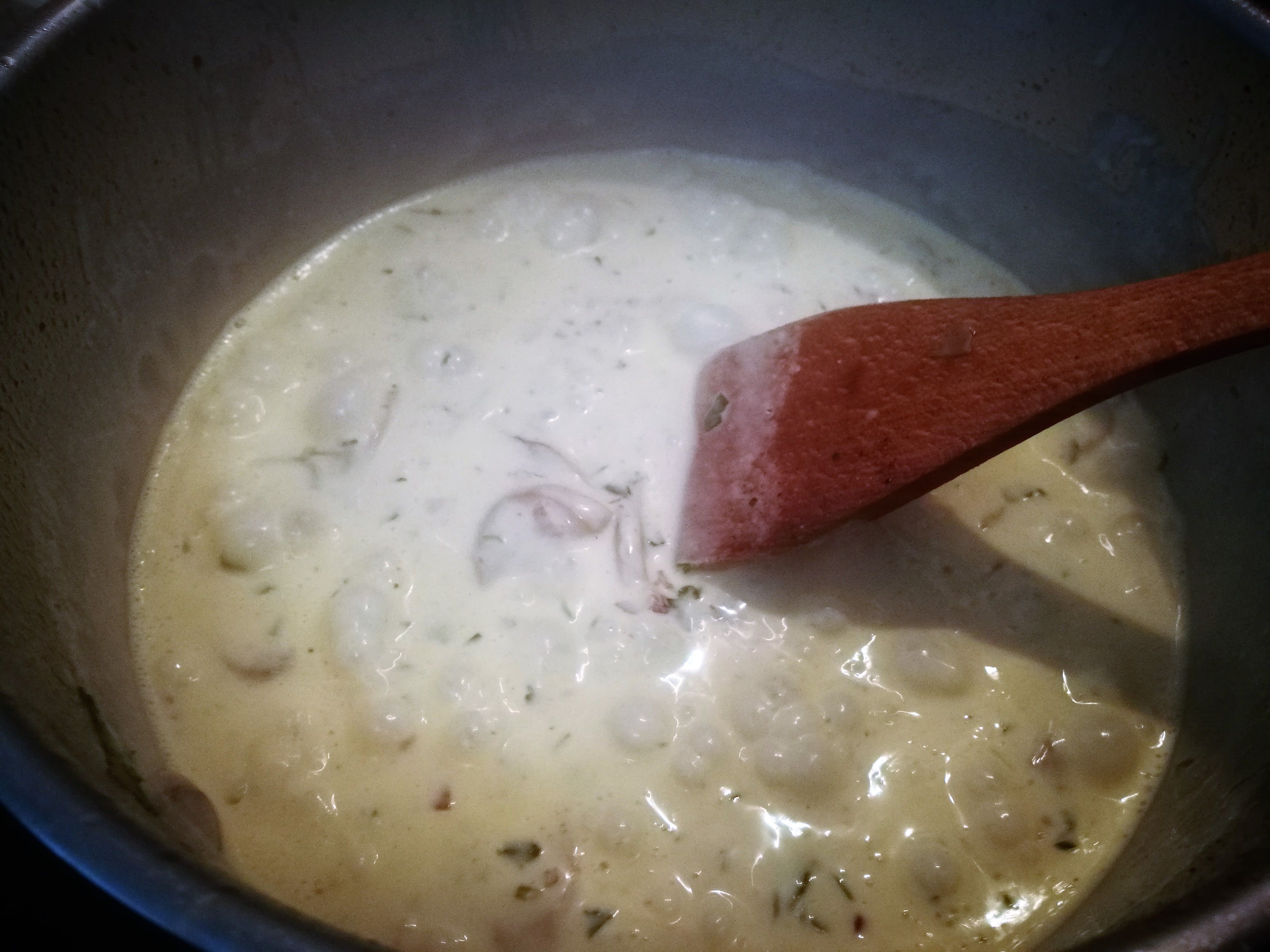 Yummy! Put some salt and pepper to taste. This one craves for pepper; I love putting plenty of thick-ground pepper and make it a bit spicy!
Now that the sauce is ready, let us cut the tenderloins in 1cm-thick slices. They are nice and crunchy on the outside while they are tender and juicy inside! Some extra fluids will be extracted while cutting the meat; don't let that scare you!
I usually put a generous amount of sauce on each plate and then place the meat over it, topping with some extra thick-ground black pepper, some whole sweet red pepper and a little parsley.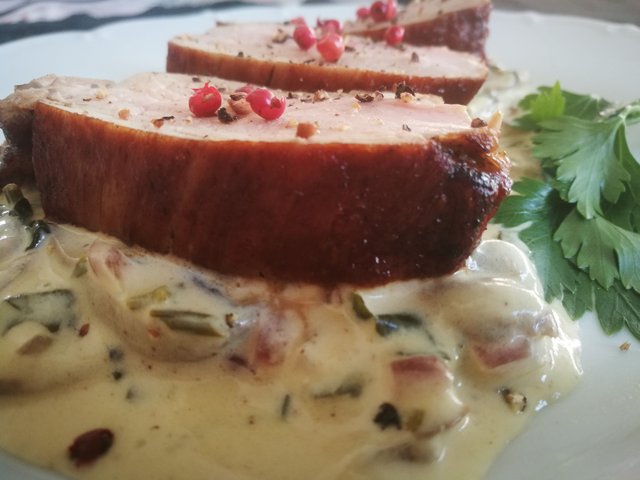 But you can always serve the opposite way; meat first, sauce over it; what ever suits you better! This recipe is excellent going along with some boiled rice. And (beware!) this sauce a la crème is a diet killer, as it's a perfect dip for bread; we Greeks are famous for sweeping the extra sauce left with a chunky piece of fresh bread! Yummy!!!!!!!!!!!!
I hope you enjoyed reading about this recipe. I'm sure you'll love it if you try it!
Take care!