Meal Planning Fit For A Game Show! Budget, Plan, Go!
Chopped is one of our favourite TV shows. Every week when I prepare to go grocery shopping, I like to think of myself as one of the contestants!
If you haven't seen Chopped, there are 4 contestants who each receive a basket of 4 mystery ingredients. They must cook one cohesive dish featuring all 4 ingredients, and when time runs out they are judged and one of the chefs is chopped! The winner makes it through 3 rounds to take home $10,000.
In my house I don't get rewarded for delicious meals with cash, but I do get the satisfaction of knowing I was able to budget carefully, prepare balanced meals and see the delight that my family feel at dinner time. $10,000 would be nice, but I will take the satisfaction instead.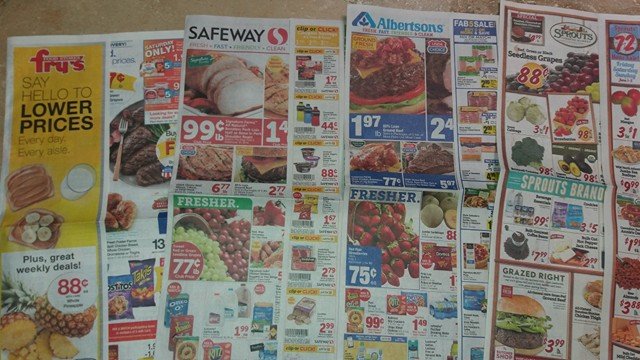 To get my mystery basket ingredients for the week, I check the front page ads for the 4 major grocery stores near me. We are lucky to have a selection in our immediate area. The ads are delivered to our mailbox on a Wednesday and I use the front page doorbusters as my mystery basket ingredients.
The doorbusters are the grocery store's loss leaders, the items that they put on special each week to lure shoppers in. So I look at these items and choose a store for the week, then plan my meals around the items that store has on offer. It sounds like a lot of work, but in reality I only spend 10-15 minutes scanning the ads and then making some basic decisions.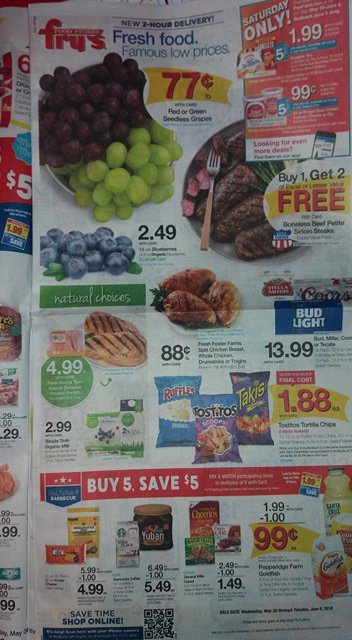 Generally I do most of my shopping at our local Kroger Store, Frys. If you sign up for the free storecard, you can download an app and then electronically 'clip' coupons there which are automatically taken off as you check out. As I browse the store I can quickly search for coupons as I shop too. Frys/Kroger also send out paper coupons in the mail.
Next week, chicken is the protein on special (at 88c/lb split breasts/leg/thighs). I will therefore plan meals containing chicken, however I also stock up and freeze meat while it is on special. So next week we will also have a pork roast and some ribs.
Chicken meal ideas:
Chicken Carbonara with Salad
Chicken Tacos/Enchiladas
Chicken Parmesan with Homemade Fries
Hoi Sin Chicken with Rice and Veggies
Chicken Salads (for lunch)
Chicken Pesto Pasta
Shredded Barbecue Chicken Sliders with Salad
(in the winter) Chicken Soup
Chicken Curry
Chicken Lettuce wraps with Rice and Broccoli
...the list goes on and on
Usually then I see what else we have in our cupboard/is on special/we have coupons for and finish making a meal.
This week Frys are also having a 'Buy 5 save $5' event. So if you buy any 5 items that are a part of the promotion, $5 is automatically taken off your bill. You can also use coupons on these items to lower the cost further :) I use this promotion to stock up on storecupboard essentials with a long shelf life and toiletaries.
This week I will be buying pasta, cheese, coffee, frozen pizza, diapers, shampoo and toothpaste using coupons (some items have electronic coupons on my card and some are paper ones Frys mailed me) and the b5s$5 promotion.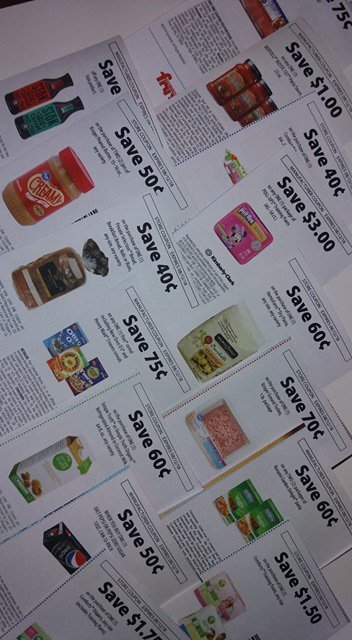 These promotions are when I get Ronzoni Pasta (my favourite) for 50c/12oz box (and I have a 60c/2boxes coupon) and American Beauty Pasta for 50c a packet (and then I usually am sent a $1/3bags coupons regularly too). A few months ago Kraft Macaroni Cheese was part of the promotion and was 29c a box when you bought 10 boxes, that is Js favourite junkfood so I stocked up for him them.
When toothpaste is part of the b5s$5 you usually can get Crest or Colgate for $1.99 or even 99c after you buy 5. The Frys app often has $1 and $2 coupons, so I usually pay very little for toothpaste and grab a few tubes when I can.
This week comforts brand diapers are part of the b5s$5 . My kids are 20 months apart so we got through our fair share in the first few months, thankfully now M has potty trained and we just get training pants for nighttimes. They will be $3.49 a pack (for 24 size 5 diapers) when you buy any 5 participating items. Comforts Training Pants are $5.49 for 26 when you buy 5 participating items. I have coupons for $1.75 off the diapers and $1.50 off the wipes (that Frys just sent me in the mail so no effort needed to search for them). In the next few weeks Huggies will then be on offer, and I will save my coupons for those products and use them then.
We usually also stock up on soda during sales events, our guilty pleasure! Once a month (or so) it is 4 boxes of 12 cans for $8.88. I also usually save my coupons for this event too, currently I have $2/3 packs of Mountain Dew (Js favourite) and 50c off one box of Pepsi Zero Sugar. So then I will pay $6.38 for 48 cans of soda, a pretty good deal considering how many my husband drinks!
There you have it, shopping on a budget made quick and fun!
Top Tips
Shop the front page of the ad and meal plan around those items
Plan ahead and buy in bulk when items are on offer
Use coupons to lower your out of pocket cost (either electronic storecard coupons or paper coupons)
Only buy items you need or will use (it isn't saving money if it sit in the cupboard forever)
Today, you are the Chopped Champion and you take home $10,000
...or in my case
Today, you are the Chopped Champion and your kids enjoy their somewhat balanced healthy dinner and eat with no fuss.