Butter Oatmeal Cookies filled with caramel and topped with peanut butter
I was wondering if I can make some mouth watering cookies for my mom and my sister.
My sister's demand : YOU HAVE TO USE PEANUT BUTTER IN MY COOKIES.
My mother's demand :YOU HAVE TO MAKE IT HEALTHY BEACUSE SHE THINKS SHE'S FAT BUT I DON'T THINK SO.
ᔕO, I ᗪEᑕIᗪEᗪ TO ᗰᗩKE ᔕOᗰETᕼIᑎG ᕼEᗩᒪTᕼY ᗩᑎᗪ ᔕOᗰETᕼIᑎG ᑎEᗯ ᗯITᕼ ᗰY TᗯIᔕT Iᑎ IT. ᗰY ᗷᖇᗩIᑎ ᔕTᗩᖇTEᗪ ᖇᑌᑎᑎIᑎG ᗯITᕼ ᖴᑌᒪᒪ ᔕᑭEEᗪ ᗩᑎᗪ ᖴIᒪTEᖇIᑎG ᖴEᗯ IᑎGᖇEᗪIEᑎTᔕ TO ᗰᗩKE ᑕOOKIEᔕ.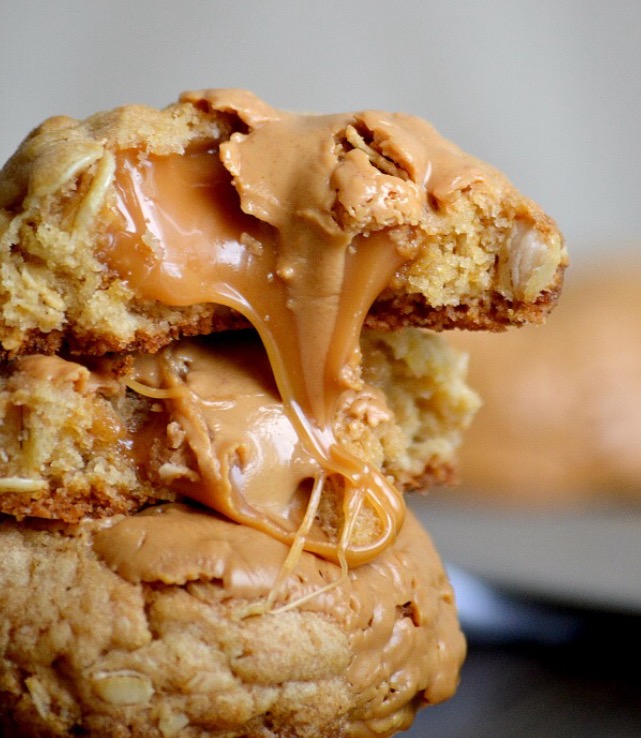 Shall I start with our all new challenge and to prove my mother and sister that I can make or fulfill their demand ?
ᑕOOK ! ᑕOOK ! ᑕOOK !

 Sugar 1/2 cup
brown sugar 1/2 cup
Butter 1/2 cup
Egg 1 
Salt 1/4 teaspoon
Vanilla extract  1 teaspoon 
Flour 1 1/5 cup
Oats 3/4 cup
Baking powder 1/2 tablespoon
Caramel (10 darts) 
Peanut butter (4 tablespoon)

STEP 1:
Preheat the oven at 180 degress for 10 minutes .
STEP 2: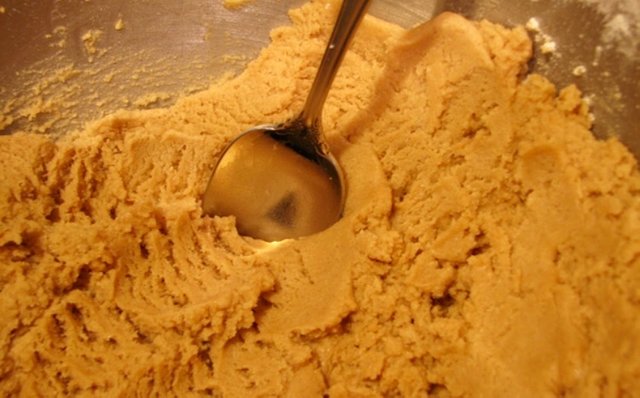 Mix soft butter with brown sugar as well as white sugar. Then mix egg and vanilla extract into the bowl nicely . 
STEP 3: 
Now, mix oats, flour and baking powder in the bowl and mix it well till you get a proper mixture and put that in refrigerator for almost 20 minutes .
STEP 4: 
Now bring out the mixture and make its small dough into 10 equal size balls. Place all cookie balls on a silicon sheet on a oven tin.
STEP 5: 
Using your thumb place the caramel dots in each cookie. Place it wisely and cover it with extra dough by which it will not flow out while baking.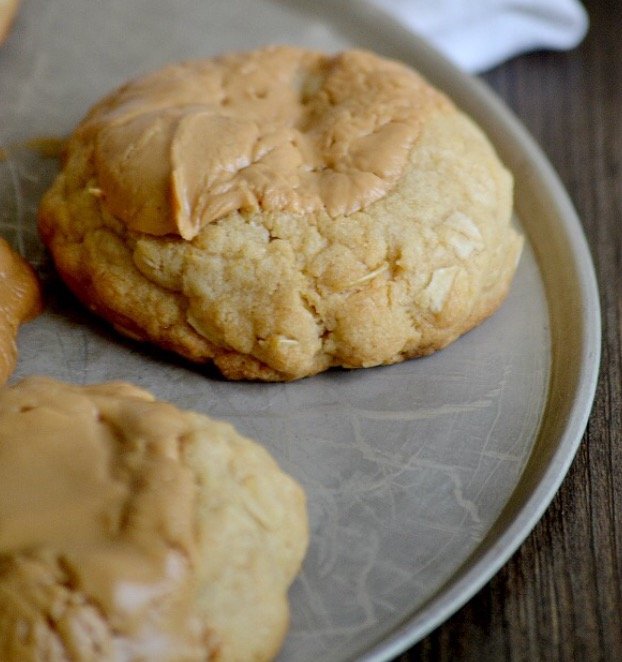 STEP 6: 
Put a teaspoon of peanut buter on each cookie before baking it and now put the tin into oven for Almost 15 minutes or more till it get golden brown .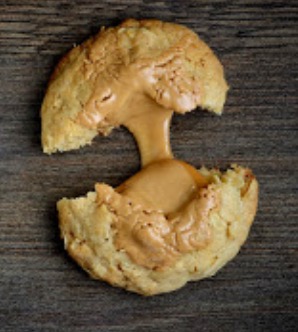 STEP 7:
Bring out the cookie from the oven and allow to cool. Now, serve them with love.
If you like my post then do comment, share and upvote. 
ALL YOU NEED IS TO SMILE AND SPREAD HAPPINESS AND SHOW YOUR LOVE TOWARDS THEM.
KEEP COOKING KEEP STEEMING 
You are most welcome to Give your suggestions to me in comments.