India's most famous butter chicken recipe. Cook it yourself !
Today I'm here with you with all new Indian authentic recipe named as butter chicken. 
In some areas this Indian cuisine is also known as murg makhani.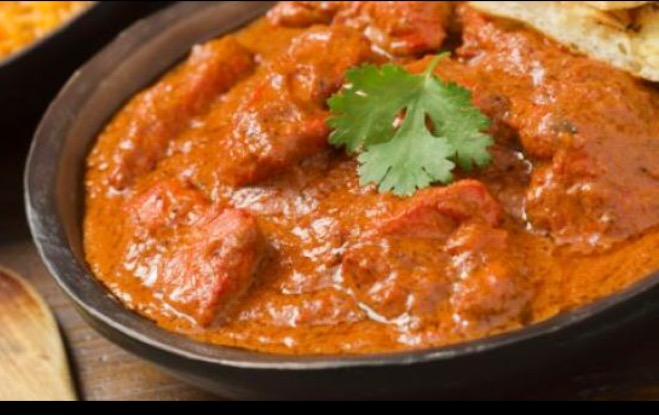 SO LETS START WITH ALL NEW DISH-
KEY INGREDIENTS- 
Boneless chicken cut into  1 inch pieces 400 gms
Salt to taste 
Kashmiri red chilli powder 1 teaspoon
  Lemon juice 1 tablespoon
Butter 2 tablespoon 
For marinade -
Yogurt 1/2 tablespoom 
Ginger paste 2 teaspoon
Garlic paste 1 teaspoon
Garam masala 1/2 teaspoon
Kashmiri red chilli (a pinch) 
Salt to taste 
Mustard oil 3 tablespoon
For Gravy-
Butter 2 tablespoon
Ginger paste and garlic paste 1-1 teaspoon
Black peppercorns 2-3
Clove 2
Tomato puree 1/2 cup
Green cardamom 2 
Sugar 2 teaspoon
Salt to taste 
red chilli 1
Fresh cream 1/2 cup (chilled)
MEthod Of Cooking-
STEP 1:
Apply a mixture of lemon juice and red chilli powder to boneless  chicken . Keep it in the refrigerator for an hour.
STEP 2:
Remove all the ex essive water from the yogurt with the help of muslin cloth. Add ginger and garlic paste to the yogurt and then add. Garam masala and red chilli powder with mustard oil in it.
STEP 3:
Apply this marinade to the chicken pieces and keep the mixture in refrigerator for 3 hours.
STEP 4:
PREHEAT THE OVEN AT 200 DEGREE celcius and then string the piece in the holder and cook them in preheated ovenfor 10-13 minutes .
STEP 5:
Apply butter to it and cook it for another 2 minutes .keep it aside.
STEP 6:
To make gravy, heat the oan and add clove, green cardamom , cloves, peppercorns, and cinnamon to it and heat it.
STEP 7:
saute it for another 2-3 minutes and add tomato puree to it with ginger and garlic paste. Add salt, red chilli powder and a cup of water to it.
STEP 8:
Bring the mixture to boil and add chicken pieces to it and boil it for another 2-4. minutes.
STEP 9:
Add fresh cream to it and serve it hot with stuff kulcha.
Thank you having a look to my blog. Hope you like it
Thank you 
Food is life