Cups with cream and strawberries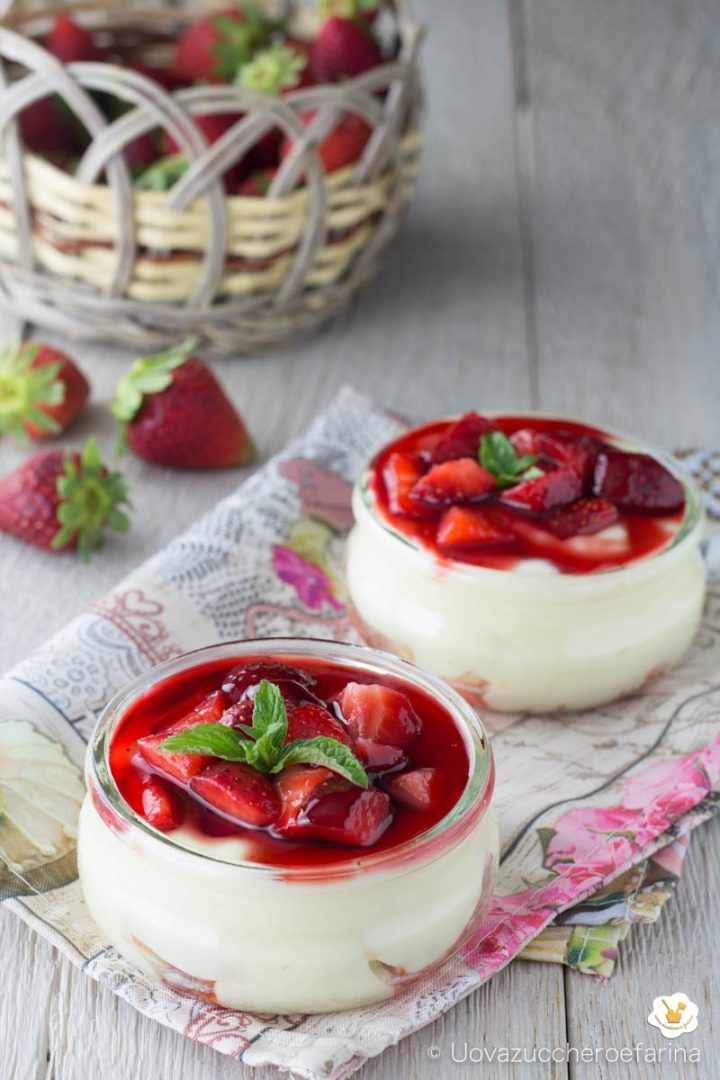 Ingredients:
250 g Strawberries
Topping with berries
2 eggs
250 ml Whole Milk
250 ml Fresh Liquid Cream
7 tablespoons sugar
2 tablespoons Potato Flour
12 Sfogliatine
Fresh mint of your choice
1/2 Lemon
1 Vanilla Essence
Preparation:
Wash the strawberries, remove the stalk and cut into small pieces. Put them in a bowl, sprinkle with a tablespoon of sugar and the juice of half a lemon and let them macerate for a few hours.
Prepare the cream: in a saucepan put 6 tablespoons of sugar, 2 tablespoons of potato starch, the essence of vanilla, a pinch of salt and eggs. Mix well to remove any lumps then add milk and cream. Place the saucepan over low heat and cook the cream, stirring constantly, until it begins to thicken. At this point remove it from the heat, transfer it to a bowl and let it cool.
With the help of electric whips, blend the now cold cream for a couple of minutes to make it smooth and silky.
In single-portion glass jars put a couple of puff pastries and sprinkle with strawberries maceration juice; cover with the cream then place a nice spoonful of strawberries.
Pour a little bit of berry topping on the strawberries and transfer the jars in the fridge until ready to bring them to the table. Before serving decorate with fresh mint leaves.