Handbags at Dawn - When Footballers fight their own teammates
Monday's canteen bust-up between Raheem Sterling and Joe Gomez presumably over who would have the last hashbrown at breakfast reminded me of a few other incidents in football over the years where teammates have fallen out. Here's a list of a few my top teammate bust-ups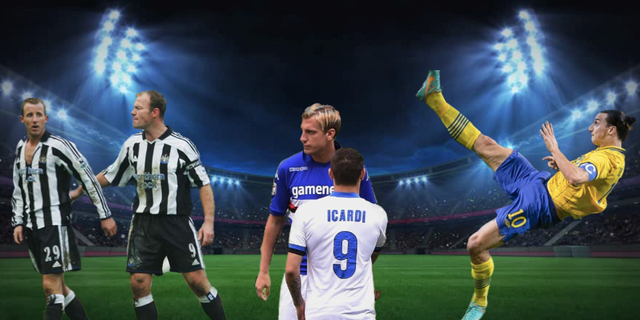 Lee Bowyer v Kieron Dyer
A little bit of fisticuffs in the changing rooms or the training ground is one thing but to actually start throwing punches at a player on your own team during a match is quite another.
The Bowyer v Dyer fight at Newcastle is probably the most infamous teammate confrontation of the Premier League era but it's worth looking at the match v Aston Villa in 2005 in more detail to understand the context. Villa took an early lead at St. James Park via Juan Pablo Angel (remember him) and the score stayed at 0-1 into the second half where a somewhat comical moment in the game occurred. Steven Taylor's straight red for handball that denied an obvious goal is usually forgotten given the magnitude of what was to come but it's worth watching again just for laughs.
As this youtube video quite rightly states Taylor's performance is worthy of an Oscar in Saving Private Ryan as he takes a hit from a make-believe sniper perched somewhere in the upper reaches of the Milburn Stand. Villa converted the resulting penalty to make it 0-2 and then added a third also from the penalty spot as the wheels really started to fall off for the home side. With about 10mins to go though things got really bad as Newcastle were reduced to 8 men after Bowyer & Dyer saw red for violent conduct.
In the intervening years, it would emerge that Bowyer had challenged Dyer as to why he wasn't passing the ball to him to which Dyer responded: "because you're shit". Anyone who watched a lot of football around this time probably knows that Lee Bowyer had something of a short fuse and wasn't about to let this comment go. As you can see he gets a couple of solid punches in on Dyer who manages to rip Bowyer's shirt. Neither player lasted much longer at Newcastle but inexplicably they both found themselves as teammates at West Ham just a couple of years later! That being said, Dyer spent his final 3 seasons at The Hammers stealing a living of £60k a week and making just 18 appearances - I'd imagine by the end the West Ham owners would have been happy to have Bowyer drag him out onto the street and finish what he started ...
Icardi v Maxi Lopez
Footballers shagging each other's girlfriends and wives is not a new phenomenon. Just ask Wayne Bridge who made the fatal error of leaving his better half alone with John Terry in his caravan - the ladies just can't help but fall for that Pikie charm.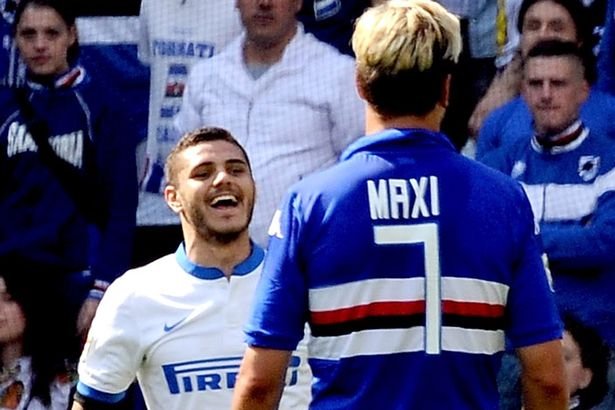 He who laughs last laughs longest Maxi! source
However, I think this particular betrayal of brotherhood probably goes beyond all other examples of such shenanigans. Argentine duo Icardi and Maxi Lopez played together for Sampdoria in the 2012-13 season helping the club stay in Serie A following their promotion the previous year. At the time the 29-year-old Lopez was married to 26-year-old Argentine TV presenter Wanda Nara with whom he had 3 sons, while Mauro Icardi was 10 years Lopez's junior. A 19-year-old getting involved with his colleague wife who already had 3 children? It's the kind of storyline usually reserved for soap-operas.
https://twitter.com/i/status/716706133696724993
Lopez and Nara's relationship ended soon after news of the affair broke but the story would linger on in the Italian press for years to come in no small part due to the fact that Icardi would insist on trotting out Lopez's children and ex-wife at any media opportunity as if they were a trophy that he'd won! He even added salt to an already gaping wound by getting the name's of Lopez's children tattooed on his arm! In 2016 the pair came face to face in Serie A playing for Inter Milan and Torino respectively with Maxi Lopez showing that time isn't always the best healer as he refused to shake hands with Icardi and instead is seen grabbing his crotch!
Zlatan Ibrahimovic v Anyone he ever played with
Zlatan Ibrahimovic is your archetypal crazy genius as brilliant as he is mad. At 6ft 4' (195cm) and a black belt in Taekwondo, he is also not a man to be trifled with as pretty much anyone who has shared a dressing room with the Swede can attest to.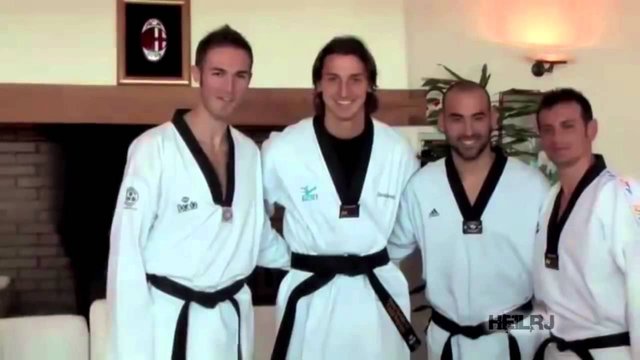 Everybody was Kung-fu fighting. Those Swedish nut-jobs were fast as lightening source
There is a story that movie maker Orson Welles would fire one employee on the first day of any movie shoot just so that everyone would know that he was the man in charge. I wonder if Zlatan was just adding his own touch to this unique style of man-management and felt that the way to establish himself as the alpha male within any dressing room was to beat someone up as early as possible. Here's his rap sheet for conflicts with teammates
2003 v Mido
A half-time argument ends with Mido throwing a pair of scissors at Zlatan who responds by punching his Ajax teammate in the face.
2004 v Rafael Van Der Vaart
The 2 Ajax teammates play a friendly international fixture (Sweden v Holland) against each other during which VVD claims that Zlatan tried to injure him. Zlatan takes umbrage at this claim and states that if VVD wants to repeat the accusation he really will break his legs!
2010 v Pep Guardiola
Zlatan falls out with then Barca manager Guardiola who he believes favours Lionel Messi over him. In the resulting argument, the Swede throws a box of equipment across the dressing room at Pep. Ibrahimovic would go onto claim that he was continually bullied by Guardiola who soon afterwards signed David Villa as a direct replacement. Zlatan wanted out and is alleged by then Barca president Carles Vilarrubi to have threatened to publically beat up Guardiola if he didn't allow the move to happen.
2010 v AC Milan
The loan move that followed didn't see Zlatan curbing his violent behaviour as a fistfight with Oguchi Onyewu during training left the Swede with a broken rib. He'd then go on to demonstrate his Taekwondo skills by kicking Antonio Cassano in the head during a post-match interview - all fun and games?

2013 v PSG
In an interview, his PSG teammate at the time Lucas Moura claimed that Zlatan would constantly insult his fellow squad members. The diminutive Brazilian quickly tried to row back from those comments, no doubt after remembering what the Swede did to people who accused him of such antics!
2013 v Christian Wilhelmsson
Zlatan didn't just keep his conflicts confined to club football he also enjoyed a spat with his fellow countrymen. In 2013 he was caught on camera kicking Christian Wilhelmsson after Wilhelmsson complained to Ibrahimovic about a challenge he had made during training.
Zlatan is still plying his trade in MLS and is apparently looking for a loan move to Italy this Spring. I'm not sure if I were a member of any of the teams linked with the Swede that I'd be particularly keen on his arrival given the above.