CAF QUALIFIERS.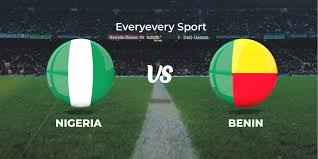 image source
Today sees CAF qualifications for the 2021 cup of nations to be hosted by Cameroon. Nigeria super eagles play host to Squirrel of Benin at the Nest of Champions Stadium in Uyo Akwa Ibom State in the South South region of Nigeria. The match is expected to kick off by 5pm local time. As at time of writing this report, the is one goal apiece, the Squirrel of Benin scored the opening goal on the 5th minutes if the first half to the surprise of thousands of super eagles fans that have trooped out to support their darling team. As expected, the super eagles of Nigeria went in search of equalizer by throwing all their attacking options to the Squirrel of Benin, the gesture the Squirrel were able to contained until 45 minutes of the encounter when Ola Aina was stripped inside the box 18 resulted into the award of penalty by the Senegalese referee. The Squirrel players complained about the penalty but the referee decision stood as Victor Oshimen took the responsibility and converted the kick to leveled the score at one goal apiece going into the first half.
The second half of the match was more of tactical game as the Squirrel of Benin soaked in pressure from the super eagles of Nigeria, the Squirrel goal keeper was constantly asked questions as the super eagles of Nigeria kept attacking the Squirrel. The all important second goals finally came for the super eagles of Nigeria and from their the tie was over. The experienced super eagles of Nigeria after scoring the second goal deployed more midfielders into the game so as to cut the wings play of the Squirrel of Benin.
Two goals to one was how the match ended at the Nest of Champions in Uyo. The super eagles of Nigeria will now travel to Lesotho for their second game on Sunday, another win against the Lesotho national team will position Nigeria in a pole position going into their third match against the Sierra Leone.
The match between Sierra Leone and Lesotho ended in a goal apiece, as it stands now, the Super Eagles of Nigeria is topping the with 3 points, followed by Lesotho and Sierra Leone with one point each while the Squirrel of Benin have no point.