CAF UNDER 23 NATIONS CUP.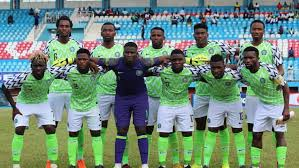 image source
It is no longer news that the Nigeria under-23 football team will not be participating at the football event of the Olympic games come 2020 in Tokyo Japan after the team fell short of progressing into the semifinals of the CAF under 23 nations cup being hosted by Egypt.
The team had earlier lost by one goal to nil in their opening game of the group to Ivory Coast before defeating the Zambia under 23 by three goals to one but were held goalless by the South Africa under 23 side last night in a game that was a most win for the Nigerians while a draw was fair enough for the South Africans to progress to the semifinals of the tournament.
As it is often said that you can only but blame yourself when you fail to plan to succeed. A lot of questions have been asked in the recent past about the pedigree of the coach saddled with the responsibility of tutoring this team to a major competition if this magnitude after the same coach failed to qualified the Nigeria CHAN eagles for the CAF CHAN competition weeks back,after the team he tutored list 3-4 on aggregate to the Togolese.
In a shocking manner the same coach was bestowed the responsibility to qualify Nigeria to the Olympic game.
Checking through the credentials of Coach Imama Amapakabo is obvious that he has not reach that stage at which he should be given such major tasks likes qualifying the Nation for Olympic, he should have been allowed to build his career step after step with a less adventurous games that will help him to gain the much needed experience and technicality to compete at the highest level of football.
In addition without mixing words, it is also surprising that the football governing body in the land NFF got stuck with the same coach that failed to qualified the country in one event to be given another opportunity to handled another team, this a case of rewarding failure. As a matter of fact, coach Imama Amapakabo should tender his resignation and apologize to millions of football loving Nigerians that will not be watching their darling teams playing at the football event of the Olympic as well as the CAF CHAN competition.
The irony of this is that both the male and female football team will not represent Nigeria at the Tokyo Olympic.