Kuwaiti Dinar - the world's most powerful currency
Kuwaiti Dinar - the world's most powerful currency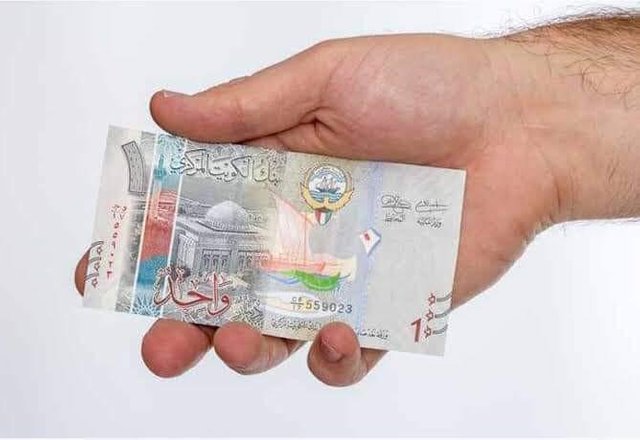 Kuwaiti Dinar has published Kuwaiti Dinar as the world's most powerful currency and has announced the world's 10 most powerful currencies:
Kuwaiti Dinar: Due to high Kuwaiti oil exports and capital accumulation, the value of the Kuwaiti dinar is more than any other currency in the world, with each Kuwaiti dinar priced at more than $ 0.9.
Bahraini Dinar: Another Gulf country whose population exceeds one million. However, every Bahraini dinar is traded for $ 1.5.
4- Oman Riyal: A country in the neighborhood of Saudi Arabia and Yemen where its residents enjoy high prosperity. Each Omani Rial in the world markets is priced at more than $ 2.00.
1- Jordanian Dinar: Although it is difficult to explain why their national currency is so high given the poor economic situation in Jordan, each Jordanian dinar is exchanged for $ 1.5.
The British pound: The most powerful European currency and the third most widely traded currency in the world, which, despite the decline in British economic growth in recent years and the issue of choice, is still highly valued at around $ 0.9 per pound.
Cayman Islands Dollar: It would surprise you to see the name of such a country in such a place, but the island has attracted a great deal of foreign capital thanks to its proper tax policies and because of the huge influx of foreign currency, the island's dollar value is high. That is, every dollar of Cayman Island is traded for US $ 2.5!
Euro: The euro is recognized as the world's second-largest currency, and in recent years its share of the world's central bank reserves has grown. Each euro is priced at around $ 2.9.
Swiss franc: The franc is usually positive with a slight positive and negative fluctuation of the US dollar. The currency, along with the Japanese yen, are recognized as two of the world's safest currencies and become more valuable as the financial markets fluctuate.
The dollar - the most important currency in the world today, despite the efforts of various countries to reduce its dominance of their economies, still plays a decisive role in the world. The dollar is used more than any other currency in financial transactions worldwide.
Canadian Dollar: Despite the decline in the Canadian dollar in recent years due to the decline in oil prices and the stagnation in the housing market, the currency has the fifth largest share of central bank reserves in the world, and currently stands at about $ 0.9 per US dollar. The Canadian dollar is priced.