"KILLING ME SOFTLY" | AN ENTRY TO @vermillionfox CONTEST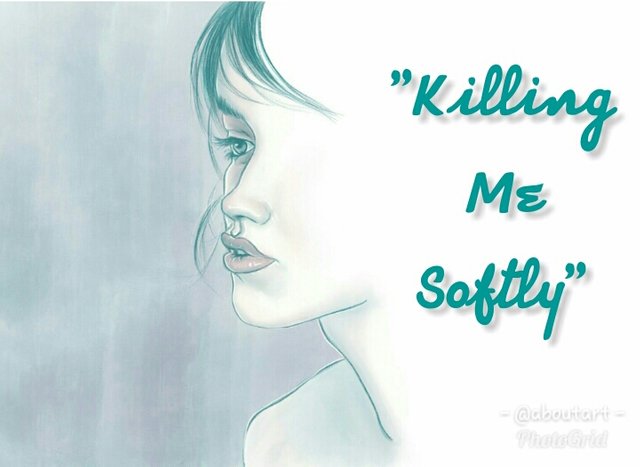 Image Source
(Edited using PhotoGridLite)
"KILLING ME SOFTLY"
"Congratulations!" I can still remember all their happy faces as they toast for our wedding speech. It was the perfect day of my life. I was so happy. Finally, I am married to the love of my life. I would still choose him over any other guys. He was the perfect man. We bought our own house, a car, adopted a dog and even talk about our future babies. We had a perfect life. Everything was perfect. But all of that are gone now. He's gone. I can still remember how it all happened. Everytime I close my eyes, I can still see his face as he looked at me before the car crashed. He smiled at me and said, "I love you...". My heart crushed everytime I remember that night. I woke up in hospital bed 2 days after, I saw my parents by my side, I asked for my husband. They won't tell me. I insisted on seeing him. Tears ran down from my eyes as I saw him lying in a coffin in our house. "No..." That's all I can say. I convinced myself that this is just a horrible nightmare. I wanted to wake up...I wanted to wake him up. I can't help but cry. Every night, I would still wait for him to get back home from work, cook his favorite dish and wait for him in bed. Everytime I close my eyes, I can feel him hugging me, telling me to be strong and live my life. But I can't...I felt incomplete. I can't help but ask God why. Why would He give me the life that I wanted then take it back just like that? I was so lost. I felt suffocated and worthless. I miss him...and it's killing me softly.
NOTE:
This post is an entry to @vermillionfox's contest. This us my firat time joining her contest, it's really exciting and nerve-racking at the same time. I hope that you guys and @vermillionfox liked the story that I wrote. :)


THANK YOU SO MUCH FOR SUPPORTING AND READING MY POST!!!