Free Forex Tools! Do they work? Test # 1 WAS Fantastic!
Hey Fellow Steemit Members ...follow me as I make my journey into the exciting world of Forex using FREE tools.
I started this project on Sunday night May 18th, 2020 with a little hesitation., after all....these are free tools..signals, indicators, analysis. Who would give away a free tool that actually works?
Also who trades when the market in it's first stages or reopening when the volume is not there? Me!
What should I do?
I might lose ALL my money and that was when I decided to use the demo account.
Off I went to YouTube first and came across this channel first and decided this was going to be my starter tool. It's a LIVE channel.
Did it work? YES...Below are the results. It was fantastic.
This was by the Youtube channel: Forex Signals FullFor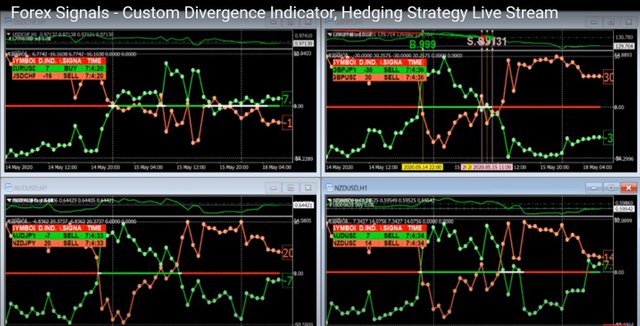 I decided to just open 3 SELL positions and 1 BUY position on the pairs that were trending and did not have a minus number attached to it.
Please see the pic below.

I did not put a stop loss or take profit, approximately 15 minutes later...this happened! I was in profit.

Should I close, after all, that was a pretty decent profit. The market started to go in the opposite direction and I decided to take the 100.00. That was a decent profit for less than 30 mins work.
In practical terms, $100.00 per day is $500.00 per week and $2000.00 per month! Awesome numbers.
Please see the screenshot below.

So feel free to go ahead and use this guy or lady. Remember trading is risky and you could lose all your money. Try it on a demo account first. Use a smaller lot on a real account and be patient. If you want you can place the stop loss and take profit at a modest 50 pips each.
I will use this for a full 24 hours and let you know the results in my next blog..but so far..so good.
Please upvote this blog ...I will share my earnings when I am paid by Steemit. When I am blessed, I will bless others with the capital to start their own forex trading accounts.