Julian Assange Suing Ecuador for Violating Rights While in Asylum at Embassy
Julian Assange has had enough of the new rules the Ecuadorian government is trying to impose upon him. These rules apply censorship to what Assange can talk about, and are essentially bullying him to be silent or risk being cast out of the Ecuadorian embassy in London. This would render him vulnerable to the "authorities" who want to snatch him up and send him to Sweden for an alleged rape, or more likely to the U.S. to face the "crime" of publishing hundreds of thousands of classified military and diplomatic documents.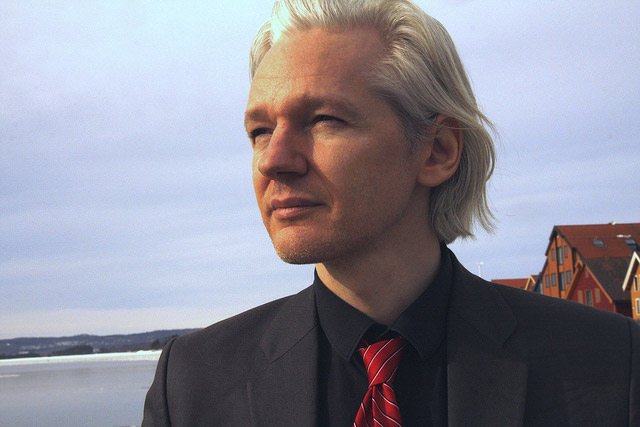 Espen Moe/flickr - CC BY 2.0
Assange was granted citizenship in 2017 by Ecuador. He has constitutional rights in that country, and in the embassy which has granted him asylum since 2012. The new rules that the government of Ecuador has imposed upon Assange to allow him to regain internet and phone access are in violation of constitutional rights as a citizen of Ecuador, at the very least.
A lawyer for WikiLeaks has filed suit against th government for violating the "fundamental rights and freedoms" of Julian Assange. Baltasar Garzon has arrive din Ecuador and the case will be heard next week in domestic court.
It's been over 7 months since Assange's access to communication has been cut off in March 2018. His access to the outside world have been cut off by he Ecuadorian government. The pathetic re-enabling of his communication comes with restrictions to not talk about anything political or endanger Ecuador's relations with other nations. They are threatening to remove the protection they have granted him since 2012 if he violates the new protocols, which also include limitations on visitation.
The Human Rights Watch general counsel Dinah PoKempner has even been denied a visit with Assange, as well as preventing visits with his lawyers. These draconian protocols are making his asylum dependent on his acceptance of censorship, which is something not supported by human rights, or Ecuador's constitutional rights. All visitor property can be seized without a warrant, according to these new rules/protocols, and be handed over to U.K. authorities.
The lawsuit for violations of rights is about his isolation, bans on visits and speech restrictions that fail to live up to international standards. Foreign Minister Jose Valencia is the one bing sued in a Quito court. Valencia is named because he served as the intermediary between Assange and the government of Ecuador. Valencia responded by saying: "The protocol is in line with international standards and Ecuadorean law."
Assange has been a thorn in the side of Ecuador's government, who hasn't booted him out yet due to concerns about human rights. Yet, these new "protocols" seem to be trying to tighten the grip on Assange so as to force him out in a semi-legal way. Ecuadorean President Lenin Moreno has previously said Assange can't stay in the embassy forever. It seems they are trying this bullshit to get him to break and cast him out for good.
Assange had previously been given a diplomatic post in Russia by the Ecuadorean Government, but the U.K. government refused to give him diplomatic immunity. The Ecuadorean Government then rescinded that position, keeping Assange as an asylum refugee in the embassy of London. His current status is looking more like a detention with the draconian protocols.
Ecuador is trying to forge closer ties with the U.S. But the "crimes" against Assange are essentially from an outdated espionage act. Bradley/Chelsea Manning did the world a favor by exposing what the U.S. was up to, and was later pardoned, meanwhile Snowden is still in exile in Russia. Assange published the information, and would probably like to be in Russia, but can't get out of London without getting arrested. Maybe this legal case will help allow him to get out of his detention in the embassy, and finally gain freedom in some other country like Russia.
---
References:
---
Thank you for your time and attention. Peace.
---
If you appreciate and value the content, please consider: Upvoting, Sharing or Reblogging below.


me for more content to come!
---
My goal is to share knowledge, truth and moral understanding in order to help change the world for the better. If you appreciate and value what I do, please consider supporting me as a Steem Witness by voting for me at the bottom of the Witness page.