Free Crypto Series- Febbit Miner
After the events that have transpired in the last 24hrs, I figured I would do a post about earning free crypto. I didn't realize how many people depended on the blockchain for income.
In this series I'll show you websites/faucets I've used successfully. By successfully I mean I have been able to earn and withdraw my funds. Today we will start off with a fun game to earn BTC.
Febbit Miner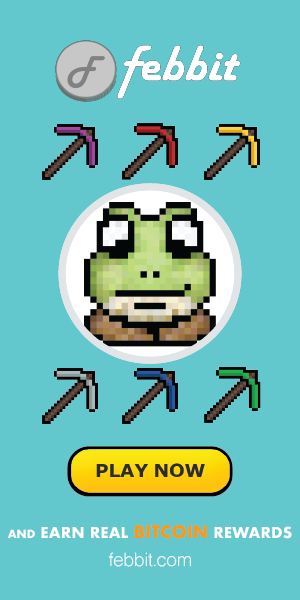 THIS IS MY REFERRAL LINK TO FEBBIT MINER. YOU DO NOT HAVE TO USE IT BUT IT WOULD BE APPRECIATED IF YOU DO.
As I said above, Febbit Miner is a game you can earn Bitcoin with. You have to set up your Miner (Frog) with different computer chips to mine with. I'll go over how to use it here.
This will be your main screen.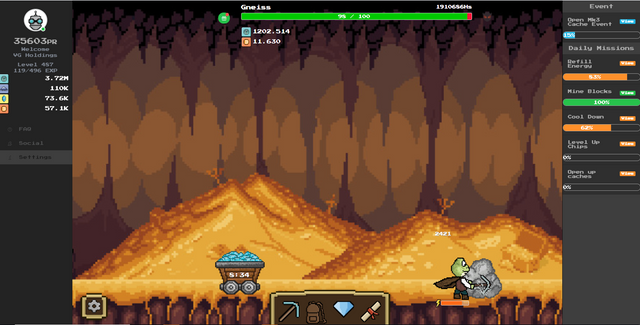 Across the top you will see your your power bar and mining stats. Just to the left is a circle. When it has a red dot on it (like in the picture) it means you have new chips available. The little horned demon looking guy to the right of the power bar is your boost. When that starts flashing it means you can boost your earnings.
Along the bottom you will see a few different things. On the far left is your cart you are "filling". In the middle are your buttons. The Pick Axe will take you back to the main screen. Next to that is a BackPack that stores your chips (more on that below). The Diamond is the Store where you can buy stuff. And on the right is the Scroll. When you click that it brings up your daily events.
BackPack Chips

Here you see what all chips you have. Each one of these chips does something different. Your installed chips are on the left and your spare chips are on the left. You have Overclocker's, CPU's, Thermal Units and a few others. Depending on how you set up your miner will determine your earnings.
If you are at your computer often you can set it up to earn more per click. If you just want to let it run all day, you can set it up like that too. Just keep in mind you gain more experience points the more frequently you click it. You can find more info on what each chip does in the FAQ section. That can be found by clicking the gear on the bottom left.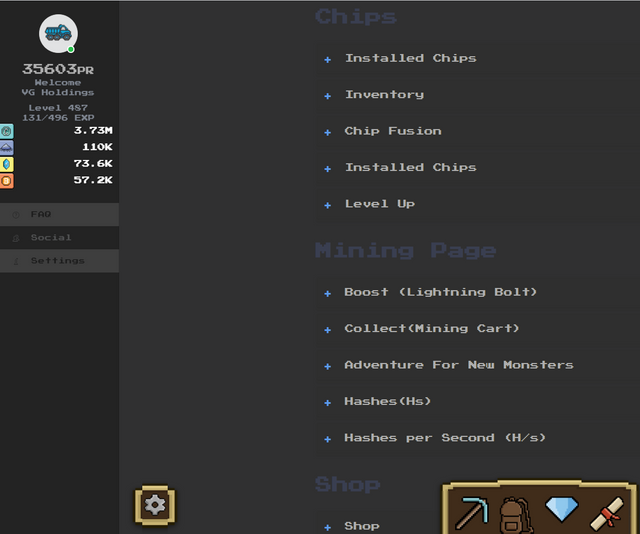 Daily Missions
On the right side you'll see the Daily Event and Daily Missions. Each of these will give you a reward for completing the task. As you start to play it will make more sense. You can watch what fills up when you do certain things.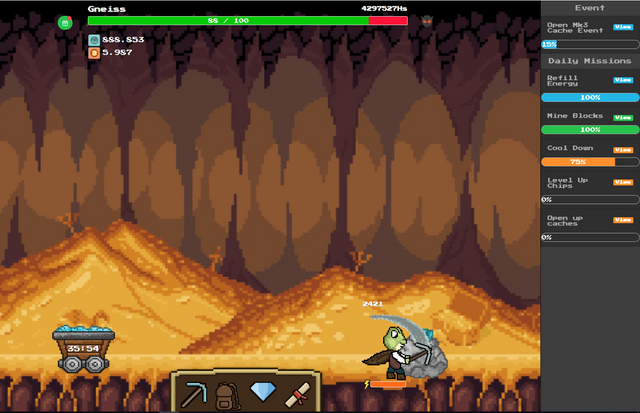 Have Fun!!!
Other than that it's pretty easy and fun to play. I have the wife clicking it while I sleep and the kids/nieces will even click on it when it's ready.
I still have some tinkering to do on my setup, but for now it works for me. My rewards could/should be much higher but I change my setup around all the time to suit my needs.
If you have any questions please feel free to ask them in the comments or contact me on discord. I'll do what I can to help you get setup. Have fun with the Febbit Miner and Good Luck!!!
---
Proud Member of SteemSilverGold.