It's amazing how many people talk about how riding a bike gives them a sense of freedom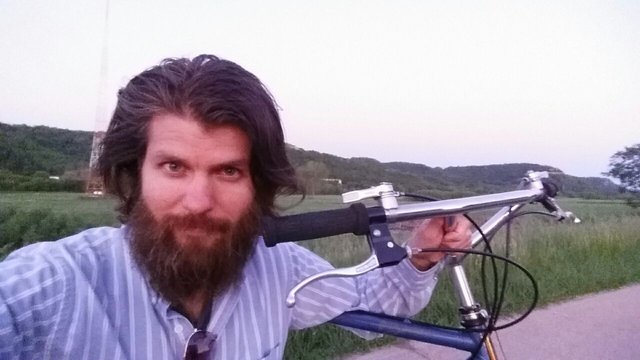 That's me with my old Trek 830
It was a bit late in the evening and the light was fading, but I'm glad I took the picture. I still feel a little awkward about taking "selfies", but I'm mostly used to it. It's good to share important moments and pictures that capture a thought.
Riding bicycles and freedom
I've been riding my bicycle almost every day for the past couple of weeks. Much of it is out of necessity, but right now I'm very much enjoying being able to ride. I don't enjoy riding in car traffic nearly as much, but there are a lot of back streets in our city that have very little traffic and are pleasant to ride. We also have a good number of trails.
Getting out and on a bike does give a sense of freedom and peace that is very different from driving a car. I'm not exactly sure what it is, but I've been reading and watching videos about bicycling for the past couple weeks and I've noticed that most other people talk about how riding a bike gives a strong sense of freedom. Even people who don't focus on that usually say the word freedom at some point in their talk about bicycles. This caught my attention.
I think that part of it is that you are using your own power to move you. You can do that while walking, too, but a bicycle gives you such a mechanical advantage and allows you to go much farther with less effort. You don't have to ask anyone for permission to ride a bike. There's no licenses. No gasoline tax. You can buy an inexpensive bike for cash and just ride. It feels good!
I hope to ride a lot this summer and enjoy the warm weather.
Freedom comes with responsibility
There are dangers to riding bicycles, but most of those dangers come from having to ride close to cars. Bicycling at reasonable speeds is extremely safe, but not totally safe. You still have to be in control and make smart decisions.
I have been feeling good since I started riding more. I feel more relaxed and healthier. It might be from getting more sun and enjoying the outside air.
Do you think riding a bicycle increases your freedom? Do you think it's just a feeling or is there some logic behind that feeling? I'll keep riding and see if I find out.