Free Datum Tokens and registering for ICO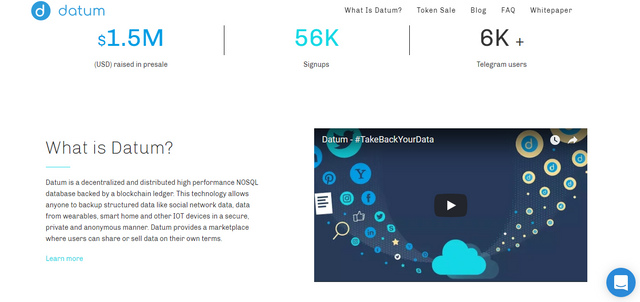 There has been a lot of buzz lately with all of the ICO's coming out recently, so I thought I would share one that has a good basis behind it. Datum plans on letting you control your data by allowing you to put your information on the marketplace to sell and put the proceeds back in your pocket instead of big companies pockets. It enables the little guy/gal to choose who they want to sell their data to, if your data is going to be sold online you might as well control the cost and who buys it yourself and that's what Datum is trying to achieve.
If you visit their website they have a nice setup with faqs and all of the information about the project as well as the information for joining the ICO. Even if you don't think the ICO is for you it's worth visiting their site because they have several ways to get free tokens such as signing up for the mailing list, watching a youtube video, or retweeting a tweet from William Shatner... each action gets you 100 free datum tokens.
Not saying anyone should buy it but hey who wants to pass up on free tokens, if you don't like them exchange them for another coin or token after the ico.
(not a financial adviser, not responsible for your gains or loss, do plenty of your own research before investing)