Weekend Freewrite - After the Fork Edition - Sour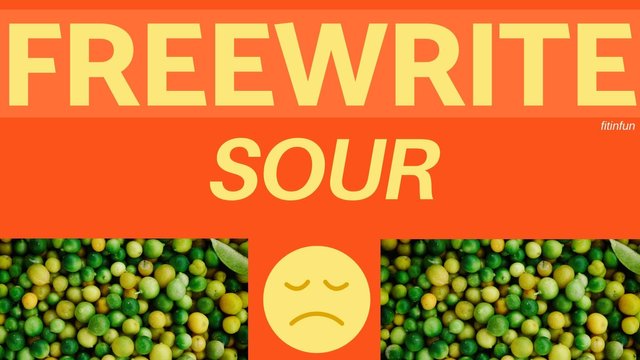 This is a true story of weight loss coaching.
Coach: I've looked over your food diary, and I have some ideas of how you can add nutrition to your food.
Morbidly Obese Person Desperate To Change: That sounds like a bad idea.
Coach: Why do you say that?
MOPDTC: It won't taste good, it will be expensive, and I won't be able to do it. My friend tried added nutrition and she said it was horrible.
Coach: This is an easy start. I simply want to to buy a few lemons or limes on you next trip to the store and I will help you to...
MOPDTC: NO! I can't do that!
Coach: Why not?
MOPDTC: Lemons and limes are too sour. I can't eat them.
Coach: You are not going to eat them plain. You are going to add them to….
MOPDTC: No! I can't do that!
Coach: Why not?
MOPDTC: I will gag and be sick. I will throw up.
Coach: Have you ever eaten limes or lemons before?
MOPDTC: Yes! No! I'm not sure, but I can't do it.
Coach: You are paying me to help you. Can you trust me on this and give it a try?
MOPDTC: They are too expensive. I won't eat them and then I will waste food.
Coach: They are not expensive. You are only going to get one or two of them anyway.
MOPDTC: I can't do this. I have no place to put them.
Coach: You are going to eat them. They won't be there long. You can just keep them out on the counter and...
MOPDTC: No! I can't keep them there!
Coach: Why not?
MOPDTC: I have my counter decorated like I want it already. I can't add yellow or green. It will look bad.
Coach: I'm asking you to do this so you get some vitamin C. I can suggest some other ways...
MOPDTC: No! I can't do that!
Coach: Why not?
MOPDTC: Vitamin C is bad for you.
Coach: Where did you get that idea?
MOPDTC: It rots your teeth!
Coach: This is not true.
MOPDTC: It was on TV!
Coach: As I mentioned, I have looked at the food diary you sent me. You are eating many things that can hurt you and probably already are.
MOPDTC: Like what?
Coach: Well one example is that you eat many foods that have food coloring added and this is harmful and...
MOPDTC: Food coloring is not harmful! It's natural and approved by the government. They wouldn't let anything bad in the food. I barely eat any of it anyway.
Coach: Most of the food you eat now is processed and most of it has food coloring and flavoring as well. Over time, these substances add up. This is why I am asking you to add some healthy foods to your diet. If Vitamin C is difficult for you, maybe we can start with another nutrient such as fiber.
MOPDTC: I already get enough fiber! Didn't you see the fiber bars I eat on my food diary? I'm eating two a day and that should be enough. They are very expensive and natural, and I like them.
Coach: The fiber bars you are eating are very expensive. I agree with you about that. They are a great example of the processed food I am talking about. If you take a look at the labeling on those bars, you will see many substances with long chemical names.
MOPDTC: I don't have any time to read labels. That would be a big waste of time.
Coach: The methods I use will have you eating much less of these substances over time. I am providing the food ideas so you do not have to read labels. I only suggest it so you can see what is in the food you eat now. By eating more whole foods, your body can begin to heal and you will lose weight naturally in the process.
MOPDTC: So if I don't eat the fiber bars – which I like – what would I eat instead?
Coach: There are a great many foods that have high fiber in the categories of fruits, vegetables, beans, grains, and nuts. I can pick some for you or send you the lists to look at for yourself.
MOPDTC: I'm sure I would have to cook these foods. This is all way too much work and I'm sure it I won't like anything on your lists. I would rather just eat the fiber bars even though they might have some problems. I don't think this coaching is going to work for me anyway. Your ideas are just too crazy and I know I will never even try them.
Coach: I'm sorry you feel that way, and your refund is on its way. Please use the BMI tracking chart I gave you are record where you are today. Then try your methods and keep tracking. I hope your methods work, but if you are ever ready to try my plan, you know where to reach me.
My post is for the #freewrite daily challenge by @mariannewest. Freewrite is a great way to post on steemit when you do not think you have the time, or talent, or anything to say. I know you can do this too! Here is Marianne's freewrite prompt post for today. Give it a try and surprise yourself.