On Hellish Relating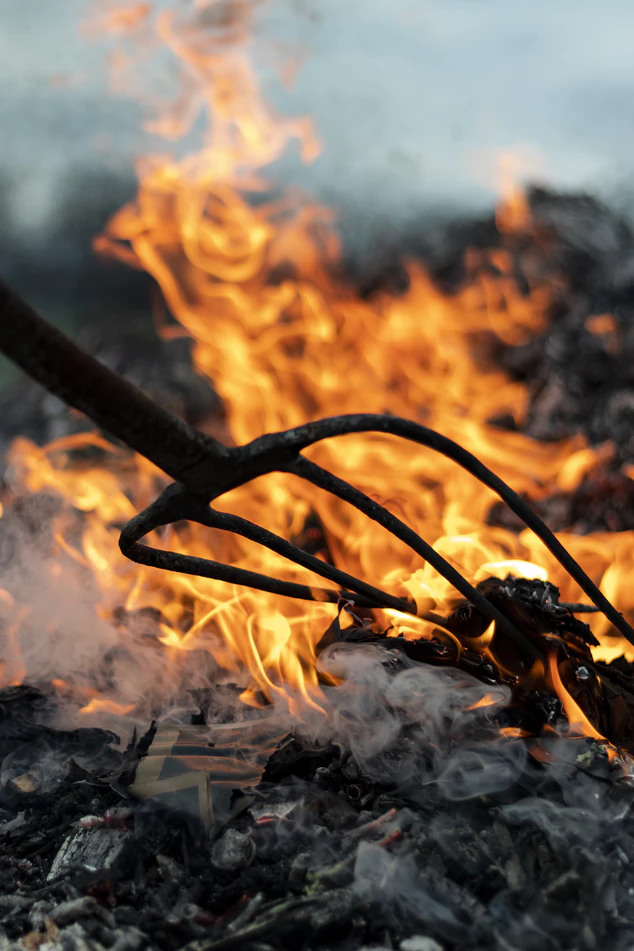 Even Satan would weep sitting for hours in there trying to get the simplest thing accomplished. This there being her frozen thoughts, this house of iced cards, now solid, that had been erected over the years of feeling sorry for herself? Mind caught in a cage even though he was nowhere. Looking at the picture, she wonders if it was because she always found something negative in the way in which he'd responded, or more precisely had not respond? And, had this thinking (her own error) worked in the same way as the Secret is played out? Manifesting a Luciferic character? All had gone on until that last straw, the camel back snapped, when he didn't show up for her fiftieth birthday party!
So, though she'd been writing for over a year to her best friend, a woman she'd likely never meet, who lived all the way across the world and rocking ocean waves, a woman who'd given much saintly advice in regards to elevating, to seeing the purpose of life in a more holy light, still she found herself sitting in the cellar (just today), somehow picking up the one photo album that carried many pictures of him, the ones that she'd framed in light, a very up-close look at his mustache, another of his eye lashes and one in which he laid sprawled out on her blue and rose print bedspread, his long legs extended, feet crossed at the ankles, arm tucked under his head, a coy smile on his face and sixteen or so little rainbows floating about the mint green walls cast by one of her many window hung prisms, catching him, forever in this snap, in some kind of angelic projection.
His higher power may very well have been his long lost friend, the one who resided in Detroit while he in L.A. created once-a-month, full-moon broadcasts for the public access cable channel, footage they found to be fiercely fresh and with a flare of creativity that was to be understood only by those elite above all of Hollywood blown-up-creation. He'd admitted his main audience at midnight most likely were Mexican women who did keep close tabs on the lunacy of full moons walking swiftly through the parking lots in the dried out blocks of duplex's, complex's, multi-plex-ed, Downey smelling neighborhoods.
His guide told him once that this strong laundry smell was there to cover up the smell of meth. Also, told him that it would be best to use another woman as his sweater design model and finally the day in which this voice, the one I am not even sure he speaks to, but was more likely invented in order to throw-down, one-up any of my own intuitions, any of my sighting of ugly, told him he'd need to punish me yet again by not attending my birthday! He didn't want to buy my dinner anyhow and there was another woman willing to cook him fried rice on the very same night. The same guide that led him to Mary, Mary, quite contrary in the way she saw his advances, a crazy woman he'd pinned to a red couch in her elderly and disabled complex published my name and personal information for her voyeurs to ponder, encouraged harassment presented as care, &/or, point out the demons, anyone with affiliations and ties to the digital playboy clerk, ME, who just happened to be his girlfriend. Obviously, his guide is not for my benefit!
Breadcrumbs on the floor, that's just about all he ever gave me by way of a loaf of trust, something wheat and hearty that sticks to the ribs, the way in which I stuck to his rib, true in my Eve fashion. I see in the picture that way in which my eyes glow with bright admiration, the true smile on my face when I am standing next to him and now when I look I see he is a shadow. But, to see the shadow is to undo any thoughts of Love overcoming all because it never was enough to lasso in one of Hell's Angels, the spark and bark and crazy ripping noise of Harley Davidson's and those who ride them—always peeling off into the next sunset. The entire world is noisy now and I can't even go to the beach to escape what the cell tower's push out, the masks for our mouths to quiet down the fires raging? Chaff, a separation, will require a rising like ancient Mayan civilization, Revelations that were always right there in a book, the look of his black eyes, the confusing moments of coldness, the serpent always rising and not the Man.
Photo Credit: Alfred Kenneally/Unsplash