Burro de 100 años/ 100 year old Donkey Mensaje de 5 min 15 de Julio
Cada tarde, como de costumbre, Roberto, amigas y amigos, hacian competencias para medir sus destrezas. ¡Ah, pero que sorpresa! Hoy Samuel tuvo otra idea. -"Busquemos burros al pueblo, que estan todos en establos"-dijo emocionado Pablo.
Al oir esta propuesta, se van todos en carrera, sin importarles siquiera, lo que el dueño les diría. -"Yo ya escogí la mía"- dijo contenta María. Ya al fin todos con lo suyo, Josue con mucho orgullo, dice con voz relevante: -" Yo les saldré adelante, porque mi burro es mas joven"-.
Mientras tanto, ninguno de estos niños sabía lo que venía. Ya cada quien montado en su animal, triste se veia Alejandro. Claro, no es para menos, todos se estan burlando,pues le toco el burro más viejo, un burro de 100 años, que con su alma no podía.
En fin, el tiempo transcurría, y comenzó la algarabía. Salen todos al galope. De repente, aunque todos lo veian, nadie lo creía, y es que rápido venia, el burro de Alejandro, el que 100 años tenía.
Cuando por fin llego a la meta, cierto hombre que a lo lejos veía, muy sabiamente decía: -" Así pasa en la vida. Cuando todos se fijan en la apariencia, vale más es la experienca, no el cansancio sino la esencia".
Every afternoon, as usual, Roberto, friends, made competitions to measure their skills. Oh, but what a surprise! Today Samuel had another idea. - "Let's find donkeys to the people, who are all in stables" - said Pablo excited.
Upon hearing this proposal, they are all in the race, not caring at all, what the owner would tell them. - "I already chose mine" - Maria said happily. And at last all with their own, Josue with much pride, says in a relevant voice: - "I will go ahead, because my donkey is younger"-.
Meanwhile, none of these children knew what was coming. Already each one mounted on his animal, sad was Alejandro. Of course, it is not for less, everyone is making fun, because I play the oldest donkey, a 100-year-old donkey, who could not with his soul.
In short, time passed, and the hubbub began. They all go out at a gallop. Suddenly, although everyone saw it, no one believed it, and it was that fast came, the donkey of Alejandro, who was 100 years old.
When I finally reached the goal, a certain man who in the distance saw, very wisely said: - "This is what happens in life, when everyone looks at the appearance, it is worth more the experience, not the fatigue but the essence ".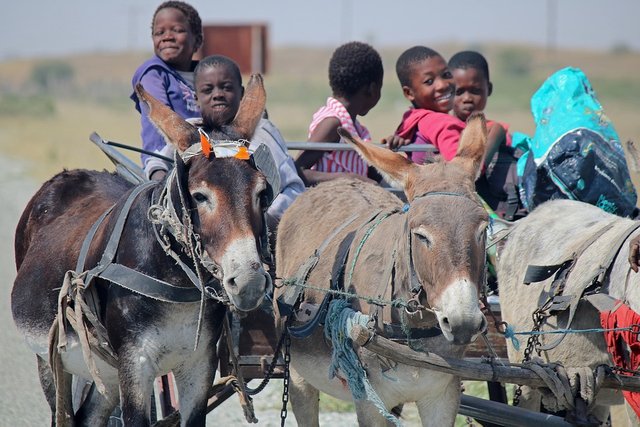 ---
---
Las imágenes son propias, de colaboradores o cortesía de Pixabay.com autorizando su uso al autor del blog @milrosas bajo licencia CC0... El autor también es miembro de la Familia Romana y te invita a seguir el perfil del escritor @latino.romano donde podrás unirte el proyecto #freewrite