FRUITS AND VEGGIES MONDAY - 59TH : Vegan Food Court in Front Of My Gate
Hello Steemians😉 and Foodies!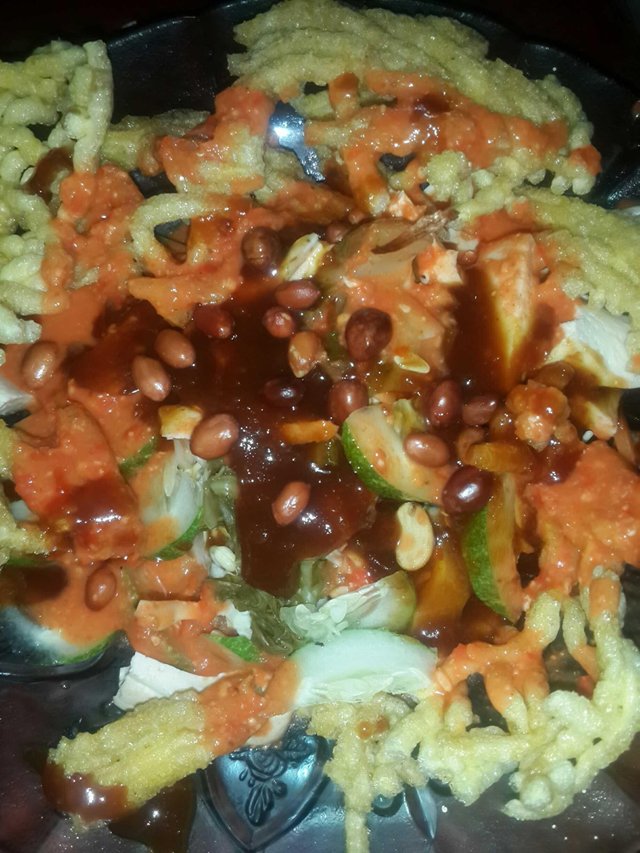 Vegetables Pickles
---
Even if you are a vegan, if you come to my neighbourhood in Pamulang Estate, South Tangerang, Banten, Indonesia, it is not difficult to find the right food for Vegan😊 and the best thing about it if you just come to drop by for a few minutes anytime from 7 am to 11 pm😉 you need to continue reading this😄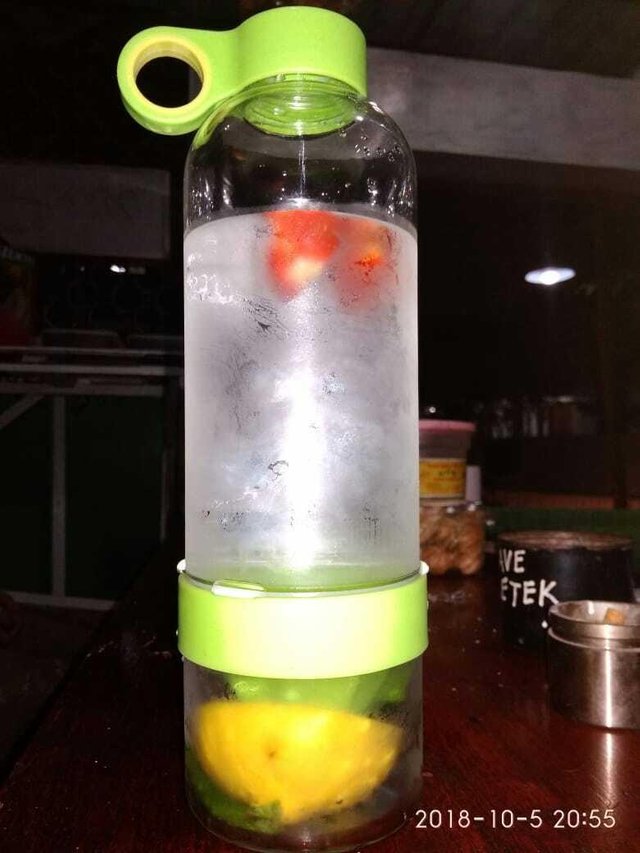 we can start the day with this infused water😉 okay.. this one from my fridge😊
---
Chicken porridge seller and mung bean porridge will coming around with his pushing cart around 7-10 am, because I can prepare the mung beans myself, we will let him passes by without stopping him, okay 😉 but around 10 to 12, a man who sold "Gado-gado Lontong" or boiled vegetables with rice bar in peanut sauces will come from the south direction of my shop, we can stop him to check on his cart😊.. and here we go!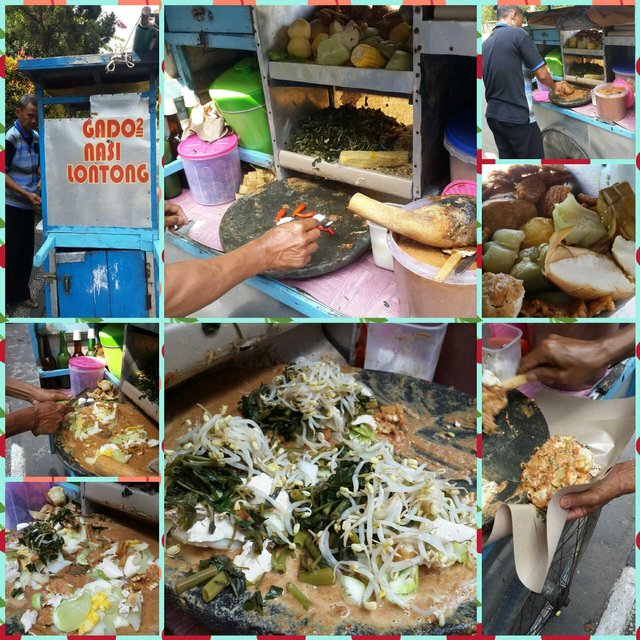 you can choose what veggies you want more than other, the level of hot taste, the thick or thin peanut sauces, more rice bar or tofu and tempe, wrapped or on plate😉
---
Let skip our lunch, because we will wait for the vegetables seller later. Let's keep our conversation at the shop, who knows my neighbour would come with fruit from his garden😉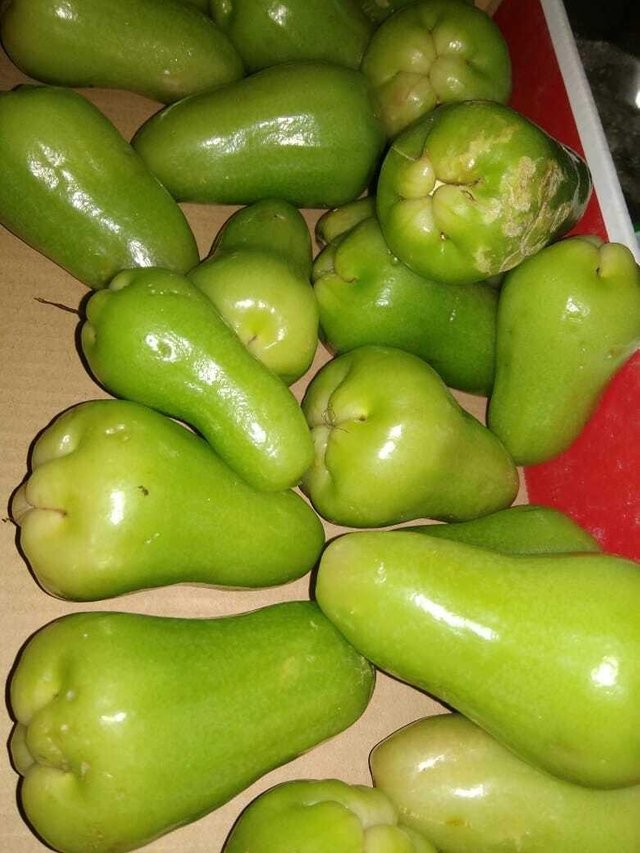 we call this "jambu air" or water apple
---
This fruit is native to Java Island. Its scientific name is syzygium samarangense, also known as Java Apple though we have other fruits that we call as Java Apple. Very kind neighbour, right? I'll get him on Steemit soon😄.
Wait.. I heard a sound, ting..ting..ting.. glass plate with spoon (not fork)😉 from the north direction of the shop. Hey.. the fried mung bean sprout is coming and prepare your plate!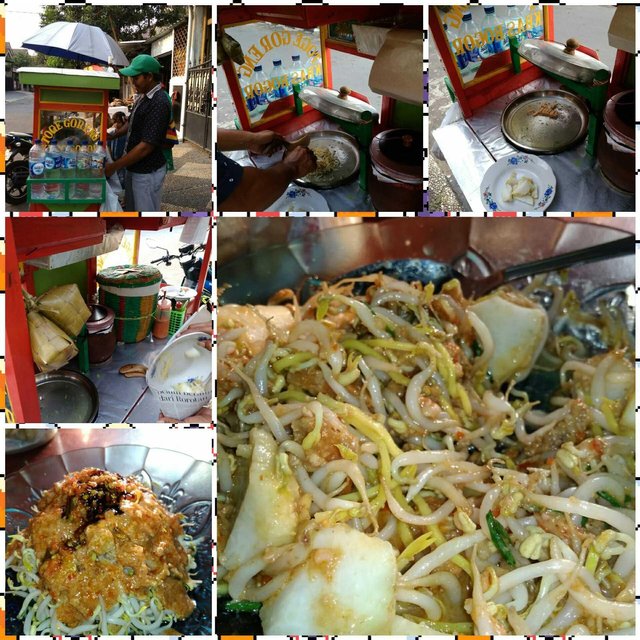 this man would be happy to make a fried bean sprout with special peanut sauce for you
---
If you want a gluten free meals, you can ask him to skip the noodles and add more bean sprout or fried oncom a special tempe from West Java, or tofu and rice bar, order the level of the hot taste or more sauces. Well.. you can keep his number too 😉 in case you want him to prepare the fried bean sprout for a little party😅.
It is already 3.pm, a friendly oldman with his "Batik Shirt" is coming.. I can recognize his voice and the way he hit the glass plate with the spoon. Here he comes😇 the veggies pickles and fruit salad seller. If you haven't got enough bean sprout and fresh cabbage😉 let's stop him!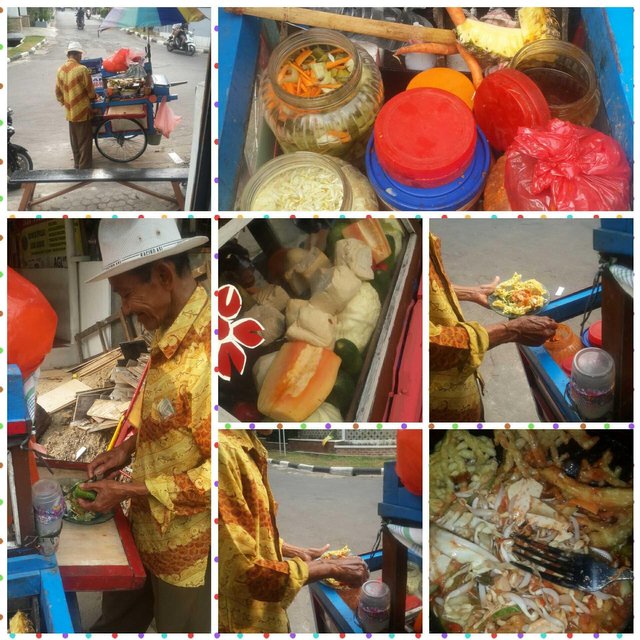 which one do you prefer? The fruit salad or veggies pickles?
---
I choose the veggies pickles with rice chips 😊 not hot at all, to get the sour flavour from his special sauces , next time we stop him we can ask his recipe of the sauces because he'd come back tomorrow.
Are you full? And you want something fresh and special drink? Okay.. I will make a glass of "thrash tea" for you😅.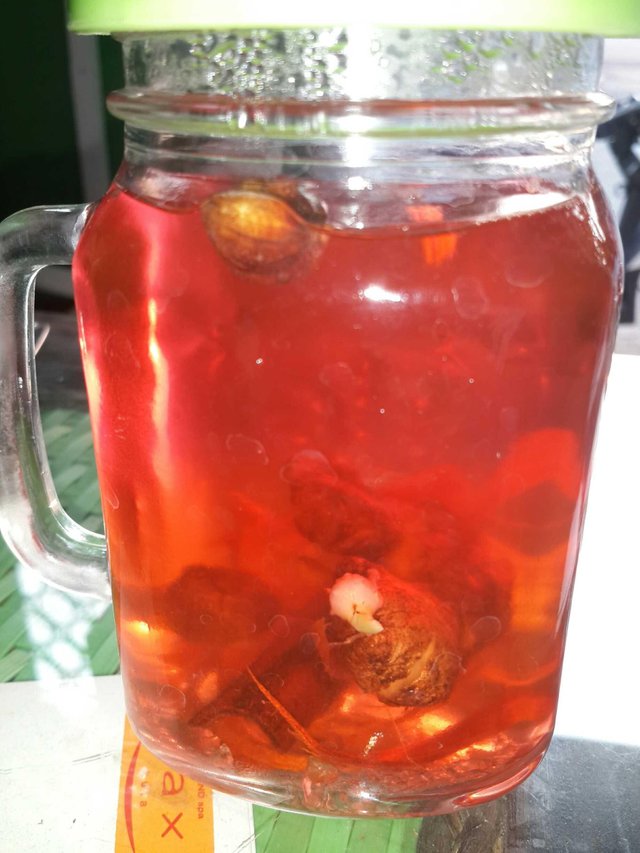 wedang uwuh, a traditional hot drink from Central part of Java Island
---
I will put a nutmeg leaf, clove leaf, cloves, ground ginger, cinnamon bark, cardamom aka kapulaga and sappanwood bark or Secang in the glass then pour the boiled water, coverbthe glass for 5 minutes then you can add sugar cube or honey or stevia and mint leaves before you drink it. Well.. you can add ice cube if you want to😇.
I feel a bit tired and full after watching severals travelling foods seller today, though we still have the fried rice and satay seller coming at 10 pm, but that special hot drink makes me want to sleep earlier😔😪 I am so full today. Aahh.. I wish my rambutan tree wiuld bear some fruits soon😁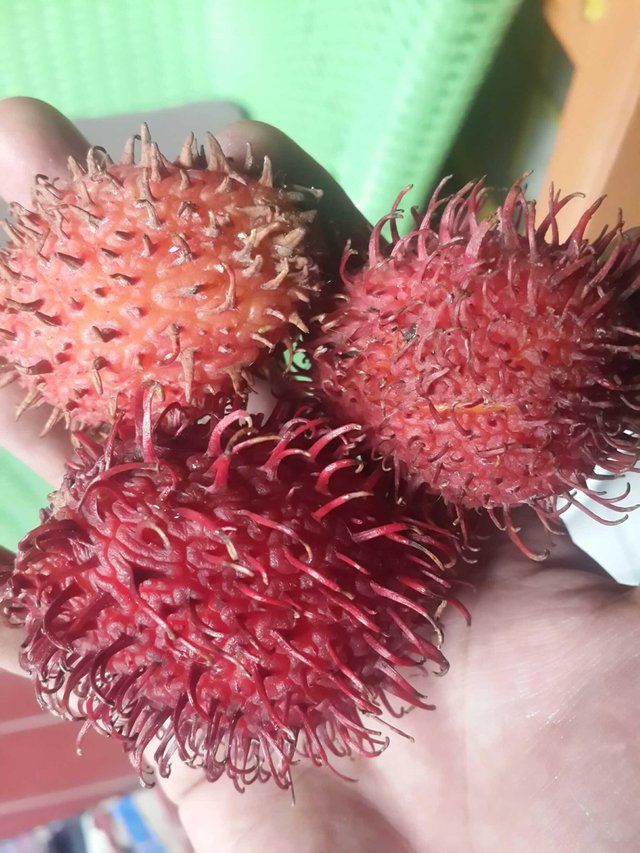 so I can show you how to make a delicious salad too, jus wait up😉
---
That's all for today. This post is created for the #fruitsandveggiesmonday competition by @lenasveganliving. If you want to join in, please read the rules in this post 👉
Fruits And Veggies Monday 59th.
Thanks for stopping by and have a wonderful Steemit Journey😉💐