Fruits & Veggies Monday/ Grain biscuits with poppy seeds 🥦 🍄 🍅 🥕
Hello dear fruitsandveggie friends!
Crispy pastry does not always have to be sweet. Refined with savory vegan cheese, herbs or sea salt, it tastes great with wine, a cocktail or a cool glass of beer or hearty soups in a cozy atmosphere.
Just wonderful!
I have a hearty bean soup served today.
I am delighted to be back in this great competition from @lenasveganliving today, hosted by @plantstoplanks. Thank you for this wonderful idea fruitsandveggiesmonday!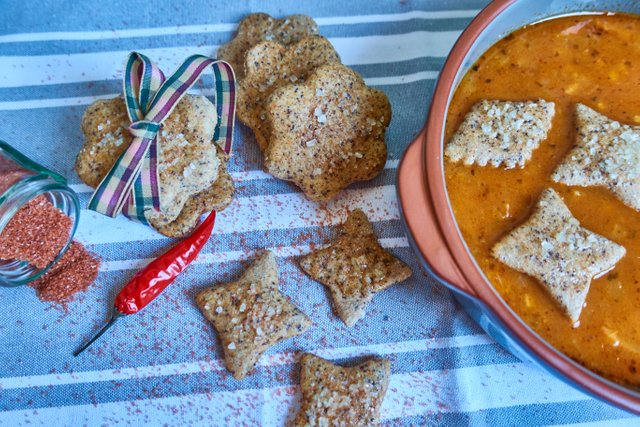 For the biscuits you need the following ingredients
1 tsp dry yeast
160 ml of lukewarm water
1 tsp sugar
240 g wholemeal wheat flour
2 tablespoons of poppy seeds
1 teaspoon sea salt flakes
60 ml of olive oil
In addition:
Any cookie cutters
Preparation
Put dry yeast, water and sugar in a small bowl and mix. Leave to rest for 5-10 minutes in a warm place until the surface is frothy.
Mix flour, poppy seeds and salt in a large bowl. Press a depression in the middle. Add oil and yeast mixture. Mix well until all the ingredients combine.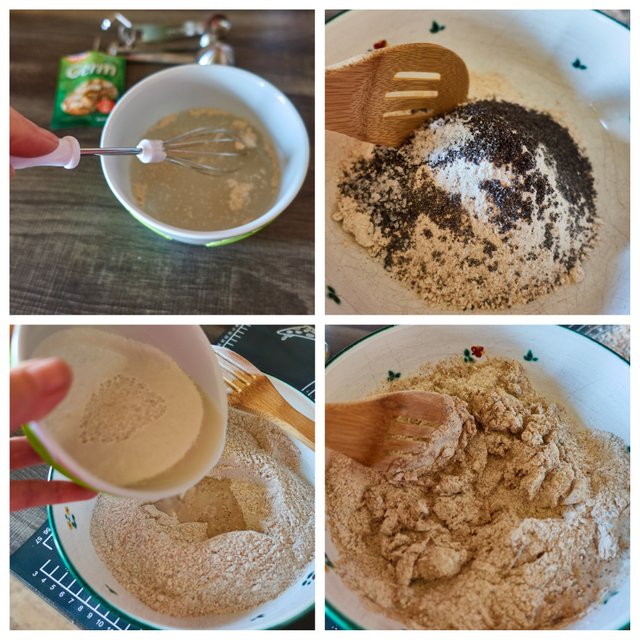 Knead the dough well for 5-6 minutes on a floured surface until it is smooth and elastic.
Cover in a lightly oiled bowl in a warm place covered with cling film and allow to rest for about 20 minutes until the dough has risen slightly.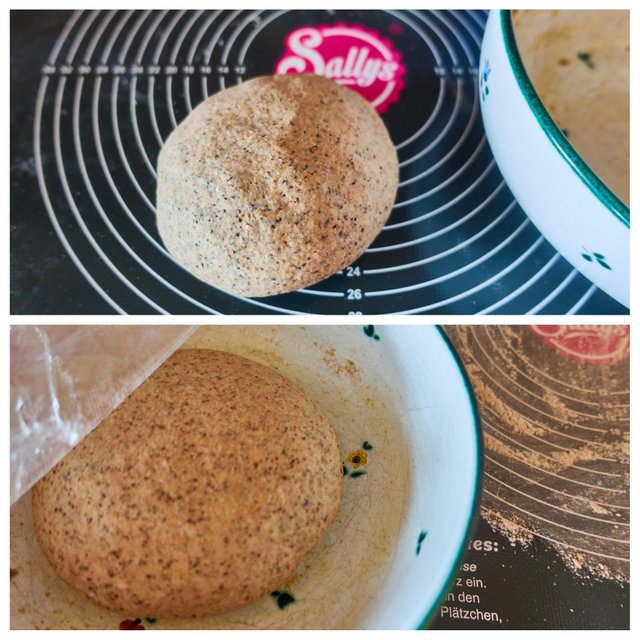 Preheat oven to 180 ° C top / bottom heat. Cover two baking trays with baking paper.
Roll out the dough on a lightly floured work surface by 1 mm. Cut out about 7-8 cm any shapes from the dough.
Reassemble leftovers, roll out and cut out. Put the biscuits on the baking trays. Brush with olive oil and sprinkle with sea salt flakes. Bake for 10 to 12 minutes until bloated and golden brown.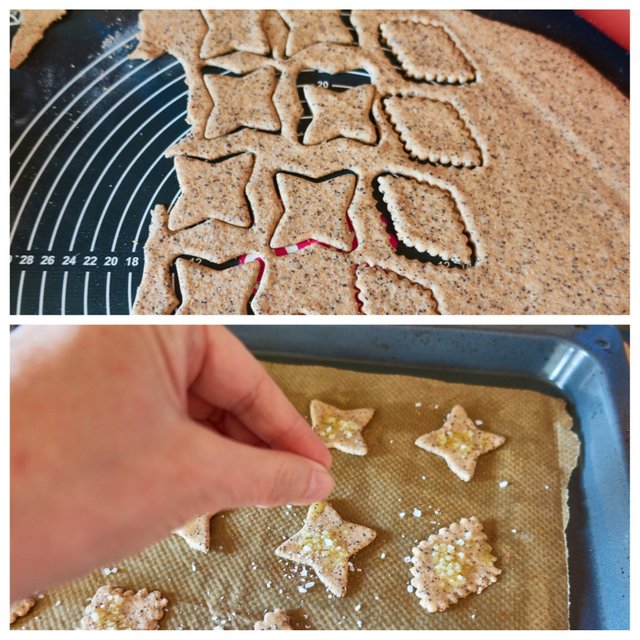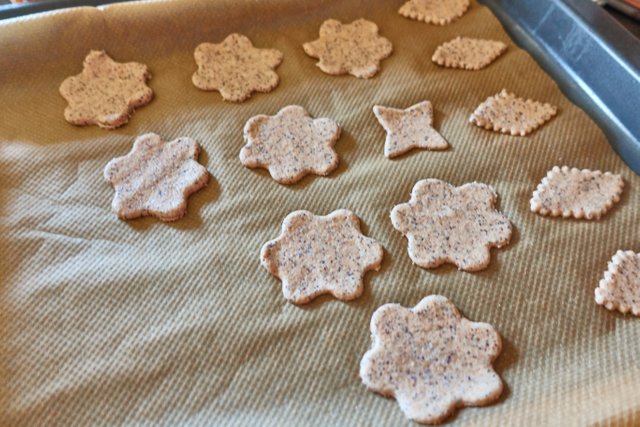 For the soup you need about 100 g of white beans that you let draw for at least 12 hours in cold water, then soft cook and strain.
Peel two onions and a large garlic clove and cut into small cubes. Heat 3 tablespoons of olive oil and lightly fry the onion and garlic.
Add 2 tbsp tomato paste, 1 tbsp spicy paprika paste and 1 tbsp paprika powder and roast briefly. Then add 2 tablespoons of flour, fry for a minute and pour in 750 ml vegetable stock.
Add spice now the cooked beans and some vegan smoked sausage, salt, pepper, marjoram and caraway.
Simmer the soup for about 10 minutes and bring it to the table with the poppy seed wholemeal biscuits.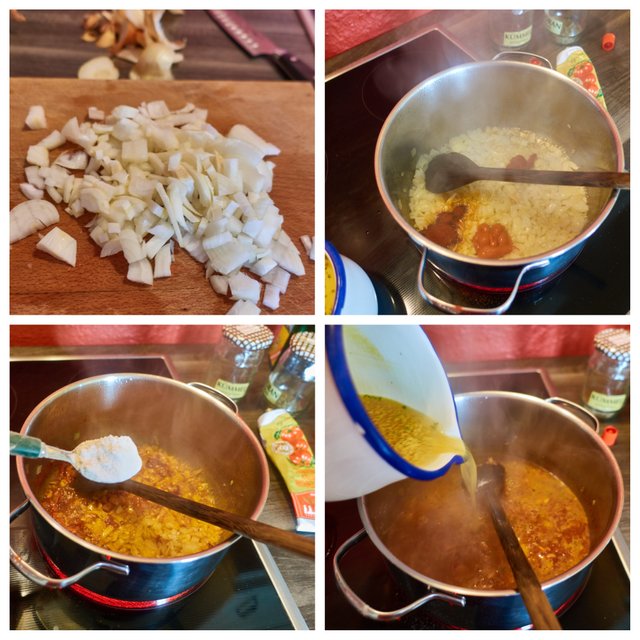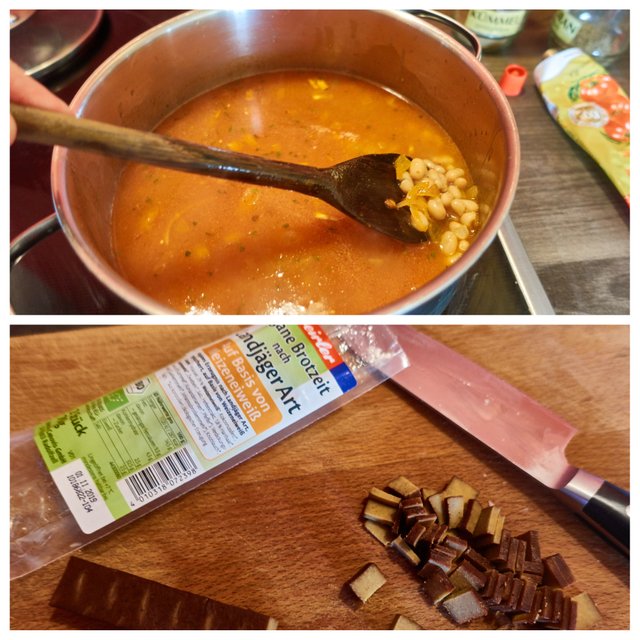 Bon appetite!