Abandoned Art Project
I don't know about you but when I get in a creative mood I do a lot of experimenting and in the process I make a lot of the things I'm working on. I make as many as I feel like while the mood is on me. Then I wonder what in the world to do with it all! For several years I sold my crafts at shows but when I stopped doing that, but kept on making things, I ended up with bags and boxes of finished crafts that just sit around taking up space.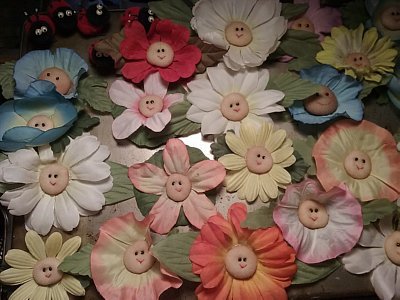 Flower Magnets! They all have new homes.
I think I held on to my hoard with the idea that maybe "someday" I'd do more craft fairs and sell them all! But time passed and I didn't do anything about selling them. Then one day I heard about the Abandoned Art project. I thought it was a very cool idea and I started unpacking my boxes, looking for things I could 'abandon'.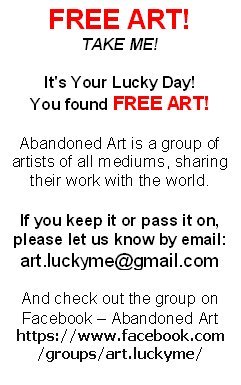 (A sample note)
The project involves artists of all kinds and it can be any kind of art. Usually small pieces, but they can be any size. The art is placed in random areas where people can find them. A note is left with it to let the finder know it is a gift, to keep or share.
There are several groups that do this, all around the world. I chose a small group to join on Facebook – Abandoned Art (
https://www.facebook.com/groups/art.luckyme/
) There people can post the items they are leaving and the people who find them can post their reactions.
I have a partner in this -
@stormyowl
– who got me started and went with me on my first 'missions'. We went to our local Farmer's Market which is held in a small park with benches and tables, perfect little nooks to leave our art. Then we casually sat in the park to see what would happen.
The first was a small family with two young girls. The girls were observant and spotted two of the art pieces right away! These were necklaces with angel charms,
@stormyowl
's work. She said she'd never watched her pieces being found and it was a true delight all the way around. The girls shouted out and ran to their parents to open their gifts and have the necklaces put on. Then they ran around laughing and showing everyone what they had found!

)

Some of my crocheted hats for the project
So of course we went back and did it again. We also found a few vendors who let us hide things at their booths. We didn't watch for them to be found but the vendors told us about it later. They had enjoyed the surprise as much as the finders, acted just as surprised and got a huge kick out of it. They never revealed who we were, they loved being part of the secret.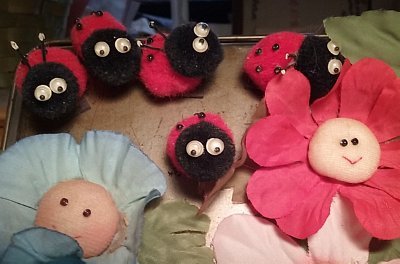 Ladybug Magnets!
I have left these surprises in our library, on walking trails, and near our city hall. I have left hats, bracelets, magnets, and crocheted bags made of recycled plastic bags! Over this past year I have 'abandoned' so many things that I have almost none left and might have to start making more! Not all of them have been reported found but enough have to let me know people love finding them.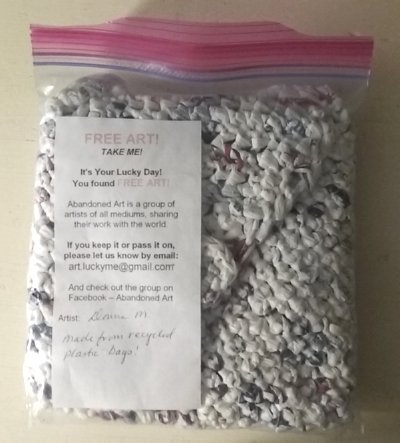 A crocheted bag made from recycled plastic bags.
The instructions I used can be found here -
source
I've started adding little flaps to close
them with a crocheted loop and 'button'.
This project has been a pure pleasure for me, it's like being the Easter Bunny and Santa's elf all at the same time! And of course now I have more space in the house, an extra bonus for me!

I am a member of #ccc by @freedomshift
This is an Invitation to join #ccc for Guaranteed ? Daily Income ? and Payout ? for Newbies (2.0) ? ? ? in #ccc ? and Follow ? the Honor Code ? - the Creed (Conditions and Limits Inside)
AND
the latest update <<< _please click to read.