Blue Bird of Happiness?
This morning from my kitchen window I saw a flash of blue at the birdbath! The birdbath has been there for many years but only a few birds use it. More often I see a neighborhood cat hop up to take a drink. Maybe the birds are smart to stay away! But today there was a flash of blue so I looked again. I saw two young mockingbirds but they are grey and white, not blue. I looked a little longer and back came the blue bird! He didn't like them using 'his' birdbath so he chased them away.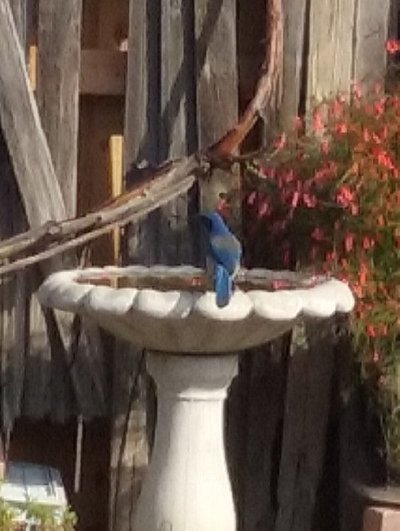 My Bird Bath!
Satisfied, he looked around and flew off again. A moment later the mockingbirds were back. Were they taunting him?
He seemed to think so because he came back to chase them away again. He flew off, they came back. Was this some kind of bird game?
I think the birds took it more seriously than just a game. I was the only one laughing!
He chased them away, they went somewhere else, and then there were no birds at the birdbath at all.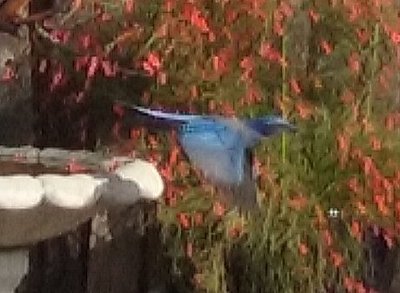 Was it a Bluebird of Happiness?
Not exactly, where I live the only blue-colored birds are California Scrub Jays. He brought me happiness, watching him. But the mockingbirds have a different opinion!

I am a member of #ccc by @freedomshift
This is an Invitation to join #ccc for Guaranteed 👍 Daily Income 💵 and Payout 💸 for Newbies (2.0) 🐟 🐜 🐛 in #ccc 👣 and Follow 👣 the Honor Code 🏅 - the Creed (Conditions and Limits Inside)
AND
the latest update <<< please click to read.