Change the Future: Adopt a Tree
Are you ready to get some more info about our latest project
Change the future: Adopt a Tree in Kenya
? Fundition is having a very important project about saving the planet and helping people in Kenja get more education and quality time spent in nature. This is your chance to prove how your love for this planet is not a shallow emotion but a pulsating wish to make a positive impact on the future.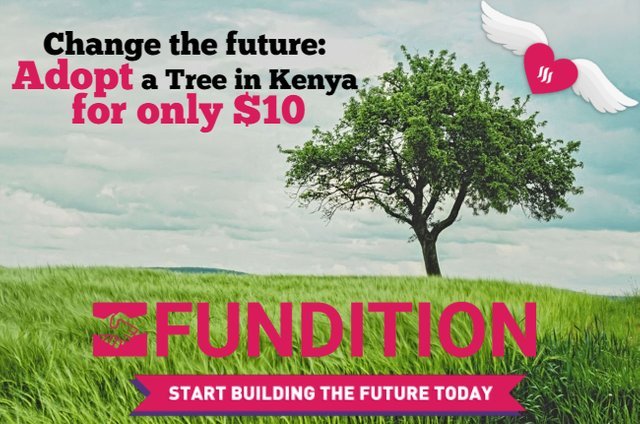 With this project, you can adopt a tree for only $10. We have been looking around various sites trying to find products that people usually buy for that amount just to show you the comparison and highlight how $10 is such a small amount of money and yet you can do so much with it. We have found a lot but what stuck out were the batteries. For $10 you can buy 10 +AA batteries OR YOU CAN ADOPT A TREE. Your choice.
"The care of the Earth is our most ancient and most worthy, and after all, our most pleasing responsibility."
― Wendell Berry


Trees are the biggest plants on the planet. They are the oldest creatures on it. If you want to know about the past, present, and the future, learn about trees because they have been around far longer than anything else. There are individual trees older than 5000 years and clonal trees that go back 80000 years in the past.
Environment, wildlife, and health...
We are all aware of how trees give us oxygen, store carbon, and stabilize the soil. We even know how they are crucial for preserving the wildlife and giving us materials for tools and building shelters but we neglect the details of all that and are not even focused on so many other things they provide for us. Did you know that one tree absorbs and removes around 2 kilos of pollutants and dust from the air every year? They also reduce noise and light pollution just as they have an enormous amount of health benefits. From oils to roots and flowers, there are many antiseptic and other medicinal properties that trees have. Just by being in the forest, your blood pressure and heart rate will drop down so if you are looking for something that will help you with your stress levels, take a walk among the trees.
Someone is sitting in the shade today
because someone planted a tree a long time ago.
Plant a tree today so someone could enjoy its shade.
On a more global level, trees absorb carbon dioxide and slow the rate of global warming which means we should definitely have as much as them as we possibly can. One tree can be a home to more than 500 different species (birds, insects, lichen, fungi etc). Since they lose moisture and reflect heat from their leaves up, the air gets colder around them. Temperatures in cities with a lot of trees can get lower up to 7-10°C during the summer. They help during rain seasons too because they prevent flooding and soil erosion with their absorption of water.


Students in Kenja that will be involved with this project will benefit greatly from it. It will teach them all about sustainability and the importance of trees that we already mentioned. Planting trees will reduce their stress levels, enhance physical activity and mental health, improve their concentration and cognitive abilities, profoundly change their environmental awareness, help them to recover from mental fatigue much faster and, of course, they will have a lot of fun all along the way.
Since both parents and students will participate in this activity, their relationship will get stronger. Quality time will create special moments they will remember for as long as they live. When you ask a person what memories he has from his childhood, you will not hear about this or that present but about events and moments he shared with his parents. These students will have great memories of this project and the time spent with their family members.
"And into the forest I go, to lose my mind and find my soul."
― John Muir


Some things are simple and some things are complicated. Wanting to breathe is pretty much a simple need we have, a crucial biological one in fact. We not only want oxygen for ourselves but we want it for everyone else too. That includes you, your family, friends, all people, and all animals. We want more homes for lovely animals, more shade for happy Kenja families and we want to create a better future for everyone. We are building that future today by planting trees. What are you doing and will you join us?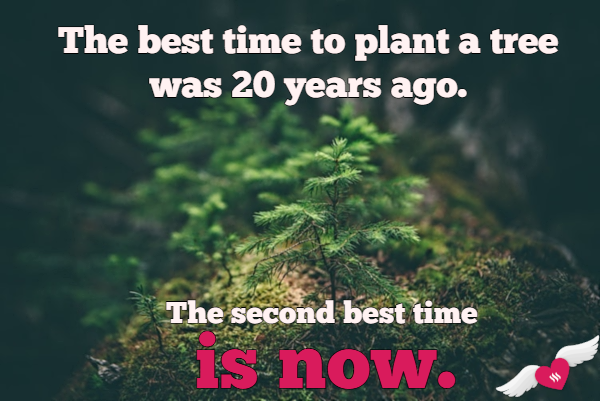 CCO image, Unsplash, author: Matthew Smith, adapted for Fundition
Adopt a tree for ONLY $10
by clicking HERE
and donating to our project.

Start Building the Future Today with:

Join a community with heart based giving at its core